The Loop — Winter 2022 by Howard Hanna Insurance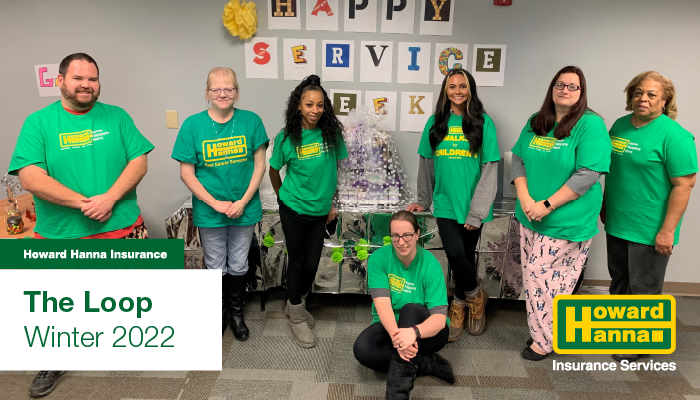 Community Involvement: Howard Hanna Insurance Services Named Make More Happen Award Winners
Spotlighting Our New Employee: Katelyn Hettinger
Poll: What Is Your New Year's Resolution?
Francis' Corner (Guest Appearance by Little Brother Iggy): The Quest to Win a 2-Foot Grinch
Coverage Corner: Let's Schedule It!
Customer Care Centers & Extended Service Hours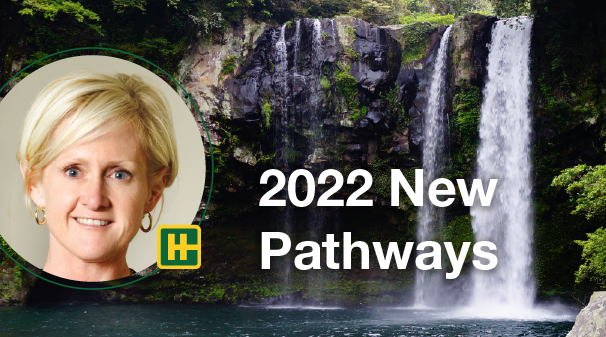 From the President's Desk
Annie Hanna Engel
Like many of you, I've spent a lot of time in my house in the past 18 months. One thing I've learned is that there's a reason that we have three "sump pumps." Yes, this is an insurance newsletter… and yes, water infiltration is an insurance matter as long as you have the correct endorsement. Flood insurance is different! Note to self and note to all of you—make sure you check whether you have coverage for that, or call us if you're uncertain about your insurance coverage.
Back to being in our house—and sump pumps. Water goes where water wants to go and in order to do so, finds a new pathway. It is creative. Annoyingly so at times, but we can learn a lesson from it. Water approaches the dark and light with equal power to find a new path—to get where it needs to go and where it wants to go.
So definitely check your policy. Check your endorsement and talk to us. But know that, with the ease of water, we can all find the path where we're supposed to be. Let us send out a toast and knock on wood that it doesn't end up in our houses!

Annie Hanna Engel
President and Chief Operating Officer, Howard Hanna Insurance Services
Chief Legal Officer, Hanna Holdings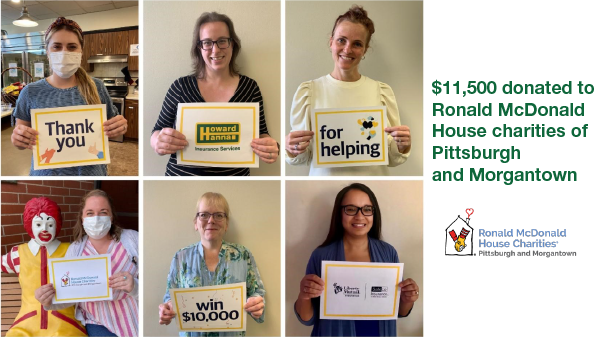 Community Involvement: Howard Hanna Insurance Services Named Make More Happen Award Winner
by Danielle Shearer
In September, Howard Hanna Insurance Services won a Make More Happen Award for their work with Ronald McDonald House Charities of Pittsburgh and Morgantown, which earned them a $5,000 donation from Liberty Mutual and Safeco Insurance. But we had one more challenge: Get 500 votes on our volunteering story and the donation would double. Thank you for helping us reach that goal! As a result, Ronald McDonald House Charities of Pittsburgh and Morgantown will get $10,000 to continue their mission to provide a place of comfort for seriously ill or injured children and their families while they receive medical treatment at area facilities. If you missed our volunteer story and want to learn about the work Howard Hanna Insurance Services does with Ronald McDonald House Charities of Pittsburgh and Morgantown, visit our story at www.agentgiving.com/howard-hanna. Thank you so much for your support!
In December 2021, Howard Hanna Insurance Services was once again named a Make More Happen award winner. As a result, the Ronald McDonald House Charities of Pittsburgh and Morgantown received an additional $1,500 donated by Safeco/Liberty Mutual on behalf of Howard Hanna Insurance Services.
Read the article: https://newpittsburghcourier.com/2021/09/23/ronald-mcdonald-house-of-pittsburgh-morgantown-awarded-5000-donation-from-howard-hanna/
Watch the video: https://www.youtube.com/watch?v=eSMuGH8HZXU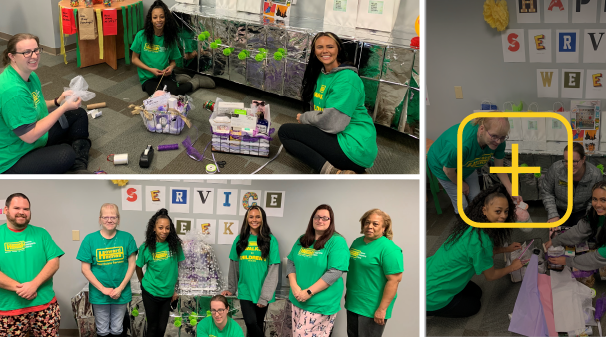 The Power of Service™
by Katharine Marrs
We celebrated our annual Customer Service Week early in November. The theme for the past year was The Power of Service™. This is an opportunity for us to spend some time getting to know each other a little bit better, which contributes to group cohesion and gives us a chance to recharge so we can continue providing excellent service to our clients throughout the year.
Our first activity was to build a web of compliments by tossing a ball of yarn to each other and saying something nice about each coworker. We always run out of yarn before we run out of compliments!
Danielle created a photo collage for everyone to guess which "helping hand" is whose. Our lone gentleman on the team, Kevin, felt that the odds would be stacked against him because his hand picture would be too easily identifiable. Unbeknownst to most of the group, instead of submitting a picture of his hand, he submitted a picture of his wife's hand, since technically he had "taken her hand in marriage." Naturally, outrage ensued.
At dinner, the group voted on fun superlatives, including some new additions after the Year of the Zoom Meeting – the Muted Award for most likely to talk while muted and the Megaphone Award for most likely to forget they are not muted. We also voted on overall awards and had a tie between Amber and Tina for Account Advisor of the Year, 2021. And Aleta ran away with the award for Team Player of the Year, 2021!
As part of our celebration, we like to do a community outreach project. This year, we put together a spa day gift basket for the Ronald McDonald House 2021 Red Shoe charity auction, filled with a heated shoulder wrap, lotions, bath bombs, and soothing herbal teas. We also write notes to coworkers, clients, friends, and/or family members for Thank You Thursday each year.
Other highlights included a round of Katie's Insurance Jeopardy, a virtual escape room called Beat the Hacker, and guessing which Olympic sports various team members would choose to participate in, given the chance.
Our week culminated in a spirited relay race. After repeated admonishments to be careful and not hurt ourselves, we were off! The first person on each team did a lap carrying an egg on a spoon, then tagged in other members for a ring toss, flipping plastic cups upside down, and a ball toss. After a quick shimmy through a hula hoop, we were on to the final wheelbarrow race! The winning team of Katharine, Amber, Kevin, and Aleta credit their success to the use of tactical footwear – tennis shoes for increased maneuverability! Check out our video on Facebook.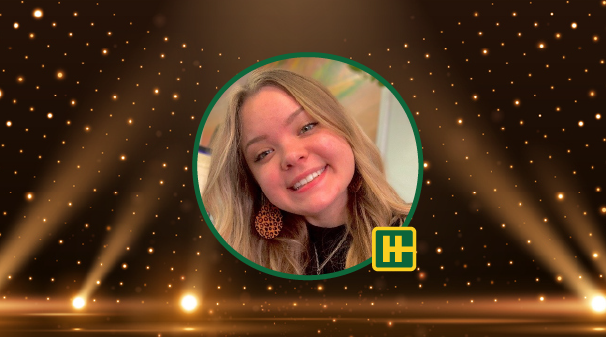 Spotlighting Our New Employee: Katelyn Hettinger
by Ruth Driskell
When you get the email stating your company has hired new employees, typically curiosity takes over. You want to know more about the new folks and their background. Well, we left curiosity at the curb and got right to the point, asking our newest team member a list of ice-breaker questions. To keep you in 'The Loop,' we wanted to share with you her answers. Here goes!
Katelyn is our newest Pennsylvania, Virginia, and North Carolina agent. She has been in the insurance field for 1-½ years. Growing up, Katelyn wanted to be a nurse practitioner but landed in insurance when a family friend gave her the opportunity. She ended up doing very well in the insurance industry and says she "ran with it." As for additional goals, Katelyn says she has always wanted to be bilingual because it would provide the opportunity to connect with people outside of her norm. Her favorite music is classic rock, and her favorite color is green. Katelyn spends her free time with her dogs. If she won the lottery, she would buy property with no neighbors. She admires people who work for what they've earned in life and is most proud of her achievements as an insurance agent. Welcome to the HHIS Family, Katelyn!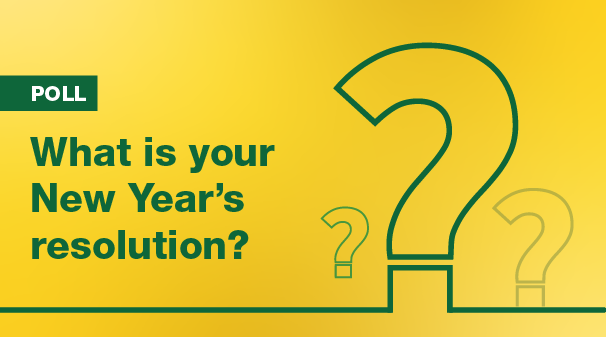 Poll Created by Katharine Marrs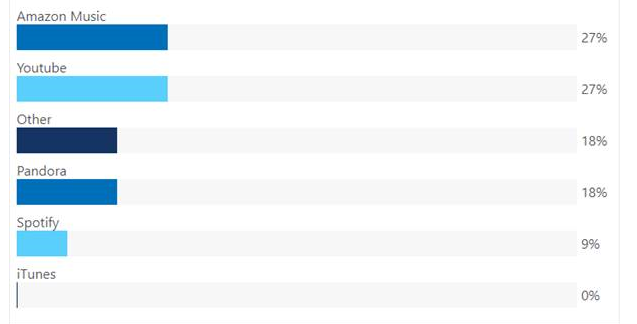 In our previous poll, we asked "What app do you use to listen to music?" The votes are in, and Amazon Music is the app most of you use when listening to music.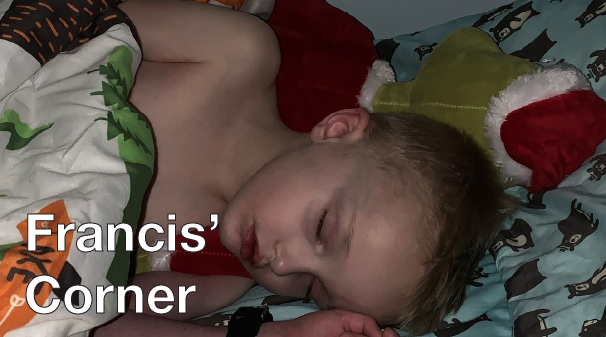 Francis' Corner (Guest Appearance by Little Brother Iggy): The Quest to Win a 2-Foot Grinch!
by Danielle Shearer
Imagine my surprise and relief when I receive a text on my phone that says, "He won the Grinch! Thank goodness!!!" In order for that text to make any sense, we need to start at the beginning, the beginning of December that is, when the school announced they were selling raffle tickets for which the money would be donated to charity and the kids could win either a two-pound chocolate Santa or a two-foot Grinch. Iggy became fixated on the Grinch right away, daydreaming of their life together after hearing his name called as the winner. He was quickly brought back down to reality with the understanding that first, you have to purchase the tickets, and then you have to be the lucky one whose name is pulled. Well, with tickets being about 10 cents apiece, we figured that giving Iggy $5.00 or $10.00 towards the raffle would have him elated! We were wrong. He did purchase raffle tickets with what his father and I gave him. However, after a fellow classmate brought in $20.00 for the raffle, Iggy was "bitten by the jealousy bug." He was determined to buy as many raffle tickets as his piggy bank could afford – unbeknownst to his father and me, of course.
Enter Francis into the story. While working one evening at home, Francis says, "Mommy, I have a funny story to tell you." He goes on to state that his little brother's first-grade teacher came into Francis' classroom today to ask, "Do your parents know that Iggy brought $25.00 to school today to enter into the raffle?" Francis tells me that he just shrugged his shoulders and said, "Maybe." I proceeded to tell him that I did not find it funny. Next, we broached the subject with Iggy, who broke down wailing, crying, and screaming, "Just punish me already, just punish me!" Aside from wondering if we have a bigger gambling issue on our hands, I was none too pleased that Iggy went behind our backs, broke into his piggy bank, emptied it of its contents, and brought the funds to the school for the raffle. After Iggy calmed down, I explained that I was grateful he donated his money to charity but also felt not only that he did it for the wrong reason, but purposely did not inform his father and me of his plan. I reminded him that it only takes one ticket to win, but also to prepare for the possibility of not winning. All of that said, the good news is, the money would still go to charity.
Waiting for Tuesday, December 21 was like waiting for Christmas day – the excitement and anticipation were almost too much for Iggy to handle. I kept reminding him that while it is possible to win, with the number of entries and students, it is not probable. Of course, he would respond by muttering under his breath the names of classmates that may win and reasons why they should not.
I know my reminding him of the probability of not winning sounds terrible and like a negative way to look at it, but I was hoping that would soften the blow of the reality that the Grinch and he may not live happily ever after.
Now, returning to the beginning of my story, I received the following text from Iggy's teacher around 8:30 a.m. the morning of December 21: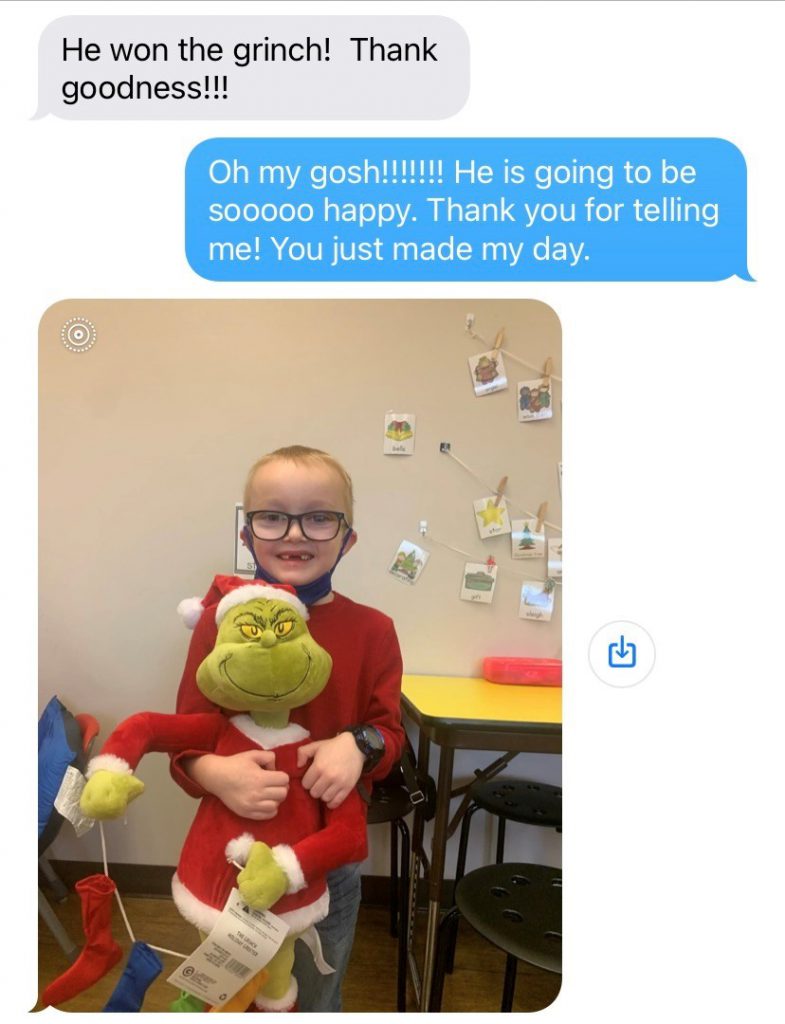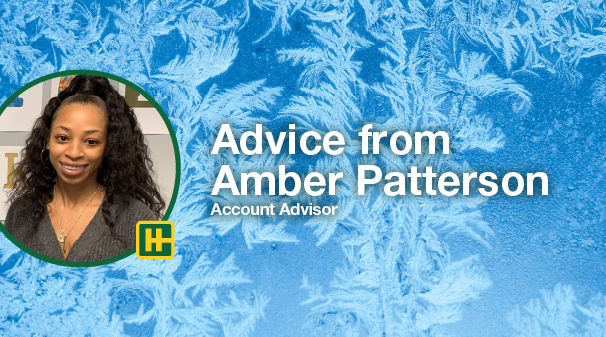 Advice From Amber
by Amber Patterson
Q: I'm always looking for new ways to avoid the January/winter blues that seem to sneak up after the holidays. Any thoughts?
A: I think the best way to avoid the winter season blues is to take some time to learn something new about yourself. Whether that's exploring, drawing, dancing, or painting, do something outside of what you would normally try – you never know what interest it may spark. Traveling always seems to take me back to my happy space, but there are also some personal things I learned that trigger that same happiness, like music and dancing. Explore personal things about yourself that help bring you into a new element of happiness.
Q: Our family is getting a puppy (Jasmine) at the end of January. What is your best advice for new puppy/dog owners?
A: Bringing a new puppy into your home is very exciting!! As a fur mama myself, I would say it is important to be open-minded when bringing a new pup home. Every breed is different and all have different personalities. Sometimes doing a little research on your dog breed can also give you a head start. I do believe patience is key when raising a new puppy. Patience can help with your bonding experience and with training. You will learn all kinds of new things not only about your pup but about yourself, too. For example, I learned my pup Brix really enjoys a challenge. So although we have fun, I try to turn every moment into a training experience so he can continue to learn as he grows.
Q: What is the best way to handle family members with birthdays that are so close to Christmas? How do you still make them feel special? In addition, how do you separate birthday gifts from Christmas gifts?
A: It's great to know I am not the only one who experiences this! I always purchase birthday gifts at the same time I purchase Christmas gifts, both during the holiday season. In my opinion, shopping for gifts separately, for two special days, can cause you to be overwhelmed, especially during the holidays. That's why I find it's best to get all gifts at once. Depending on the number of gifts you purchase, whether it's two, four, six – split the gifts evenly for each special day. I try to make sure the holiday gifts do not outshine the birthday gifts. For upcoming birthdays, I tend to hold the gifts that best fit and are unique to that person's personality. This keeps it very personal for them and reminds them that their special day was not forgotten.
New Year's Resolutions
by Ruth Driskell
Perhaps you've never bought into the tradition of New Year's resolutions. Maybe you're considering making a resolution for the first time. Or perhaps you've participated in the past, but simply can't muster the motivation this year. We asked some of our insurance agents what their New Year's resolutions are, and here's what they had to say:
Nicholas Morgan – To lose some weight, sign up for some classes he's wanted to take, and make time to do things that he enjoys and that interest him
Barbara Valentine – To work on becoming a better listener
Katie Zurawka – To obtain her AINS designation
Danielle Shearer – To pass two more tests for her CIC designation
Ruth Driskell – To continue on her health journey and reach goal weight (84 lbs. down so far!)
Mary K. Grillo – Concentrate on being nicer to more people in need
Haley Wroblewski – Take more vitamins
Paul Rentas – Routinely exercise 1-2 days a week
Aleta Johnson – To get healthier
Katharine Marrs – To start and keep a daily meditation habit
Amber Patterson – Practice meditation throughout the year
Michael Gravelding – Would like to start his journey to be healthier
Rebecca McCaffrey – To remember there is always something to be grateful for
Danielle Grass – Get back to working out on a regular basis
Lauren Miller – To close all her activity rings on her Apple watch every day
These are some awesome New Year's resolutions, and we will be following up with the agents in our fall edition to see how they have done and what they have been able to accomplish. We hope that all of our family, friends and clients have amazing success accomplishing their resolutions and goals, as well.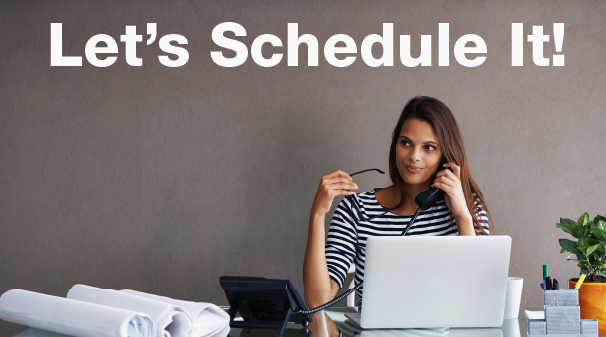 Coverage Corner: Let's Schedule It!
by Katie Lynn Zurawka
Now that the excitement of the holidays has wound down a bit, let's talk about coverage for those special gifts you received! Did the jolly man in the red suit gift you something that sparkles and shines? Or maybe you received some new camera equipment that you have been dying to get your hands on? It's important to know that coverage under the homeowner's policy is limited to certain types of personal property. Be sure to read your policy to understand any limitations or exclusions. There is a way to combat those limitations on coverage and that is by way of "scheduling."
Potential Advantages of scheduling personal property:
No deductible applies
Open peril coverage which includes coverage for mysterious disappearance (otherwise not covered)
Scheduled items are not included in the Coverage C (personal property) limit of Coverage, freeing up Coverage C for other personal property
Establishes the existence of the item
Establishes the value of the item
May be the only way to get coverage if the policy otherwise limits or excludes (for example, theft of jewelry, firearms, silverware).
Here are a few types of personal property to consider scheduling:
Cameras Hearing Aids
Coins or Stamps Jewelry
Collectibles Musical Instruments
Fine Arts Silverware
Firearms Certain Sports Equipment
Furs Wine
Give us a call to discuss your specific coverage needs!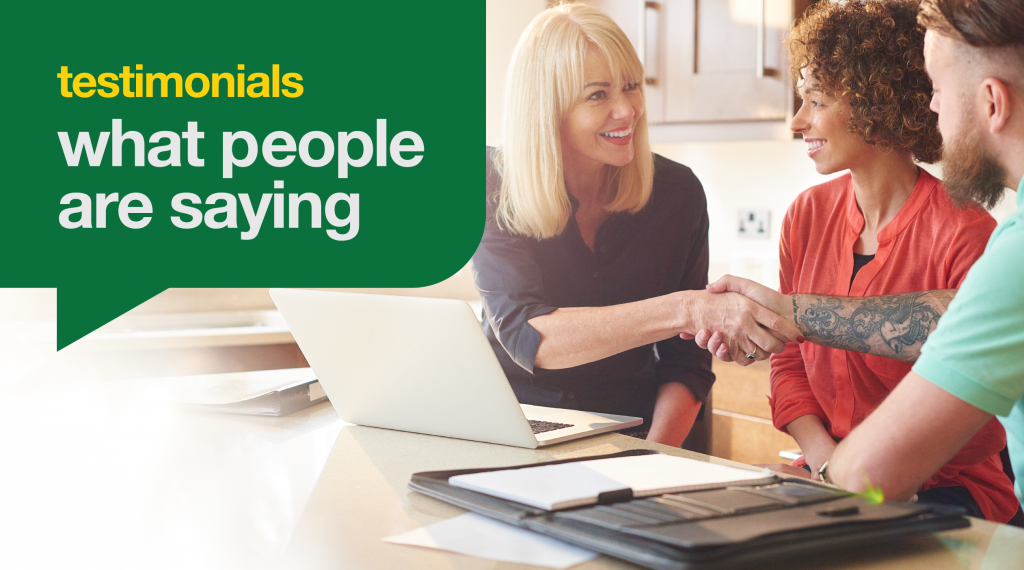 Testimonials From Our Clients
by Howard Hanna Insurance Services
There is always a helpful person ready to answer my call when I have any questions about my policies or need to make any changes. I have been using Howard Hanna Insurance since I bought my first home, and the customer service I have received is more than enough reason to keep my business! The prices are reasonable as well, which is also appreciated.
—Britney W. | Customer since 2018
Great comparable coverage and an easy process. Would highly recommend.
—Caleb B. | Customer since 2021
Great service and help finding what we need to get the perfect policy. Great agents.
—Customer since 2021
What you're doing now works for us. Thank you.
—Dale G. | Customer since 2020
Wonderful help with insurance and answering all of my questions. Truly exceptional.
—Shannon C. | Customer since 2021
Good communication and very good quotes.
—Stephen T. | Customer since 2021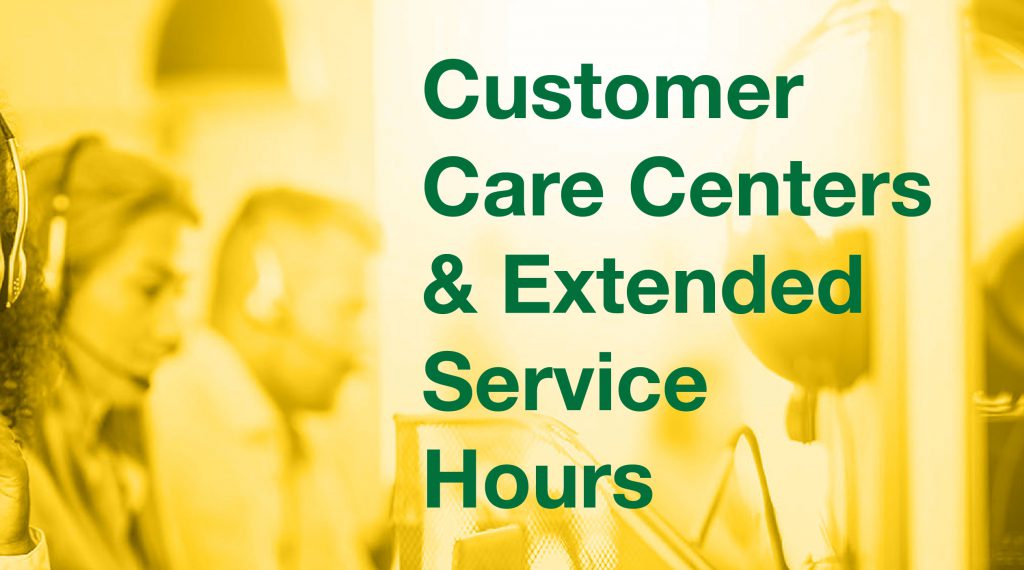 Customer Care Centers & Extended Service Hours
by Howard Hanna Insurance Services
At Howard Hanna Insurance Services, we're committed to delivering the very best customer experience.
That's why we are pleased to announce an enhancement to the insurance services provided exclusively for our customers. We've teamed up with several of our insurance carriers to provide our clients with extended hours of operation and service when it's convenient for you. As always, our office remains available should you have any policy-related questions. Here is a list of carriers for which we are proud to offer extended hours for your service needs:
Chubb Insurance: 800-777-2131
Hours of Operation: Monday-Friday 8am-8pm EST, Saturday 10am-6pm
Donegal Service Center: 800-504-6635
Hours of Operation: Monday-Friday 8am-6pm EST
Encompass Insurance: 866-882-9513
Hours of Operation: Monday-Friday 8am-11pm EST, Saturday 9am-5pm
Grange Insurance: 855-293-3828
Hours of Operation: Monday-Friday 8am-7pm EST, Saturday 9am-12pm
Hanover Insurance: OH/MI clients: 800-782-8385, all other states: 855-255-4264
Hours of Operation: Monday-Friday 7am-9:30pm EST, Saturday 9am-5pm
Nationwide Insurance: 800-282-1446
Hours of operation: 24/7/365
Progressive: Auto: 877-776-2436
Hours of operation: 24/7/365
Safeco: 866-472-3326
Hours of operation: 24/7/365
Travelers: 877-872-8737
Hours of operation: 24/7/365
Westfield: personal lines: 844-948-1893, commercial business: 800-236-3884
Hours of operation: Monday-Friday 8am-6pm EST, Saturday 10am-3pm (no Saturdays for commercial). Westfield billing is open 8am-8pm Monday-Friday.

What is the Client Portal?
Howard Hanna Insurance Services is pleased to offer our clients exclusive access to our Client Portal. The Client Portal is a personalized web account that provides 24/7 access to your individual policy information. You can access it at home or on the go from your desktop computer, laptop, tablet, or smartphone. You can even access it via a special app, InsurLink!
InsurLink gives you full access to your insurance agency with the intuitive user interface and flexibility of a mobile app. Now you can connect to your insurance agency on your terms and your schedule. Visit the app store and download it from there.
What can I use it for?
View a summary of your policy information.
Request policy changes by sending a direct message to our team.
View, download and print current auto ID cards for all vehicles on your policy.
Manage users to allow other members of your household access to your Client Portal.
Obtain certificates of insurance for commercial policies.
Upload documents securely.
Contact your Howard Hanna Insurance team!
How can I sign up?
It's easy! Email us at insurance@howardhanna.com or call us at 412-696-0310 to request an invitation. We'll send you an email with a link to activate your account.
At Howard Hanna Insurance, we're committed to protecting what matters most to you. Learn more today: HowardHanna.com/Insurance

412-696-0310