The Loop – Fall 2018 by Howard Hanna Insurance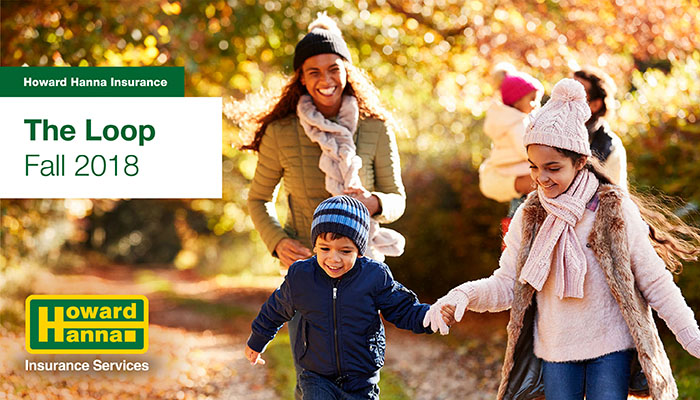 From the President's Desk
Fall is in the Air
Deciphering the Marvel Universe
Gluten-Free Thanksgiving
Francis' Corner: "Michael," the baby pumpkin
Book Drive for Children's Hospital

From the President's Desk

Annie Hanna Engel
Welcome back to The Loop! As you hold your mug a little closer in the crisp cool mornings and break out all your blankets and sweaters, we hope our words will warm you too. At Howard Hanna Insurance, our desire to achieve excellence and our commitment to our clients allows us to best protect what you hold most dear. Ask us how umbrella coverage can better protect your family and your assets. We're always a click or a call away! https://www.howardhanna.com/insurance/contact.

Fall is in the Air
Jessica Entwistle

As the long summer days begin to shorten and a crisp light breeze floats through the air, I'm delighted at the prospect of cashmere sweaters, apple cider, carving pumpkins, falling leaves, curling up with a great book under a fluffy blanket, and spending lots of time with friends and family. The truth: I just love Fall!
One of my favorite activities is going to the Sewickley Harvest Festival. Held in the heart of Sewickley, PA, one of the cutest, quaintest little towns, this year's festival was held on Saturday, September 8th, on Broad and Thorn Streets.
Filled with food and craft vendors from around the region, Sewickley's Harvest Festival is truly fun for the whole family. They had face and pumpkin painting stations, live music performances throughout the day, and all the food you could want. From pierogies to kettle corn and kielbasa to cornbread, the aromas enlivened your senses while your palate danced in happiness.
As the autumn air descends, I encourage you to explore a new local festival or event in your area. Whether you round up your family and cart them to a wonderland of bright orange fields, or even just take a hike through the woods as the sunset-colored leaves delight your eyes and restore your sense of self, I know you, too, will fall back in love with fall.

Deciphering the Marvel Universe
Katharine Marrs

As our Billing Specialist, Kevin has an innate talent for detail-oriented work. In his free time, he prefers to exercise his scrutiny on the Marvel universe. He is an avid fan of the Marvel movies, and eagerly anticipates each new release.
He says that his favorite aspect of the Marvel movies is how everything is related. Characters and plot points are tied together with subtle recurrences throughout the entire franchise. There's always more detail to discover on a re-watching, maybe a hidden reference or a piece of the puzzle that only falls into place after seeing another one of the movies.
The Marvel movies stand out among the superhero genre for their character moments that are relatable and funny. In Guardians of the Galaxy, several very different characters assemble an unlikely team. Kevin says he enjoys how the group is representative of basically every family ever – they have moments where they're ready to kill each other, but they also pull together and do what they need to do when it really counts.
Kevin's goal is to own all of the movies, and he frequently requests specific titles for birthday and work gift exchanges in order to fill the holes in his collection. To date, he owns all but the most recent release, as well as The Incredible Hulk, which is proving to be an elusive find.
For Halloween last year, Kevin even dressed as the "Iron Chef," wearing an Iron Man mask and chef pants left over from an earlier career in a restaurant. The outfit was completed by an apron bearing the chemical symbol for Iron.

Gluten-Free Thanksgiving
Katharine Marrs
Thanksgiving is my favorite holiday. I love that people gather to express joy and gratitude for the blessings in their lives. Plus the food is delicious! Thanksgiving would not be complete without mashed potatoes, stuffing, green bean casserole, and especially pumpkin pie.
For the past several years, my husband and I have joined in the popular tradition of hosting a "Friendsgiving." We invite close friends to our home for an elaborate meal the day before or after Thanksgiving. This allows everyone to spend the holiday itself with family, while still giving us a chance to celebrate together.
As we were planning our first event, I checked items off the list with alacrity. Centerpiece? Done. Rearrange the furniture to fit a six-foot table in our tiny apartment? Check. Then we started planning the menu. We had to take into consideration that two of our best friends are on a restricted diet due to food allergies, which meant we were faced with the task of making a complete Thanksgiving meal without any dairy or gluten.
At first, it seemed like our friends would be eating nothing but cranberry sauce and steamed Brussel sprouts. Then we started thinking about recipes differently. We searched the specialty section of the grocery store to find a gluten-free version of French fried onions to top the green bean casserole. We experimented with a sauce based on turkey broth rather than the traditional cream of mushroom soup to complete the dish.
My husband is notorious for his freestyle baking recipes. He always starts by looking up several suggested recipes, then turns around and does something completely different. In this case, he was able to create a delicious bread from almond flour. Rather than mashed potatoes, we served roasted russet potatoes that everyone could eat.
By putting a few creative twists on classic recipes, we were able to share a delicious meal with our friends. Sometimes, it just takes a new perspective to create something unique and wonderful!

Francis' Corner: "Michael," the baby pumpkin
Danielle Shearer
After arriving at the market for our traditional "picking of the pumpkins," Francis ran over to the bins adorned with baby-sized pumpkins. I tried to get his attention where the rest of us stood, looking at the large pumpkins.
I yelled over to him, "Come pick one of these big ones, this will be the one you get to carve!" He ignored my request and just stood picking up one baby pumpkin after another examining them.
He said, "Mommy, I like the baby ones. Aren't they just so cute?"
I was happy that he was so excited about the baby pumpkins, but also a little bummed that he didn't have any interest in picking out a big one. When it was all said and done, Francis ended up purchasing the baby pumpkin of his choice.
On the way home, he said, "Do you want to know his name?" I held my breath in wonder of what his creative mind had thought up. He then said, it's "Michael." I asked him how he thought of that and he replied, "Mommy, don't you remember, that's my middle name."
At home, Francis rode "Michael" around the house on the back of his big wheel while smiling from ear-to-ear. That night, Francis slept with "Michael" in his arms and continued the tradition each night for as many nights as the little pumpkin could withstand.
Francis treasured his friend that Fall and helped me to remember that it's the "smaller" things in life that mean so much. For him, it was a baby pumpkin; for me, it was watching him understand what it feels like to care for something and the excitement of holding it close.

Book Drive for Children's Hospital
Howard Hanna Insurance
The 3rd annual Howard Hanna Insurance Services book drive for UPMC Children's Hospital of Pittsburgh was a huge success all thanks to you! During this year's drive, over 1,200 books were donated, bringing the total number of books collected and donated through our annual drive to over 5,200!
With this success, we are looking forward to reaching even more children across all the many communities we serve, and continuing to provide children in the hospital the opportunity to experience the great joy of reading. Thank you again for your help in ensuring another successful book drive!
At Howard Hanna Insurance, we're committed to protecting what matters most to you. Learn more today: HowardHanna.com/Insurance
412-696-0310