The Loop — Fall 2019 by Howard Hanna Insurance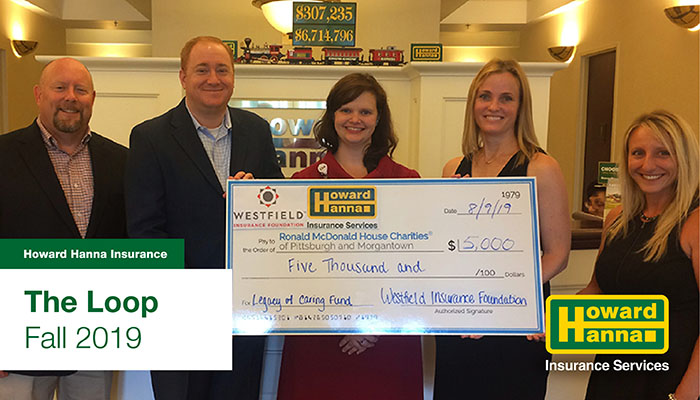 From the President's Desk
Community Involvement: Westfield Grant For The Ronald McDonald House
Autumn Ablaze
Francis' Corner: The Dining Room Table Cluttered With Paper
Favorite Fall Treats
'Tis The Season
Results from "Whats Your Favorite Fall Activity?"
What is the Client Portal?
From the President's Desk: On To Autumn!

Annie Hanna Engel
On to Autumn! Whether your favorite things about Fall are Halloween, looking for the most beautiful turning leaves, Thanksgiving, or the ever divisive Pumpkin Spice EVERYTHING… it is, indeed, a time of reflection before the page of the next year turns. Fall is also a time to realize that there is still so much time to work hard and achieve our goals for the year! To me – that is a very exciting thing!
Although I am fighting against putting my garden to bed (I'm seeing too many green tomatoes and full Dahlia buds to yet admit defeat), I know that the time has come for change and to appreciate not only what has come, but what will be. My garden plans exceeded my expectations, but what will come next? As I am planning what I want to accomplish before winter: before the end of 2019 – personally and professionally, I hope that in your planning, you will be encouraged to a very hopeful Autumn. With that, I'll leave you with one of my favorite thoughts about Autumn, comes from musician and poet Chad Sugg.
Love the trees until their leaves fall off, then encourage them to try again next year.


Annie Engel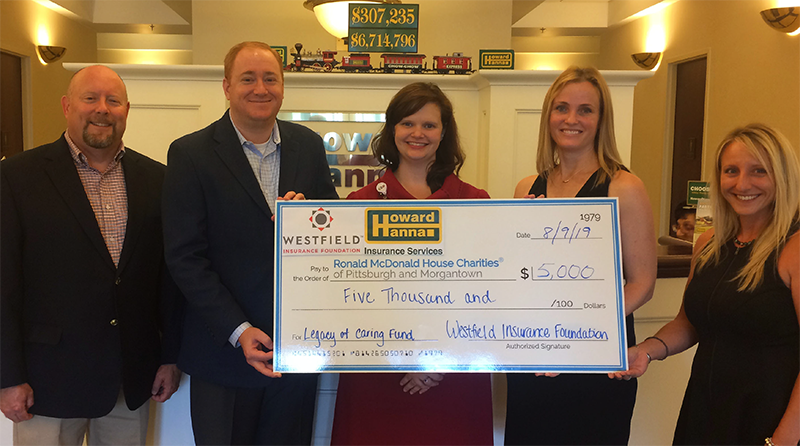 Community Involvement: Westfield Grant For The Ronald McDonald House

Ronald McDonald House was nominated by Howard Hanna Insurance Services to receive a grant from Westfield Insurance Foundation to help improve the health and well-being of children as part of the Westfield Legacy of Caring program. At Westfield, it's more than writing insurance policies, it's about going above and beyond to help people and families grow and prosper. Lending a hand to friends and neighbors during times of need is at the core of the Westfield Insurance Foundation. Each year, Westfield independent insurance agents, like Howard Hanna Insurance Services, are invited to nominate a local nonprofit for the Legacy of Caring program. The program invests in communities and helps impact disaster recovery, family stability or safety.
"At Howard Hanna Insurance Services, we want every member of our community to grow and experience a vibrant future," said Danielle Shearer, General Manager. "We are proud of our collaboration with Westfield that allows our agency to honor its commitment of enhancing and helping educate the communities where we live and work."

Autumn Ablaze
by Jessica Entwistle
The evergreens are unaware of
Autumn's arrival.
I remember the Fall of young
that would descend upon the lush green of Summer
and with great exuberance
inject doses of red and yellow and orange
ablaze across the sky.
I remember a bite in the air,
so crisp you could almost taste it.
Now that Autumn is older
it shuffles in quietly,
hanging in the back of the room
letting Summer shine just a little while longer.
It's a light breeze
where once was a cold shiver
and a delicate blotting of colors that
soaks into the leaves allowing themselves to be a
speckled majesty of fiery brilliance.
I remember longing for the days of
sweaters and cider,
hayrides and leaf piles that would
swallow us whole.
Now Autumn and I have both mellowed into adulthood.
A quiet reflection of a year that sped too fast
and a promise of warmth and togetherness
that restores the soul
reminding us all
to be kinder and more thankful
for the joy in our lives.
Francis' Corner: The Dining Room Table Cluttered With Paper
Danielle Shearer
Anyone experience or can relate to this? Please tell me I'm not alone.
Every evening, without fail, I walk into the house and instead of being greeted by a delectable dinner on the dining room table, I'm left staring at clutter and absolutely nowhere to sit a dinner plate. That clutter includes: papers, papers, more papers, school work, and a birthday card from someone's last birthday (not sure who or which birthday it was).
All of that is nicely complimented by some sort of stickiness that now has the papers glued to the table, crumbs from someone (Francis and the other two kids) not eating over a plate, and at least three circle stains from the kids cups that were left sitting on the table for a ridiculous amount of time. Where do all the papers and clutter come from? Mostly Francis.
Just like many family members who will remain nameless, Francis loves collecting things but never throws anything out. He will draw map after map of streets in the area and if he messes up one road, he gets a new piece of paper.
He'll do the same with drawing sports teams, his favorite right now is drawing jerseys for his own made-up teams. He'll draw a home jersey, away jersey, and then four alternate jerseys. If there is one little error, he'll start all over with a new piece of paper.
Now compile that with all his school work that is brought home and we have an overwhelming amount of paper on the table. I've attempted several times to clean it up so I may have the dining room table of my dreams—a few candles, no stains, and some placemats that are visible. Much to my surprise, I can only control what I put on the table, not what Francis puts there.
It's as if he can sniff out a clean table a mile away and have it cluttered up within seconds. It's actually pretty impressive how quickly he can clutter it up with his papers.
Alas, the other night, I found the perfect solution when I needed space to both eat my dinner and complete Francis' homework. First, I threw everything off the table onto the floor but that only made it difficult to walk without slipping and breaking my neck on loose leaf paper. I then decided to embrace the paper as a placemat (helps justify throwing it out when I get some food on it), pretend the drink cups fermenting were candles, and ignore the crumbs.
It's taking time, but I'm getting used to it.

Favorite Fall Treats
Katharine Marrs

Our Account Management experts have rounded up a few of their favorite dishes to celebrate fall! These goodies feature apple, pumpkin, maple syrup, and cinnamon – just the thing to warm you up on a cool autumn day.
Pumpkin Muffins (a favorite of Katharine)
Apple Crisp (a favorite of Danielle and Jessica)
Glazed Pumpkin Donuts (a favorite of Christine)
Pumpkin Soup (a favorite of Tina)
Poor Man's Caramel Apple: diced apples with caramel sauce in a waffle cone bowl, vanilla ice cream, cherry, chocolate shell sauce, sprinkled with any variety of toppings such as Oreo, Reese's pieces or peanut butter cups, etc. then finished with a Pepperidge Farm pirouette cookie. (a favorite of Kevin)

'Tis The Season
Katharine Marrs

For the past two years, the Howard Hanna Insurance Services Account Management team has celebrated the holidays with a white elephant gift exchange. In the past, we have done traditional gift exchanges by picking a "secret" partner out of a hat and selecting a present especially for that person. The white elephant exchange is a little more complex. Here are the rules, in case you would like to start a new tradition in your office.
Each person brings a wrapped gift on the day of the exchange.
Then everyone is randomly assigned a number to determine the order for taking turns.
The first person can unwrap any gift they like, but that doesn't necessarily mean they get to keep it!
The second person to take a turn can either unwrap a new present, or they can steal the present from the first person.
If the gift that you opened is stolen, you can steal from someone else or try your luck with unwrapping a new gift.
You cannot steal a gift right back from someone who stole it from you.
Each gift is limited to two thefts. After that, the person holding it gets to take it home.
Our first exchange started out slowly, with most people choosing to open a new gift, rather than risk being a Grinch and stealing a present. The merriment began when someone unwrapped a set of Pyrex containers in various sizes. This quickly became the most popular item. It was immediately stolen twice until it was successfully removed from the game. Other gifts that were particularly in demand included a fuzzy snowman blanket and a light up snowglobe.
The next year, people were more prepared to go after the goodies! A cast iron skillet and more Pyrex dishes both went the max number of rounds. If you've ever been up to our office on a potluck extravaganza day, you'll know that this group loves to cook! A few people with chilly toes had their eyes on the high powered space heater, and a bag of beauty products changed hands more than once. I can't wait to see what fun is in store for this year.

What's Your Favorite Fall Activity?
Enjoying Fall Foliage!

Last time we asked, "What's your favorite fall activity?" and you answered! The winning favorite fall activity was "enjoying fall foliage." Pictured above is our Howard Hanna Insurance Services team enjoying fall foliage!
In our next poll, we'd like to know what is your favorite snow day activity?
Vote For Your Favorite Snow Day Activity!
Are you an Insurance Wiz? Test your knowledge with this short, fun quiz!

What is the Client Portal?

Howard Hanna Insurance Services is pleased to offer our clients exclusive access to our Client Portal. The Client Portal is a personalized web account that provides 24/7 access to your individual policy information. You can access it at home or on the go from your desktop computer, laptop, tablet, or smartphone. You can even access it via a special app, InsurLink!
InsurLink gives you full access to your insurance agency with the intuitive user interface and flexibility of a mobile app. Now you can connect to your insurance agency on your terms and your schedule. Visit the app store and download it from there.
What can I use it for?
View a summary of your policy information.
Request policy changes by sending a direct message to our team.
View, download and print current auto ID cards for all vehicles on your policy.
Manage users to allow other members of your household access to your Client Portal.
Obtain certificates of insurance for commercial policies.
Upload documents securely.
Contact your Howard Hanna Insurance team!
How can I sign up?
It's easy! Email us at insurance@howardhanna.com or call us at 412-696-0310 to request an invitation. We'll send you an email with a link to activate your account.

At Howard Hanna Insurance, we're committed to protecting what matters most to you. Learn more today: HowardHanna.com/Insurance
412-696-0310