The Loop – Spring 2018 by Howard Hanna Insurance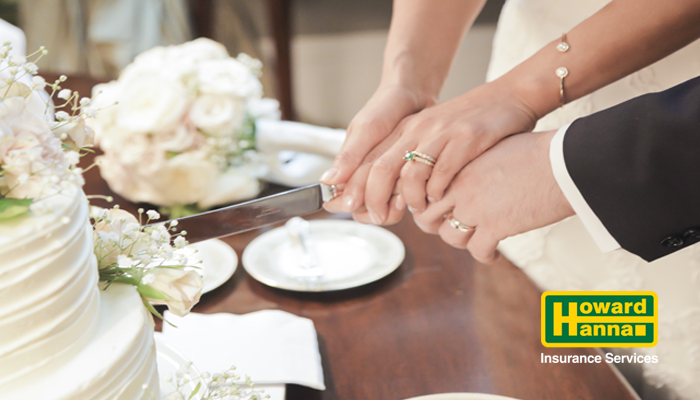 From the President's Desk
Dos and Don'ts for Your Big Day
Our Wedding Blooper Reel
Can You Hear the Bells?
Francis' Corner: Francis on Marriage
Grant to Grow Pittsburgh

From the President's Desk
Annie Hanna Engel
Welcome back to The Loop!  Here at Howard Hanna Insurance, we are most grateful for our clients and the value they bring to our agency every day. We pride ourselves on providing that same value in return.  We strive to be present, whether it's with handling your account or with our own family and friends outside of the office. So, we encourage you to sit back, relax, and enjoy some lighthearted reading, from our family to yours. As we head into wedding season, our team members are excited to share their wedding thoughts, advice and humorous memories in this edition of The Loop. Wedding insurance is the best way to protect your big day. Please don't hesitate to contact us to learn more about it: https://www.howardhanna.com/insurance/contact

Dos and Don'ts for Your Big Day
Jessica Entwistle
Don't: Expect that everyone has endless amounts of time to spend planning your Big Day
Yes, everyone is excited for you, and of course, your closest friends and family will be more than willing to help with all the planning and prep that goes into a wedding.  However, do you remember all those working lunches, last-minute grocery store stops, and squeezing in appointments on Saturdays between playdates, soccer practices and family dinners?  All of those obligations do not suddenly disappear because you're getting married.  Be mindful of others' time and be appreciative that they are spending a few of their precious minutes helping you plan. Which leads me to the second point:
We all know that hearing those two little words of gratitude can push us to do even more, or at least make us feel like our efforts are noticed.  It takes zero time to say thank you to your mom for calling back your venue to clarify their liability requirements, or bestowing your bestie with those two words because she put together the best song list ever for your DJ.  Planning a wedding takes a village.  Say "thank you" often and people will feel more inclined to continue helping.
Don't: Underestimate the immense amount of time it takes to plan your wedding
I essentially planned a backyard wedding (of course, ours was a two-day weekend event, but that's a story for another time).  Even in keeping my actual wedding small and the dinner afterwards simple, it still took months of planning to pull everything together. I advise making your list, checking it way more than twice, and saying "yes" every time someone offers their assistance. Trust me; all the hours in the day were not enough to finish every little detail, if I had planned it all on my own. Finally…
Revel in every little moment, from cake tastings to seating charts, and remember that no wedding happens without a hiccup or two.  Your day will still be perfect and best of all: it will be yours!  Happy planning, all you brides-to-be!

Our Wedding Blooper Reel
Katharine Marrs
You can plan a wedding down to the last detail, but inevitably there's something that doesn't quite go off without a hitch. The best part about surprises on your wedding day is that they become a fun story to tell! Here are some wedding day memories from the Howard Hanna Account Management Team.
Kevin: Our cake wasn't properly supported, and it started tipping during our first dance. You can see the progression in the wedding video as the lean becomes more pronounced. Finally, my mom and my wife's aunt grabbed it to keep it from ending up on the floor. When we got out the top tier a year later for our anniversary, it still had handprints in the frosting.
Tina: We planned the wedding for January 21st and our engagement party for December 17th.  After numerous calls to Australian immigration trying to get everything in order, my fiancé was finally told the laws were changing on December 18th and I would have to go back to the U.S. and wait for approval to immigrate, which could take a year.  So, he made all the arrangements and then called me to say I was getting married in five days!  We actually swapped the wedding and engagement party dates.
Katharine: All three of our groomsmen showed up to the hotel without their ties, and the best man's wife had to run out and get some at the last minute.
Jessica: We were locked out of our venue the day of the wedding.  Luckily, I had the best cake baker ever, and she waited with me and told me her funny wedding story: her three-year-old niece accidentally sprayed a red Huggie all over her white dress and she spent the entire night wearing the giant stain.  Her story kept me calm until the township guy finally arrived to let us in.
Ruth: Coming back from my hair appointment the morning of the wedding, I ran into my maid of honor's parked car. A crowd started to gather at the scene, and a couple of people were taking pictures of the accident, but we had to leave for the church. I just kept yelling that we knew each other and it was okay.
Danielle: I was greeting my guests at the reception when all of a sudden the DJ started playing the Electric Slide – my favorite. I ran to the dance floor and started busting out my own moves. Before I knew it, I was staring at the ceiling with tulle covering my head. I had fallen and fallen hard. I was too disoriented to know which way was up and lay there looking like a giant marshmallow. A few guests ran over to help me, but it wasn't until several minutes had passed that my new husband finally came to check on me. I got the feeling he was more embarrassed than I was.

Can You Hear the Bells?
Katharine Marrs, Ruth Driskell, Jessica Entwistle
Three members of our account management team have recently tied the knot. Here is a glimpse into each of their special days.
Katharine and Nick – Mad About Plaid
When I met with my florist, the first thing he said to me was, "Tell me about your wedding." Very pragmatically, I listed off the number of boutonnieres and corsages I would need for the wedding party. The florist took a few half-hearted notes, and when I had finished my catalogue, he leaned forward and said, "That's all good information to have. But tell me about your wedding!" His enthusiasm was catching, and I was soon gesturing animatedly as I described the kilt that my husband would be wearing and the gorgeous stained glass in the tiny chapel. Pulling in all the details, the florist designed a bouquet with Scottish thistles and lavender roses encompassed by a knot of curly willow. It was the perfect finishing touch to a day that celebrated the Scottish heritage on both sides of the family. The ceremony flew past in a blur, but I'll never forget the moment when my husband and I held hands and declared that on this day, two families became one.
Ruth and Tim – The Memories Captured
The wedding was over. It was beautiful and full of love. We returned from our fairy tale to our daily lives waiting for the photographers to give us our final pictures. The day we received them we were so excited to snuggle up on the couch and look at our day. We were completely blown away. I saw a photo of my father's hat sitting in the pew and started to cry. My father passed away the year before, but I wanted something of his to be there with me. I had charms made of his picture and placed them on my shoes so he could still walk me down the aisle. From the moment we said "I Do," to shoving cake in each other's faces, to the kids dancing like no one was watching, to my aunt and cousin dressing up as super heroes at our reception (we did get married two days before Halloween), almost every memory was captured. They're proof that once, even if just for a heartbeat, everything was perfect. The best part about pictures is that even when the people in the photo change, the memories they contain never will.
Jessica and Matt – Surrounded by Love
If I had to label my wedding, it would be backyard gala for Saturday and backyard picnic for Sunday.  Yep, I'm completely crazy and planned a wedding weekend, two-day event.  Luckily, we were blessed with the most amazing weather, in mid-July no less!
Immediate family and our closest friends gathered for a custom-written ceremony and dinner at a Georgian mansion right out of my dreams.  Located in Robin Hill Park, this rental has a sprawling backyard extending from the brick patio and a gorgeous gazebo, which held our ceremony.  With handwritten vows, a thank-you poem to our parents, and not a dry eye in sight, we wed surrounded by love.
Sunday bloomed into a backyard picnic held at Blueberry Hill Park.  The laid-back barbeque vibe allowed everyone to eat, drink and celebrate our marriage.  A re-reading of our vows and rose-inspired cupcakes helped cap the weekend.  Would I do it again, yes, a million times yes!

Francis' Corner: Francis on Marriage
Danielle Shearer
"Mom, can I marry you? Daddy says I can't, that you are already married." Francis presented this question to me while putting him to bed the other night. I told him not to worry about what Daddy says and that I'm happy to marry him. I figured, let him be a kid and enjoy the thought of being with mom forever. I sure liked the idea myself. It certainly gets harder with each passing year knowing that eventually someone else will hold his heart. I also know that when he becomes a teenager, there's no way he would be caught saying he wants to marry his mom. That all set aside for a minute, Francis and I continued our conversation. It went something like this:
Francis: "Good, I think I'll marry you when I'm 35."
Me: "That's fine, but remember I'll be older by then and you may change your mind."
Francis: "Why would I change my mind?"
Me: "I won't look the same as I do now, I'll look more like Grammi (my mother)."
Francis began to look a little concerned and scared. That was certainly not my intent. I just wanted him to understand that we change as we get older. Sensing this was scaring him, I quickly said,
Me: "I'm just joking, I'll look the same to you."
In the end, all I could think of is how sad I will be when dancing with him on his wedding day. I keep reminding myself that this is a journey and that growing up and giving his heart to someone else is a part of that journey. I'm powerless to stop it, nor do I want to. I want him to be happy. He wants me to be happy. So, when I start to feel that overwhelming sadness, I remind myself of how Francis typically ends his nights before falling asleep…… "Mommy, I'll love you forever."

Grant to Grow Pittsburgh
Howard Hanna Insurance
Grow Pittsburgh received a grant from Westfield Insurance Foundation thanks to the help of Howard Hanna Insurance Services. The grant is part of the Westfield Legacy of Caring program, which invites Westfield independent insurance agencies to nominate a local nonprofit in the areas of disaster recovery, insurance pathways, family stability or safety.
"Howard Hanna Insurance Services and its employees are proud members of the Pittsburgh area community.  Our collaboration with Westfield Insurance allows us to further our citizenship efforts and have impact in critically important initiatives," said Annie Hanna Engel, Esquire, and president, Howard Hanna Insurance Services.
Thanks to the generous donation from Westfield Insurance Foundation, Grow Pittsburgh can increase their efforts toward establishing workforce development programs in Braddock to combat the cycle of generational poverty and lack of opportunity in that community.
"Each year Braddock Farms serves an estimated 350 Braddock residents through the weekly farm stands and the Urban Farm Apprenticeship and Urban Farmers in Training programs. In addition to weekly farm stand and training programs, Braddock Farms also hosts tours, volunteer groups, and events that focus on education and community engagement," said Christina Bard, Grow Pittsburgh Development Manager.
"The Urban Farm Apprenticeship is seen as a stepping stone from the Urban Farmers in Training and is geared towards individuals with barriers to employment. Since its inception, over 35 young adults have graduated from the program," added Bard.
We are honored to partner with Westfield Insurance and Grow Pittsburgh to allow us to help make our local communities better places to live!
At Howard Hanna Insurance, we're committed to protecting what matters most to you. Learn more today: HowardHanna.com/Insurance
412-696-0310