The Loop – Spring 2019 by Howard Hanna Insurance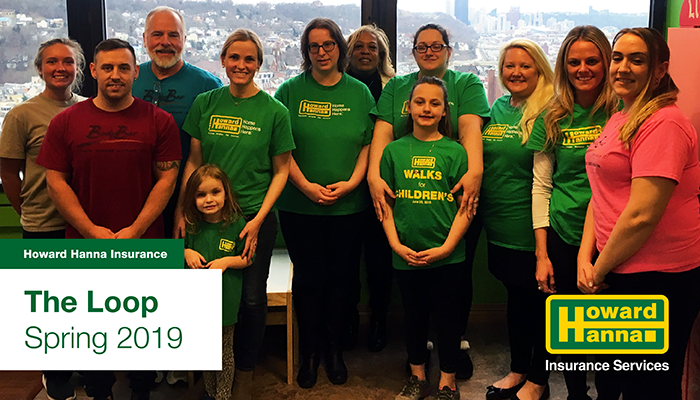 From the President's Desk
Pamper Party at Ronald McDonald House
Our Favorite Easter Recipes
Top 5 Hanna Approved Beaches
Family Traditions
Francis' Corner: I've lost my tooth—and then I lost it
Coming in May: The 4th Annual Book Drive!
What is the Client Portal?

From the President's Desk: Spring Ahead with some Vitamin D!

Annie Hanna Engel
When I think back on the first few months of the year – my New Year's resolution to appreciate what brings people happiness – I also think forward to the months ahead – and of the energy that many of us start to gather as spring begins in earnest. The whole earth feels like it is renewing, the colors around us are changing, and the days start to get longer. What will we fill our longer days with that reflects this renewal?
Many people do not know that I am both a runner and a gardener. These longer days mean that I have a few more hours of light for a run (even though my best running days are behind me and now I'm only a fair weather runner), a few more hours to spend outside with my family and our dog, a few more hours to work on my garden to see who and what is back there (a certain groundhog… and hopefully some hellebores).
What I want to remember though is that those hours are always there in the day throughout the year, and it usually takes the light of spring for me to experience them with a new approach – as almost for the first time. I start to wonder, how did I waste those hours or where did they go as I let them slip by like a thief in the dark of the winter months. How can I keep the energy of this time respectful of my hours and the hours of others throughout the year?
Wishing you lots of energy for your run into spring and to finding those lost hours in the days ahead – to spend in your best way possible. Even if it's simply closing your eyes and taking in what is around you.

Annie Engel

Insurance Services Hosts Pamper Party at Ronald McDonald House

On Sunday, February 24, Howard Hanna Insurance Services hosted a hugely successful Pamper Party at the Ronald McDonald House in Pittsburgh!
"We had such a great turnout of families for the event, all of whom thoroughly enjoyed their 'pampering' services and gift bags." said Danielle Shearer, Operations Manager of Insurance Services.
Clare-Marie Shearer and Taylor Driskell even had an opportunity to help fill the Toy Forest with new toys. Katharine Marrs and Taylor exercised their culinary skills in the kitchen and provided some great refreshments, and Ruth Driskell and Julie Teuteberg helped some families relax by holding their babies while they took a moment for themselves.
"I know this made a difference, even if it was just for one moment and one day," Danielle added.
Congratulations to everyone on a great Pamper Party, and thank you for giving back to the community!

Our Favorite Easter Recipes

Start Spring off on the right foot with some delicious food! At Howard Hanna Insurance Services, these are some of our favorite Easter recipes:
Start it off!
On the side!
For your sweet tooth!
We hope you enjoy these dishes as much as we have!

Top 5 Hanna Approved Beaches
Jessica Entwistle

With summer only a season away and the weather warming up, now is the perfect time to plan for your beach vacation. Check out our Top 5 Hanna Approved Beaches below!
1. Cabbage Beach, Paradise Island, Bahamas
Best time to visit: April-June, when weather is warmest and before the rainy season.
Average temps: low to high 80s months April-June; January's the coldest month with highs in mid 70s
Live your best life with a walk on the soft white sands.  Then marvel in the clear blue waters as you stare at your toes, even while neck deep in the ocean.
2. Seven Mile Beach, Negril, Jamaica
Best time to visit: Nov-mid December, before peak travel season (Jan-March) for better rates and less crowded views.
Average temps: mid 70s to high 80s year round
Seven Mile Beach boasts some of the clearest water and one of the longest beaches.  Plan a day of taking in the breathtaking views or rent a kayak to go out on the crystal waters.
3. Crandon Park Beach, Miami, Florida
Best time to visit: mid-March through May, with warm weather, low humidity and before hurricane season.
Average temps: high 70s to mid 80s during months above, with their cool season being December-First week in March where temps average under 78 for the high
Bring the family and fire up the pit for a cookout with an incredible beach view then enjoy sipping a cocktail while taking in an Insta-worthy sunset.
4. Bavaro Beach, Punta Cana, Dominican Republic
Best time to visit: March-May, after peak travel season.
Average temps: high 80s year round
Stop for a moment, or a day of moments, to gaze at the lush palm trees while digging your toes into this fine white sanded beach.  Better yet, take a picnic lunch and spend a romantic day basking in the sun and with someone you love.
5. Ka'anapali Beach, Maui, Hawaii
Best time to visit: Feb-March, during peak whale watching season.
Average temps: 70s-80s year round
Catch a glimpse of mother and baby humpbacks breaching across the ocean in a bucket list worthy day while soaking in some Maui sun.  No passport required.
Let us know which is your favorite beach by voting in our poll!

Family Traditions
Katharine Marrs

Holidays are often a time for families to gather together and celebrate traditions year after year. Jessica has fond memories of Easters spent at her grandparents' house.
"My dad is the seventh child out of eight, so I have fifteen cousins. At Easter, we would all go to my grandparents' house for an Easter egg hunt and a big family dinner. All the adults would spend the morning in the kitchen preparing tons of food and yelling at the kids when they got in the way. There was a big play area downstairs that had tons of mattresses on the floor, and they would send us down there to hang out. The older kids watched the younger ones, and it was a lot of fun. When it came time to eat, the tables would stretch all around the first floor of the house, with all the kids grouped together.
"There was a grove of Christmas trees out behind the house where my grandparents would hide Easter eggs for the kids to find. We'd all line up together, even the dogs Odie and Lucky. The little kids got the closest eggs, but the bigger ones had to go farther out to find theirs.
"The most special part for me was probably getting to hang out with my grandmother. It was so great just to talk to her about everything. She was so wise that getting advice from her was like a Yoda moment."

Francis' Corner: I've lost my tooth—and then I lost it
Danielle Shearer
Everyone can relate to being a child and losing a tooth. Likely, you anxiously awaited the tooth fairy's arrival to see how many pennies or quarters she had left you. I know I couldn't wait to take my pennies down to the local store and purchase penny candy. Francis, on the other hand, saves his pennies and quarters (that is what he hopes for from the tooth fairy) and then spends the money on "smelly" markers as he calls them.
This past February, Francis had a tooth that had been loose for what seemed like an eternity. When I arrived home from work one night, he couldn't wait to tell me he had lost his tooth—but then proceeded to tell me that he actually lost it. I finally figured out that he meant he couldn't find it. I assumed he swallowed it while eating, but I didn't want to scare him so I didn't bring up that possibility.
As usual, I was thinking as an adult and not a child when I said to him, "Don't worry about it. What do you need it for anyway?"
He exclaimed in disbelief of my total disregard for his crises, saying: "What am I going to do about the tooth fairy! I lost my tooth, but I have nothing to leave under my pillow, so she won't come!"
As any parent, I was trying to make him feel better but it seemed I made things worse. I finally realized why he was so panicked about losing the tooth and then really losing it. I quickly came up with an idea to write a letter to the tooth fairy and stick it under his pillow. I told him to work on his letter while I put the other two kids to bed.
When I returned, this is what he had prepared: "Dear tooth fairy, I've lost my 8th tooth. But then I lost it. But even if I lost it, may you please still give me money. Love Francis"

Coming in May: The 4th Annual Book Drive!
Howard Hanna Insurance
Howard Hanna Insurance Services is conducting its 4th Annual Book Drive for Children's Hospital of Pittsburgh!
Both new and gently used books will be accepted throughout May at the Howard Hanna Insurance Services office (1000 Gamma Drive, 4th Floor, Pittsburgh, PA 15238) and the Corporate Office (119 Gamma Drive).
Children's picture books, board books, and coloring books are all being accepted. By donating these books, you're helping children undergoing hospital care to experience the joy of reading!
We have collectively donated over 5,200 books over the past three years and look forward to continued success this year. All donated books are given to the Children's Hospital of Pittsburgh and satellite buildings.
For questions, contact Howard Hanna Insurance Services at 412-696-0310 or Insurance@HowardHanna.com.

What is the Client Portal?
Howard Hanna Insurance
Howard Hanna Insurance Services is pleased to offer our clients exclusive access to our Client Portal. The Client Portal is a personalized web account that provides 24/7 access to your individual policy information. You can access it at home or on the go from your desktop computer, laptop, tablet, or smartphone.
What can I use it for?
View a summary of your policy information.
Request policy changes by sending a direct message to our team.
View, download and print current auto ID cards for all vehicles on your policy.
Manage users to allow other members of your household access to your Client Portal.
Obtain certificates of insurance for commercial policies.
Upload documents securely.
Contact your Howard Hanna Insurance team!
How can I sign up?
It's easy! Email us at insurance@howardhanna.com or call us at 412-696-0310 to request an invitation. We'll send you an email with a link to activate your account.

At Howard Hanna Insurance, we're committed to protecting what matters most to you. Learn more today: HowardHanna.com/Insurance
412-696-0310