The Loop – Summer 2018 by Howard Hanna Insurance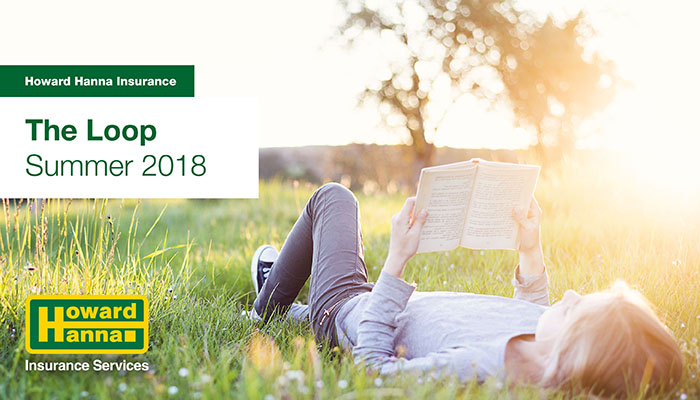 From the President's Desk
All It Takes Is A Giraffe
Summer Reading List
Internal Light, External Love
Francis' Corner: Wisdom From A 6-Year-Old
Book Drive for Children's Hospital

From the President's Desk

Annie Hanna Engel
Welcome back to The Loop! The endless days of summer are upon us, which means parties, cookouts and vacations galore.  We wish summer would last forever too.  At Howard Hanna Insurance, we strive to provide our clients with top-level service by combining the value of a trusted advisor with the warmth of a personal experience. Don't hesitate to ask us about rental car coverage for your next road trip or a one day liability policy for your summer backyard bash. We're always a click or a call away! https://www.howardhanna.com/insurance/contact.

All It Takes Is A Giraffe
Jessica Entwistle
Stop and smell the roses.  Life's too short.  Enjoy the little things, because one day you'll realize they were the big things.  Sometimes all it takes is a giraffe.  A giraffe you say?  I haven't heard that one before.  Well no, you probably haven't, but I'm about to tell you.
Along a stretch of road where only a few houses remain, where once a beautiful neighbor thrived and now a highway blares loud and triumphant, one man is looking to make a change.  Kilbuck Street leads up to I-79 and most people mistake this waning neighborhood road as a speedway before 79 takes over.  There, at the start of the stretch, is an old school barbershop.  It is in the bushes outside the barbershop, if you are driving the speed limit of 25, that you can see him.
Whom can you see?  Why the giraffe of course.  It has become one of those small, rare pleasures, that if you are driving along you might be able to experience.  He is a large stuffed animal, who stands about 5 feet tall, and the barber positions him at different spots behind and in the hedges.  A drive home suddenly becomes a thrill, heightened when the barber lovingly adorns him with a hat to match the season.  For summer, it is a straw hat, but my husband and I have been lucky enough to see him with both bunny ears and a candy corn cone.  So slow down.  The reward is a glimpse of a giraffe at the start or tail of your commute.

Summer Reading List
Katharine Marrs
Looking for a great book to read this summer? Check out these recommendations from our Account Management Team!
Kevin: Fight Club by Chuck Palahniuk
A psychological thriller centered around a jaded insomniac
Katharine: Cloud Atlas by David Mitchell
A collection of tales exploring the ways that different lives intersect throughout time and space
Jessica: House Rules by Jodi Picoult
A mystery novel focusing on a boy with Asperger's syndrome
Julie: Mr. Mercedes trilogy by Stephen King
A crime novel about an aging detective struggling to apprehend a twisted killer
Christine: A Dog's Purpose by W. Bruce Cameron
A unique novel told from a canine point of view
Tina: The No.1 Ladies' Detective Agency series by Alexander McCall Smith
A series of detective novels set in Botswana, starring the nation's first female private investigator
Ruth: Sisters by Danielle Steel
A story about the indissoluble ties that bind families together
Aleta: Strangers in Death and Promises in Death by J.D. Robb
A suspenseful series featuring a determined detective solving crimes in the NYC of the future

Internal Light, External Love
Jessica Entwistle
Katharine Marrs is a wizard.  One month she reviewed, literally, a thousand insurance policies.  I'm convinced she's magical, but it's her positive attitude that has everyone in the office loving her.  I asked her to tell me about one of her favorite memories and she recalled summering in upstate New York at her grandparent's Victorian.
Traveling north from the old-line state, they ventured outside of Buffalo.  Standing tall before them, surrounded by a grove of trees, sits her paternal grandmother's house.  Amongst the pines it's nestled in snug, just as Katharine remembers being every summer she spent growing and exploring in that home.
Vividly recalling the smell of her grandmother's garden filled with ivy and evergreen pines, that enveloping aroma still lingering in her mind, Katharine wanders deeper into her past.  As a flood of memories comes forward, she tells me about the little overlook to the river across the street.  She and her older brother used to make little boats out of bark and twigs and send them floating down the river.  It's this sense of adventure coupled with reading the same novel every summer, The Hobbit, which helped foster her creativity.
Reading side-by-side Katharine and her brother would try to keep up with one another as the pages and hours evaporated the sunlight and they traveled on a journey of transformation and discovery.  Her favorite quote from the novel being: "Already he was a very different hobbit from the one that had run out without a pocket–handkerchief from Bag-End long ago. He had not had a pocket-handkerchief for ages."  How often defining childhood moments become distant memories.  If we conjure hard enough, we find the worn and faded edges but to capture the essence of those moments is to hold them within our hearts.  Perhaps it is these memories of summers spent with her grandmother that keep Katharine calm and happy each day.

Francis' Corner: Wisdom From A 6-Year-Old
Danielle Shearer
While walking Francis to the bus stop the other morning, he stopped abruptly and looked to his right.
He pointed and said, "Look mommy, there's garbage." I looked over and there among the trees and the brush were some empty soda bottles. He went on to say, "We need to pick those up and throw them out."
He started to walk towards them and I told him I would take care of picking them up once I got him on the bus. When I asked him why it was so important to pick up the bottles, he said, "Because we don't want our world filled with garbage."
Just when I thought I had much more wisdom to lend to him, I found the opposite; he was teaching me.
Of course I know it's important to pick up garbage and not to litter, but after he pointed it out to me, I got to thinking. I don't believe I would have even noticed the empty soda bottles sitting there, even though they were in plain sight, if he had not pointed them out. I have gotten so used to trash and litter on the side of the road, in the road, near the trees and the brush that I've become numb to it. I guess subconsciously I also didn't think me picking up one or two bottles would even help much.
Obviously, I am wrong and Francis proved it. He set an example for me; and I was moved by his passion to protect our environment. Now we look for opportunities to pick up garbage wherever we are, whether on the way to the bus stop or at the park.
Francis is always saying, "Don't forget to look for garbage to pick up."

Book Drive for Children's Hospital
Howard Hanna Insurance
Howard Hanna Insurance Services is conducting its 3rd Annual Book Drive for Children's Hospital of Pittsburgh!
Both new and gently used books will be accepted throughout July at the Howard Hanna Insurance Services office (1000 Gamma Drive, 4th Floor, Pittsburgh, PA 15238) and the Corporate Office (119 Gamma Drive).
Children's picture books, board books, and coloring books are all being accepted. By donating these books, you're helping children undergoing hospital care to experience the joy of reading!
We have collectively donated over 4,000 books over the past two years and look forward to continued success this year. All donated books are given to the Children's Hospital of Pittsburgh and satellite buildings.
For questions, contact Howard Hanna Insurance Services at 412-696-0310 or Insurance@HowardHanna.com.
At Howard Hanna Insurance, we're committed to protecting what matters most to you. Learn more today: HowardHanna.com/Insurance
412-696-0310