The Loop — Summer 2019 by Howard Hanna Insurance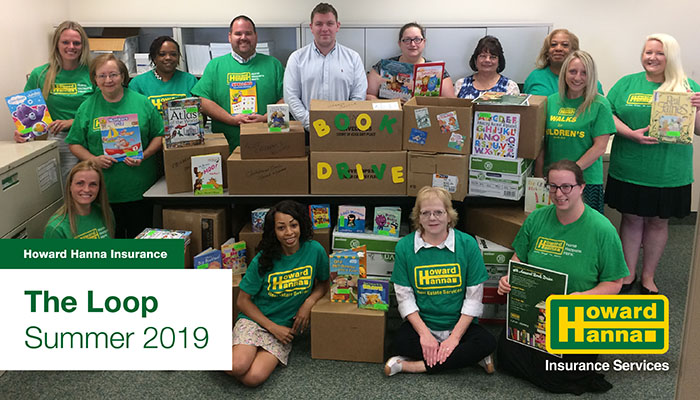 From the President's Desk
Community Involvement: Annual Book Drive
Fur Babies
Top 5 Benefits of Hiring a Summer Intern
Fun Facts About Our Operations Manager, Katie
Francis' Corner: "The Donut Towel Inn, by Shearer"
Results from "Whats Your Favorite Beach?"
What is the Client Portal?

From the President's Desk: Summer is here!

Annie Hanna Engel
Summer is my absolute favorite season – and the Fourth of July, even midweek, always makes me feel that Summer is really here. I'll take a popsicle in any and every flavor!!
Of course, I'll remind everyone I see to be extremely cautious around pools, big water, and fireworks (insurance and safety aren't ever very far from my thoughts, after all…).
In past issues of The Loop, I've written about what I will do in the summer hours and how I will use the extra daylight. I'm getting there! It's a wonderful thing to have people around us to appreciate and enjoy time with. I will challenge myself to a lot less technology, and many to have more conversations – both big and small.
As my children have a summer reading list, I've created one for myself too and – though I'm not writing any book reports – will gladly share my reviews of Pachinko and Where the Crawdads Sing ( a recommendation by a real estate sales associate in our Pepper Pike Ohio office).
Other books on my summer reading list include:
The Book Of Polly by Kathy Hepenstall
The Tenth Muse by Catharine Chung
Mrs. Everything by Jennifer Weiner
East of Eden by John Steinbeck
Nine Perfect Strangers by Liane Moriarity
1919 by Eve Ewing
Fly Girls: How Five Daring Women Defied All Odds and Made Aviation History by Keith O'Brien
Wishing you lots of great conversation, popsicles and good reads. And summer safety, of course!!

Annie Engel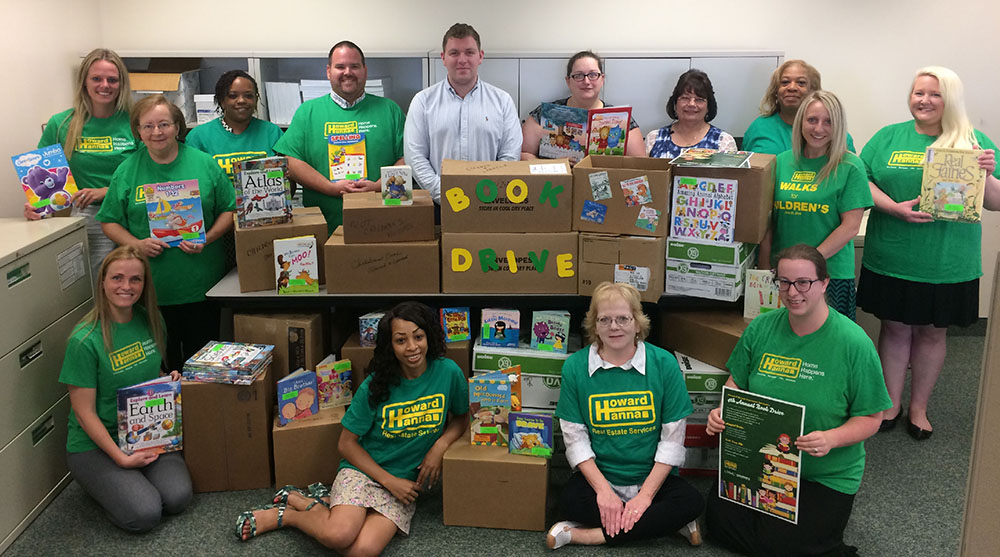 Community Involvement: Annual Book Drive

Thanks to you, the 4th Annual Howard Hanna Insurance Services Book Drive for Children's Hospital of Pittsburgh was a huge success!
Both new and gently used books were accepted throughout May, from children's picture books and board books, to children's coloring books. Over 1,460 books were collected this year — and we're still counting! By donating these books, you have helped children undergoing hospital care to experience the joy of reading!
All donated books are given to the Children's Hospital of Pittsburgh and satellite buildings.

Fur Babies
by Katharine Marrs
What would we do without our pets?
They cuddle up with us when we're sick or sleepy, they are excited to see us after a long day at work, and they teach us to find joy in the little things.
Even when they get into mischief, we can't stay mad at them.
Here's a behind-the-scenes look at the furriest members of the Howard Hanna Account Management Team.

Top 5 Benefits of Hiring a Summer Intern
Jessica Entwistle

Every summer, our insurance department has been lucky enough to receive an intern. We want to set the record straight, our interns are not coasting through the summer ordering lattes and scanning in mail. We put them through a rigorous one-month training, filling their minds with insurance philosophy, principles, and on-the-job training from processing policy changes to helping unwind more complex insurance questions.
So why would we spend four precious weeks of a 10-12 week internship training future financial gurus? Here are the top five benefits:
1. Intern = training and training = testing your own skills.
As a trainer and coach of our insurance team, I can honestly say my knowledge base and insurance understanding is never tested more than when I am training. If I can't take a complex issue, such as the purpose of homeowners insurance is that it's designed to be used in a catastrophic event, and break that down into trainable, bite-sized pieces, the summer may be a miss. It's important that you have educated professionals managing every client's account, so from the intern up, everyone has a solid base understanding of insurance.
2. Educating others bring questions & passion into your daily discussions.
Our summer intern this year, Jacob Mayer, is an insurance whiz kid. Nothing is too complex for his mind to unravel. It's impressive, and we are convinced his future is in insurance. All that being said, when I am hashing out insurance principles, it's not just Jake and myself who benefit. I find that everyone around us engages when it comes to clarifying coverage questions, or to providing real world examples that give context to insurance theory.
3. You learn about the Intern's past.
In training our intern, Jake, I've been privileged enough to interview him to understand what led him to our department this summer. From discovering he interned last summer in Israel, to the fact that his internship last year was his second trip to that country. From learning he's studying Economics at Penn State to the fact that Indian food is his favorite. In exploring his past, I can arguably say that Jake is thoughtful, driven, and culturally aware well beyond his years, and we are better for having him in our midst.
4. You gain an appreciation for your daily duties.
In training our summer interns over the years, I feel the team gains a deeper appreciation for the processes and time management that go into our everyday. This renews our drive to work hard.
5. You realize why you're in the right industry.
What better way to know you're in the right industry than to train someone else?  If you can engage the intern and bring them into your world, even though they only get a glimpse, then you're exactly where you're meant to be. I believe everyone looks for purpose. Purpose in our daily work can be achieved by exploring your world through the lens of another. So what have we learned? Best to get yourself a summer intern!

Fun Facts About Our Operations Manager, Katie
Katharine Marrs

What's your favorite way to spend time outside of work?
Anything outside! I love to go hiking or camping with my cousins or just take a walk around the lake with my dog, Tiki.
Do you do any volunteering? If so, which organizations do you volunteer with and what do you do?
I like to give back any way I can. I volunteer as time allows with fundraising and donations for the Animal Rescue League. I love animals and would rescue them all if I could. I also participate in fundraising for the Cystic Fibrosis Foundation and the Pediatric Cancer Foundation. My uncle and a high school friend both passed from Cystic Fibrosis and I've had personal experience through friends that are experiencing the nightmare of pediatric cancer. Every little bit helps.
What would be your ideal vacation?
Anywhere I can disconnect from phone and internet is ideal. I love going to Sunset Beach in North Carolina with my family in the summer. My mom is one of 11 so we get quite a group together for this. Our 25th year we had 119 friends and family at the same beach! This year will be the 30th year so I'm excited to see how many new additions we have. I also traveled out West two years ago and there was so much to see but not enough time. I hope to do more vacationing out West.
From stories you've shared at work, it sounds like you've had a lot of pets. What's the most exotic pet you've had, or the most pets you've had at one time?
The most exotic pet would be my leopard gecko that is still going strong at 19 years old. I had quite the zoo growing up though. At one point, I believe we had 3 dogs, 2 cats, 2 parakeets, a cockatiel, a ferret, two hamsters, the leopard Gecko and some fish. My mom's famous line was, "You can't keep that!" but I didn't listen so well and she was a pushover. 🙂
If you had to eat one food for the rest of your life, what would it be?
Bourbon Chicken

Francis' Corner: "The Donut Towel Inn, by Shearer"
Danielle Shearer
Francis loves the smell of a freshly cleaned towel from a hotel. So much so that he once asked me to go down to the front desk and ask them what they used for laundry detergent. He was insistent that we purchase whatever it was so our towels at home could too smell of freshly baked donuts—that's what he says the towels smell like.
The answer I received from the front desk was very disappointing to Francis; there was no way for us to purchase the detergent as it was specifically made for commercial operations.
Although Francis was not happy with that answer, I told him that only makes it more special when we stay at a hotel because he can look forward to smelling the towels.
Upon returning home from vacation this year, he decided to play "hotel." He set up the front desk using a toy stool and a lamp table in the living room. Then he converted the bathroom into the elevator by taking the sticky parts off the bottom of the stool and placing them on the wall (I'm sure that will come off easily—not) and numbering them. The bedrooms are the hotel rooms (he "opens" the rooms with a card that a front desk hotel employee allowed us to keep once) and he even set up a tent suite on the deck—he said the charge for that is $100 a night.
The dining room displays a torn up piece of paper taped to the wall with the breakfast hours for the "free breakfast." He also has gone so far as to blocking off the kitchen when the breakfast has been "shut off."
His final touch though: a sign that hangs on the front door which proudly announces to the entire neighborhood that he is open for business. He was so excited to share his hotel sign with me. He said, "Mommy, I have named my hotel. It will be called The Donut Towel Inn, by Shearer."
Now, he's waiting to check in any guest that is willing!

What's Your Favorite Beach?
Bavaro Beach in Punta Cana, Dominican Republic!

Last time we asked, "What's your favorite beach?" and you answered! The winning favorite destination beach was Bavaro Beach in Punta Cana, Dominican Republic. This time, we'd like to ask what's your favorite fall activity? Click below to take the poll!
Let us know what your favorite fall activity is by voting in our poll!

What is the Client Portal?
Howard Hanna Insurance
Howard Hanna Insurance Services is pleased to offer our clients exclusive access to our Client Portal. The Client Portal is a personalized web account that provides 24/7 access to your individual policy information. You can access it at home or on the go from your desktop computer, laptop, tablet, or smartphone.
What can I use it for?
View a summary of your policy information.
Request policy changes by sending a direct message to our team.
View, download and print current auto ID cards for all vehicles on your policy.
Manage users to allow other members of your household access to your Client Portal.
Obtain certificates of insurance for commercial policies.
Upload documents securely.
Contact your Howard Hanna Insurance team!
How can I sign up?
It's easy! Email us at insurance@howardhanna.com or call us at 412-696-0310 to request an invitation. We'll send you an email with a link to activate your account.

At Howard Hanna Insurance, we're committed to protecting what matters most to you. Learn more today: HowardHanna.com/Insurance
412-696-0310