The Loop – Winter 2018 by Howard Hanna Insurance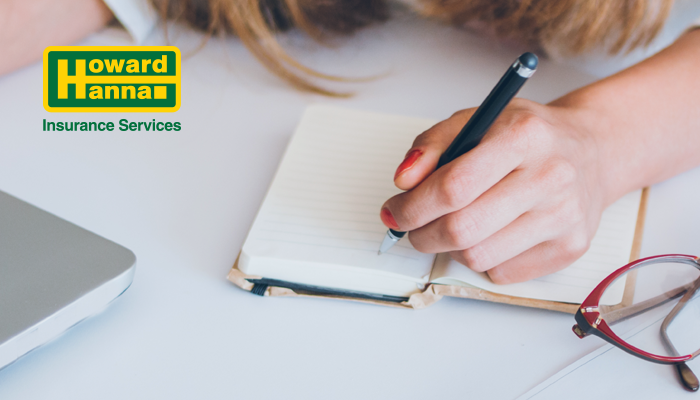 Introducing The Loop
Your Howard Hanna Insurance team is excited to bring to you our agency's first ever blog! We see our blog as a great way to connect with you, encourage you, and offer advice along with a little humor every so often. Please email insurance@howardhanna.com with comments or questions.
From the President's Desk
A Fresh Start
Francis' Corner
Book Drive for Children's Hospital
New Year's Resolution

From the President's Desk
Annie Hanna Engel
Welcome to the family! And welcome to The Loop. Here at Howard Hanna Insurance, we are most grateful for our clients and the value they bring to our agency every day. We pride ourselves on providing that same value in return.
We want to take a moment to present our first ever agency lifestyle newsletter, The Loop! We felt compelled to provide our clients with some content that speaks of life experiences and journeys as well as highlight some of our agency staff and their passions. There are moments in life that will pass us by if we do not take the time to be present. We strive to be present, whether it's with handling your account or with our own family and friends outside of the office. We encourage you, as our client, to sit back, relax, and enjoy some lighthearted reading.

2018: A Fresh Start
Jessica Entwistle
Pop, fizz, boom! 2018 has begun the way every new year has before, full of excitement and promise, as a fresh start. You put down the cookies and clean up the remnants of wrapping paper and wait patiently in line at every store where you have a return, because this is the year you'll be more patient. After all, this is the year to tackle those resolutions you made.
This year, I've vowed to declutter my home and considering what a neat freak I am, this is more about the minute piles and hidden clutter I have stashed. By this time after Christmas, I'm over the cold and clutter and ready for a clean white palette filled with evergreen branches and snowflakes. I'm ready to clean those sauce jars I've been collecting since last year and finally turn them into incredible décor of snow-filled elegance to sit atop my mantel and tables. Of course, first, I have to remove the labels. J
In fact, I've found this excellent recipe for removing those super stubborn labels from glass jars so you can restyle and reuse them. Just take one-part baking soda to two-parts liquid citrus dish soap, such as Joy, and mix until creamy. Slather that gooey paste all over the labels and let them sit for about 15 minutes.  Take a coarse scrub pad or a steel wool pad, and with warm water scrub those labels off with ease. I have found this doesn't take as much elbow grease as just letting the jars soak and then trying to scrub the labels off. Plus, this will also remove any of that stubborn label glue adhered for dear life to those lovely jars.
I have integrated these jars into my winter décor that I lovingly label: After Christmas Winter. I love that after all the warmth of the red and the bright lights from my Christmas decorations, I can start fresh in January with winter white everything, chunky sweater pillows, and of course plenty of plush blankets hidden in every nook and cranny. I love blankets. They make my home cozier and I'm convinced that if ten people come over and the power goes out, not one of those people would be cold. Isn't there just something so relaxing and perfect about snuggling under a fluffy, warm, soft pile of fabric and letting the world just fall away? Almost like watching a snowfall. Quiet flakes drifting, dropping, floating and falling through the air, piling up on top of one another in a silent symphony.
I hope that Santa brought you all the goodies on your list last year and that you gift yourself in 2018 by sticking to your resolutions and checking at least one off your list. Remember, this year is really THE year!

Francis' Corner
Danielle Shearer
Love. Do we take it for granted? Do we express it often enough? When asking my five-year-old what love is, he responded by saying that love is "loving people." Sounds simple enough, and it seems to come so easily to a toddler. So why does it seem to become harder as we get older? Maybe too many other distractions. Maybe a life event has tainted the idea of love. Francis will tell you that the way you love is by "hugging people." I think that's a good start. Perhaps that with some candy and a diamond or sapphire ring J.
During this early morning exchange with Francis, after he asked me if we could "do this after I eat my muffins," I received some invaluable love advice. And so, I leave you with some help from Francis on the way to win someone's heart, and the way to express your love. Feel free to steal some or all of Francis' one-liners:
"I love you more than sliced bread"
"I love you just the way you are"
"I want to squeeze your face because it's so pretty" (that was said about his sister)
"I love you so much I can't take it"
"I love you this much" (stretching out his little arms as far as they can go)
Keep a lookout for the next edition of The Loop for more from Francis himself!

Book Drive for Children's Hospital
During the month of July, Howard Hanna Insurance Services held its second annual book drive for Children's Hospital of Pittsburgh of UPMC.  The drive was a huge success – over 2,750 books were donated! With this success, we are looking forward to reaching even more children across all the many communities we serve, and continuing to provide children in the hospital the opportunity to experience the great joy of reading.

New Year's Resolutions
Katharine Blaisdell
Did you set any New Year's resolutions this past January? It's a popular tradition to spend some time on December 31st looking back at what you've accomplished in the past year and planning ahead for things you could do in the coming year to improve certain areas of your life, whether it's your social activities, finances, or overall well-being.
Among the top ten 2018 resolutions in the nation are to eat healthier, make better financial decisions, do more exciting things, spend more time with friends and family, learn something new, and help others. The most common resolutions focus on experiences that improve quality of life. Each day has the same number of hours in it, but the way that we spend our time can make all the difference. A fun evening spent entertaining close friends will surely be more memorable than another night of staying late at the office to crunch some extra numbers.
Here are some of the resolutions we made in our agency:
To stop multitasking and wear fun socks more often
To lose enough weight so my belly doesn't jiggle when I brush my teeth
To declutter and reorganize my home, maximizing space
To try to take over the world
To brush my teeth after lunch
In a study conducted by the Statistic Brain Research Institute (http://www.statisticbrain.com/new-years-resolution-statistics), only 9.2% of people felt that they had successfully fulfilled their New Year's resolutions. A major factor behind this low percentage could be that people tend to start out strong in January, then lose energy as the year progresses. But there's good news as well. The best thing about a New Year's resolution is that the New Year doesn't end in January! You can always refocus and get a fresh start on whatever changes you are hoping to make in 2018.
Here are a couple of things to remember to help you on your way to success. It's easier to set a number of smaller, more attainable goals rather than tackling one huge change all at once. Instead of resolving to lose fifty pounds, maybe you could resolve to take the stairs more often. Change is incremental, not instantaneous. Be open-minded in how you approach your resolutions. Consider what supplies or resources you might need, or what strategies you can put in place to form a new habit. Maybe your goal of getting organized would benefit from investing in a file cabinet. Then you could sort your mail each week, filing the important documents and discarding the junk so it doesn't pile up. Whatever goals you might have, it's never too late to turn over a new leaf.
At Howard Hanna Insurance, we're committed to protecting what matters most to you. Learn more today: https://www.howardhanna.com/insurance.
Everything you need, under one roof.
Real Estate | Mortgage | Title | Insurance
Visit howardhanna.com/hannafinancial