The Loop – Winter 2019 by Howard Hanna Insurance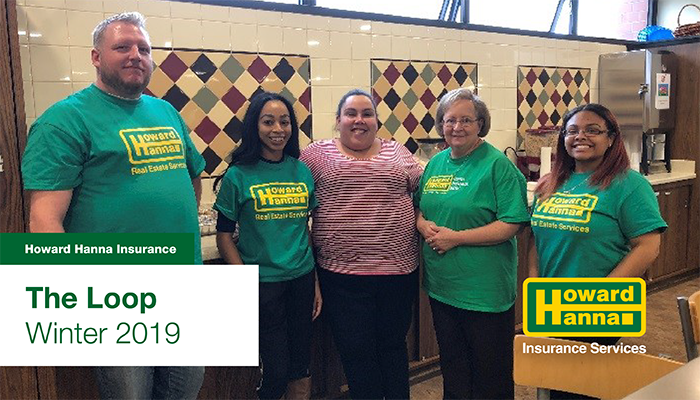 From the President's Desk
The Gift of Giving
Julie
2018 In Insurance: Cakes
Francis' Corner: Birthday Plans

From the President's Desk

Annie Hanna Engel
We all make resolutions. To exercise more, to eat better, to go to sleep on time… And statistics show that our resolutions don't last past the end of January for most of us. The problem is, we don't give ourselves enough credit for the things that we do well. The things that we will do past January – the things that we do that bring joy to other people in life.
Last year, my husband thought it would be very funny and incredibly endearing to put this picture on the back of our family Christmas card without my knowledge. He even sent me a fake proof. I was incredibly annoyed. Carrying rainbow bagel floats up a steep hill right before a storm is about to strike, with incredibly bad hair.
What I didn't get was how much he loved this picture. I didn't get how much joy this brought to my friends and to people I barely know or hadn't seen in years – my greatest concern was that they would think I was a fool… Or maybe not wearing pants. I could look at this picture and make a joke and say, "I resolve to lose those two bagels around my waist." But what I realize is that I can resolve to listen more, to appreciate the joy that other people bring into my life, and to hope that I can bring joy into other people's lives.
Wishing you a joyful, thoughtful, and wonderful 2019 and beyond,

Annie Engel

The Gift of Giving

As a part of our Annual Customer Service Week celebration, Howard Hanna Insurance Services gave back to the Pittsburgh Ronald McDonald House (RMH). The house provides 70 furnished apartments to families with sick children to allow them to stay close to their kids during treatment. They are located beside Children's Hospital of Pittsburgh and have a connecting bridge to allow the families ease of access between the two facilities. RMH relies on donations of hot meals, paper supplies, laundry detergent, supply kits, and toys for their Toy Forest to provide to the families during their stay.
On November 7th and 8th, several members of our insurance team cooked and served lunch to the families and brought over all donated items. Due to the generosity of our colleagues, friends, and family, we were able to gift over $1,000 in food, paper supplies, kits, and toys. We appreciate all who donated their time and items for the families. Thank You! Giving back is the greatest of all gifts.

Julie
Jessica Entwistle

Sometimes we meet someone and we instantly feel like we have known them all our lives. These are special people in life, who make us smile and laugh deeply. When Julie joined our account management team, her happiness was infectious, and from the minute she sat down on her first day, it was like she had been with our team forever. She brought a sense of comfort and calmness to the group, and before long we started to see a relaxed side to her in her wittiness and great sense of humor. She continues to be a shining beacon who spreads joy in tenuous moments and reminds us that caring and service come from the heart. Her colleagues say it best:
"I don't believe I've met anyone more caring, genuine, and warm-spirited as Julie. She has a true concern for the well-being of others and it shows in her charity work and the way she handles our clients. We are blessed to have her on our team." – Danielle
"Julie is a great artist! She always includes little drawings when writing notes to coworkers." – Katharine
"One thing that makes Julie a great colleague to work with is her ability to make clients feel comfortable speaking with her, and her great attitude." – Christine
"For me, what makes Julie great is she is always willing to stop and teach me something new. I also thinks it's great that she is willing to learn from me (a newbie)." – Sara
As we enter a new year with fresh eyes and open hearts, take a moment to celebrate the amazing people in your life who shine bright above the rest, just like Julie.

2018 in Insurance: Cakes
From milestone birthdays to weddings and celebrating every momentous occasion of the last 365 days, we at Howard Hanna Insurance feel grateful for the year we leave behind and hopeful for the year to come!

Francis' Corner: Birthday Plans
Danielle Shearer
Francis is well aware that his birthday comes every January, and just like any other child, he is super excited about it. The only problem I have is making sure I make it special for him.
He loves to hear stories about the day he was born, including who held him, who came to see him at the hospital, and how excited everyone was to meet him. He relishes in the fact that we had a baby shower "for him" but not for his sister or brother.
He has a very competitive spirit—although I don't know too many 6-year-old boys that don't. He also loves that he is the oldest and will never be called a "little brother."
When I find myself getting frustrated by his competitive spirit – especially when him and his sister argue over who is getting a bath first, or who was dressed first in the morning – I remind myself that it's a good thing because there is some drive in him that will lead him to successes in life.
Ok, so back to the birthday plans… I'm thinking for his 7th birthday we either do laser tag with a group of friends, or go to a hotel to swim in the indoor pool. Obviously the latter is a bit easier as we would not have to involve a group of kids, but I'm also thinking he would just love hosting a laser tag party. No matter what is decided, I want him to be able to look back and remember all the great times he's had on his birthday. I want him to know just how very special he is to me. I want the year to slow down, I want him to stop losing his baby teeth, and most of all, I want him to share these memories with his own family one day.
Oh, and I want him to stop asking me for a phone. 🙂
At Howard Hanna Insurance, we're committed to protecting what matters most to you. Learn more today: HowardHanna.com/Insurance
412-696-0310