Title Insurance: Who and What Is Covered?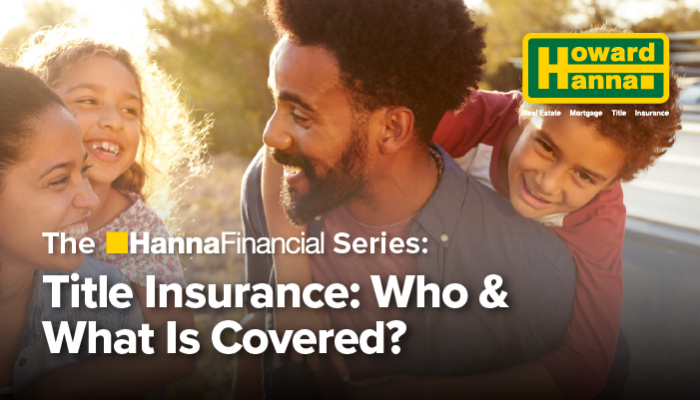 Protecting Your Peace of Mind
Who's Protected?
A buyer or a lender may be protected by a title insurance policy. A buyer may purchase an owner's title insurance policy and will be the named insured on that policy. Lenders require the homeowner to purchase title insurance, just as they require fire insurance and other types of coverage to protect their financial investment in the property.
The owner's policy protects the homeowner against the specific types of claims listed in the policy. The owner's policy remains in effect as long as the owner or the heirs have an ownership in the property. The policy cannot be transferred to the new owner if the property is sold. There is a one-time premium which is payable at closing. If the homeowner chooses to buy an owner's policy, he is required to purchase coverage for the full value of the property, which is typically the sales price.
The lender's policy insures that the mortgage is valid and the lien priority is correct. In addition, title insurance is required for lenders who package and sell their loans in the secondary mortgage market. The lender's policy coverage amount is based on the amount of the initial mortgage and decreases over the life of the loan as the balance decreases. The lender's coverage terminates when you pay off the mortgage in full.
What's Covered?
Title Insurance protects you and/or your lender against losses resulting from claims against your ownership of your property. It is different from other property insurance coverage because title insurance provides protection from problems or "hidden risks" that have occurred before you took title to the property, yet affect your ownership rights.
Title insurance coverage includes:
Protection from financial loss due to covered claims against your title, up to the value of the policy.
Payment of your legal expenses if the title insurance company is required to defend your title against covered claims.
Title insurance does not cover losses listed under your policy's exclusions and exceptions. Be sure to discuss these exclusions and exceptions with your settlement agent before your closing.
We understand that the home buying process can be a little overwhelming. At Barristers Title & Escrow, we make the closing process simple. With offices in four states, we strive to meet your needs at the lowest cost through the efforts of our dedicated team.  Our home buying expertise and full-service capabilities make your transaction as efficient as possible. Barristers is a proud part of the Howard Hanna One-Stop Shopping experience. Contact us today by calling one of our offices: http://www.howardhanna.com/barristers.