Want to Sell Your Home Fast? Introducing Find It First™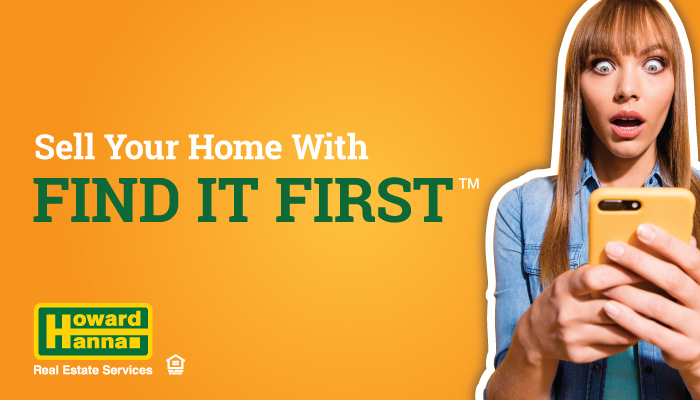 Recently, we introduced our brand new Find It First™ program, now available in Ohio, Pennsylvania, Michigan, and New York, and rolling out soon to all our markets, which allows home sellers to advertise their upcoming home for sale before it hits the entire market!
If you're selling your home, the Find It First™ program can help your property sell faster, easier, and for more money. Here's how:
Early Exposure to Serious Buyers
The Find It First™ program can help your home sell before it even hits the whole market – how many sellers can say that? We're marketing upstream, reaching serious buyers who may have missed out on other properties because they weren't able to move fast enough. This early exposure is appealing to highly motivated buyers.
Because we're marketing your property first to buyers and agents more likely to bring an offer, this may reduce the number of people who'll need to see your home, giving you additional privacy and confidentiality.
Make Your Home a Hot Property
Want to build urgency and excitement around your home? Of course you do! Find It First™ is what's called a tiered marketing opportunity, which means that your home gets waves of exposure – first from motivated buyers, then from homebuyers seeing your property once it's widely available through the multiple listing service (MLS).
You'll be joining an exclusive club of home sellers who begin marketing their properties early. It's a surefire way to generate interest in your home.
Exclusive Marketing Opportunities for Your Home
In addition to the other excellent marketing options that Howard Hanna real estate agents provide, Find It First™ gives you additional exclusive benefits:
An additional robust marketing campaign that sets your home apart

Your home appears

first

on HowardHanna.com searches, which reach millions of website visitors each month

Website visitors can specifically seek out Find It First™ listings the minute they're available
Listing Your Home With the Best
Simply put, Howard Hanna transactions hold together better than others. The more Howard Hanna services you use (real estate, mortgage, title, insurance, and our many market differentiators), the more solid and secure your home sale becomes.
Howard Hanna real estate agents are a powerful network spanning multiple states. Our agents know what other agents' buyers are looking for. Additionally, our agents have buyers now for your home.
So why wait to start marketing your home? Get started with the Find It First™ program today!