What's the difference between Homeowners Insurance and an HSA Home Warranty?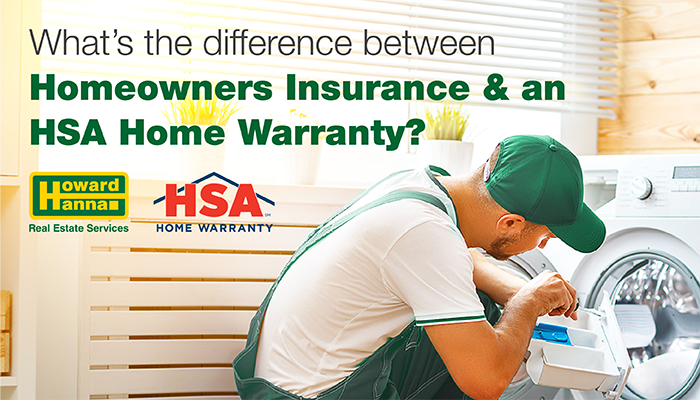 Homeowners Insurance and an HSA Home Warranty: What's the difference?
Having homeowners insurance is not only smart, but also usually required as part of the home mortgage process. A homeowners insurance policy covers accidental damage to your home and belongings due to theft, storms, fires, and some natural disasters. There are four primary areas covered under home insurance policies:
the interior of your home,
the exterior of your home,
personal property in case of theft, loss or damage,
and general liability that can arise when a person is injured while on your property.
However, homeowners insurance was not designed to cover common home system and appliance malfunctions that can sometimes be expensive to fix. While homeowners insurance policies differ, and you should consult yours for specifics, here are seven examples that generally would not be covered by a typical homeowners insurance policy:
Your air conditioning starts blowing warm air.
The thermocouple goes out on your water heater, and there's no hot water in the house.
You turn on the shower, but only a trickle of water comes out of the faucet head.
Your oven won't reach pre-set temperatures.
Your garbage disposal won't grind.
Your dishwasher has standing water that won't drain
Your electrical panel is blowing fuses regularly or not operating properly.
While these seven situations probably wouldn't be covered under most homeowners insurance plans, they likely would be covered under an HSA Home Warranty, assuming the problems were because of wear and tear, age, or another circumstance covered under the terms of the home warranty agreement.
The HSA home warranty is a service contract that provides for the repair or replacement of your system components and appliances that fail due to age and normal wear and tear.
An HSA Home Warranty is the perfect complement to your existing homeowners insurance. With both an HSA Home Warranty and homeowners insurance, you can give your home and your budget the best security and coverage while minimizing worry and stress for yourself.
At Howard Hanna Real Estate Services, our goal is to give you the best coverage and help you make Home Happen Here. With our one-stop shopping, we offer real estate services, mortgage services, title and escrow services, and insurance services, taking the worry out of homeownership by guiding you through your entire home buying or selling experience. In addition, our partnership with HSA Home Warranty helps us provide you with the peace of mind that your home is protected, from top to bottom.
Ask your Howard Hanna Real Estate Services professional for more information about the benefits of an HSA Home Warranty when selling or buying your home, and learn more about an HSA Home Warranty by visiting www.HowardHanna.com/HSA-Home-Warranty!