Why Choose 1st Priority Mortgage?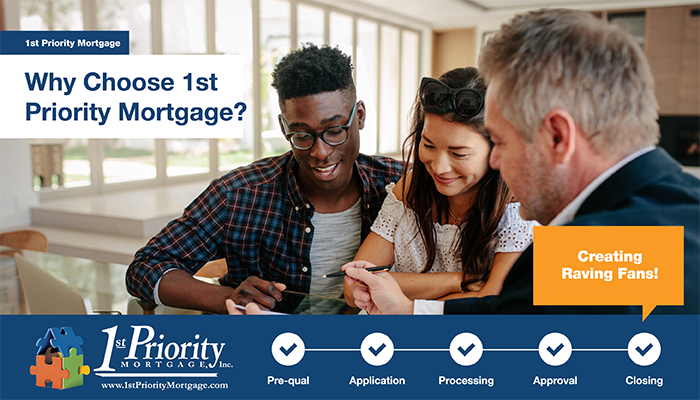 Buying a home is one of the biggest financial decisions you are likely to make. Like most big tasks, it's much easier to accomplish with a knowledgeable professional by your side.
Established in 1986, 1st Priority Mortgage, Inc. has spent over 30 years mastering the mortgage arena, designing alternatives that are most important to you. We are committed to delivering a unique process that identifies the best mortgage solution tailored to your individual needs. As a company, we consistently track and measure our results, monitoring for improvement while using what works best for you.
Delivering The Home Loan Experience™.
Our goal is to Deliver The Home Loan Experience™ – a system that communicates and identifies expectations from the start. We are committed to delivering a unique process that identifies the best mortgage solution, tailored to your individual needs, following these five steps:
The Clarity Builder™ – Clarify your wants and needs.
The Tailored Solution™ – Finding the right fit.
The Green Light Gameplan™ – You're approved—go!
The Welcome Home Experience™ – Closing process.
The Raving Fans Report™ – Your opinion matters.
Our service does not stop when the application is signed. Each employee of 1st Priority Mortgage, Inc. understands the importance of their role in Delivering The Home Loan Experience™.
Our 5-Step Mortgage Process.
We make the mortgage process simple by breaking it down into five easy steps:
Loan Pre-Qualification. An online pre-qualification gives us a basic overview of your income, debts, and assets. This allows us to get an idea of which home loan is right for you. We are more than happy to do an in-person pre-qualification if you so prefer.
Loan Application. For your initial meeting, we suggest you bring the items listed in What Do I Need for a Mortgage Application?. Providing this information can speed up the mortgage process, as it allows your Mortgage Consultant to retrieve your credit information, evaluate your application, and qualify you for a loan program that suits your financial needs
Loan Processing. Once you let us know that you intend to proceed, your 1st Priority Mortgage team will begin to process your loan. We will verify the information provided in your application, as well as order an appraisal of the property. Throughout the process, our team will update you on the status of your home loan.
Loan Approval. Our underwriters will thoroughly review your application, focusing on the following key factors: your employment history and stability, income as compared to your outstanding debts, credit history, available funds for down payment and closing costs, and the appraisal of your property. We may identify additional conditions that must be satisfied before final approval can be issued. When all conditions are cleared, your loan is approved. Written notification of your approval will be sent to you.
Loan Closing. Once you receive the clear to close from your 1st Priority Mortgage team, stay in touch with your attorney. Your attorney coordinates the date and time of your closing. Congratulations and Welcome Home!
Our Mortgage Loan Programs.
At 1st Priority Mortgage, we offer a variety of mortgage loan programs tailored to you.
My First Home
This program allows qualifying borrowers to reduce the cash required upfront by rolling some of their costs into the rate. My First Home program borrowers are able to finance many of the closing costs associated with purchasing a home, making it easier and more affordable to become a homeowner!
Fixed Rate
We offer a wide range of traditional, fixed-rate mortgage programs with various terms that can be tailored to fit your specific needs and long-term financial goals.
Adjustable Rate (ARMs)
The interest rate for an ARM (Adjustable Rate Mortgage) product changes periodically, typically in relation to an index that reflects the cost to the lender of borrowing on the credit markets, and payments may go up or down accordingly. Our ARM loan flexibility is advantageous to a wide array of financial situations.
Buy Before You Sell
This innovative and exclusive program applies the equity in your current home towards the down payment on your next home, allowing you to buy with confidence even before your current home is sold! Talk to a 1st Priority Mortgage Consultant for full details.
Luxury Mortgage
At times, homebuyers need to secure a loan in excess of $424,100. We offer a variety of mortgage options to accommodate our luxury homebuyers. We will tailor a program to meet your specific needs.
FHA & VA Loan
FHA loans are insured by the Federal Housing Administration and are available to homebuyers who meet certain guidelines. Veterans Administration (VA) loans are available at competitive rates for those who have served our country in the military service. Many of these loans require little or no down payment. We are an FHA/VA delegated lender with in-house approval capabilities.
State of NY Mortgage Agency
(SONYMA). First-time homebuyers may qualify both for attractive interest rates with minimal down payment requirements and to receive down payment assistance through grants or secondary financing.
USDA Rural Housing
This program offers solutions for qualifying properties that may be difficult to appraise due to acreage, distance, and availability of comparable sales in the area. More lenient qualifying guidelines and zero-down payment options are among the other great reasons to use this unique product.
Physician Plus
This unique mortgage program is designed exclusively for medical doctors, with good credit, but limited assets and potentially high student loan debt. In addition to low down payment, funds used toward closing costs can come from different sources.
Renovation Plus
Simplifying the home improvement process, it enables a buyer to finance a home purchase, as well as substantial home improvements to that property, with the same monthly mortgage payment.
Choose 1st Priority Mortgage
Whether you are buying your first property or your fourth, we understand it can be a big and often daunting decision. That's why we want to make applying for your home loan quick and easy. To get in touch with a 1st Priority Mortgage, Inc. Mortgage Consultant and begin the process, visit 1stPriorityMortgage.com.

NMLS# 29600. Contact 1st Priority Mortgage, Inc. for mortgage products and eligibility. 1st Priority Mortgage, Inc. is a Licensed Mortgage Banker, New York State Department of Financial Services. All lending products are subject to credit and property approval. Terms, conditions, and certain restrictions may apply on all programs. Interest rate and program terms are subject to change without notice. This is not a commitment to lend. Contact a 1st Priority Mortgage Consultant for full details. (888) 500-9733.