Why Choose Barristers Title & Escrow?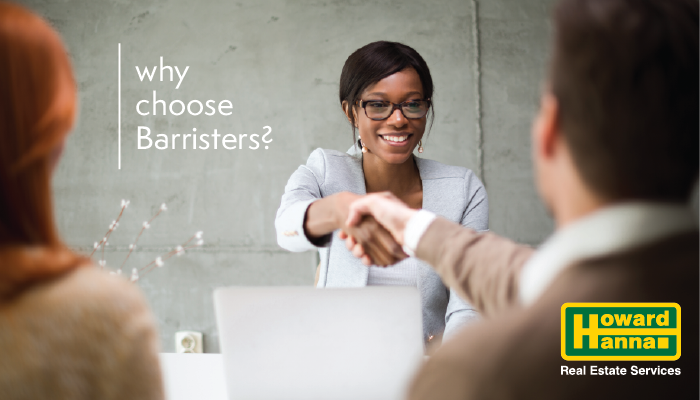 Buying a home can be challenging as you navigate through the various aspects of the closing process. From choosing an agent to choosing a mortgage, title, escrow, and insurance company, the process can truly seem daunting and endless. The best place to start is by choosing an agent who is knowledgeable and can recommend quality services to you, and the agents at Howard Hanna Real Estate have access to the best services in the business.
Once you have your amazing Howard Hanna Real Estate agent and have started the mortgage process, it's time to determine title and escrow. From state to state, the title and escrow process can vary, as some states use settlement companies while others use attorneys. Regardless of the variations in the process, title companies and agents provide an invaluable service to any buyer. The key to having a smooth closing begins with choosing a title company/agent that can provide local expertise, exceptional communication, and quality service.
For the states of Pennsylvania, Ohio, Michigan, New York, and Virginia, look no further than Hanna Financial's own Barristers Title and Escrow to meet all of these qualifications:
40 Years of Expertise
Established in 1979, Barristers has 40 years of expertise working with homebuyers of all types. We have been a top real estate title and escrow company for years and in 2018, we became the fifth largest real estate closing company in the nation. Because we operate in the areas where we do business, we are more knowledgeable of the intricacies and nuances of the title and settlement processes in these regions. This allows us to provide our customers with a more seamless and stress-free transaction by reducing the chance of any last-minute surprises.
Exceptional Communication and Professionalism
As previously noted, every state is a little different in terms of the title and settlement process, so each division of Barristers Title and Escrow is set up somewhat differently to meet the needs and demands of each region. Regardless of the processing differences, every buyer is assigned a team of individuals at Barristers who pride themselves on their knowledge of the subject matter, the proficiency and accuracy of their work, and providing the highest level of customer service. Through the staff's professionalism and legal expertise in navigating the intricacies of the home buying and selling process, clearing title encumbrances, and issuing title policies, Barristers is able to provide a smooth and stress-free settlement for all parties involved. Attaining this level of communication and professionalism is further supported through our relationships with the other divisions of Howard Hanna.
Quality Service with One-Stop Shopping
One of the great ways Barristers Title and Escrow exemplifies quality service is by being part of the Hanna Financial division of Howard Hanna. Why is this so important? Because Howard Hanna offers One-Stop Shopping, complete with in-house mortgage, title, escrow, and insurance services, each department of Hanna Financial works seamlessly with the others due to their continuous interaction. Their relationships with each other and with your Howard Hanna Real Estate agent enable these departments to aid in expediting the settlement process for all parties involved in a transaction.
Whether you are looking for your first house, your forever home, to upsize, downsize, or right size, or even for an investment property, look no further than Howard Hanna Real Estate Services and Hanna Financial to assist in providing a stress-free closing process. And remember, for all your settlement needs, contact Barristers Title and Escrow in your area.
Not sure what title insurance is? Here's what it is and why you need it. And here's how title insurance works.
Wondering what else is involved in closing on a home? Learn more about the closing process and costs associated with it. Then, learn more about how One-Stop Shopping can help you when you're buying a home.