Why Late Summer May Be the Best Time to Buy a House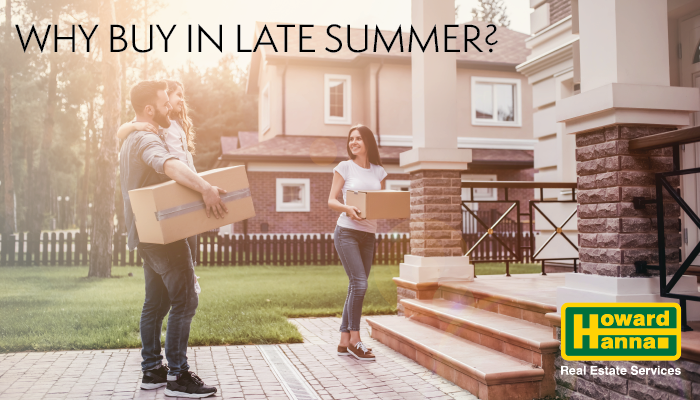 When it comes to purchasing real estate, the "spring selling season" is real: Buyers are excited about the end of winter and will want to move over summer, especially if they have children and want to get them settled in before back-to-school season. Spring's warm weather brings homebuyers out in droves for a reason! 
But there are a lot of compelling considerations that would shift your home buying aspirations to another time of year, especially if you have personal reasons to purchase outside of the peak months. 
Less Competition Means Easier Shopping
While this can vary from community to community, generally speaking, there are fewer people looking to buy a home in late summer or early fall. Particularly once the school year is in full swing, there won't be as many other potential buyers. This can make it easier to find a great home, and with less competition. Instead of making a fast offer or stressing about bidding wars, you can instead spend your energy making sure that the home will truly suit your needs. 
Homeowners Are Serious About Selling
As summer stretches on, sellers get more and more serious about completing their real estate transaction, in general. That's because people selling homes outside of the peak season are typically selling for one of two reasons:
Their home has been on the market for a while or has been relisted.

They need to relocate for personal reasons, such as a new job.
If it's the first, you may be in a good position to get a great deal on a house and may have the upper hand in negotiations. If it's the second, then the seller may be motivated to sell so that they can move forward with their plans.
Enjoy the Rest of Summer and Fall
Buying a home in the summer or early fall means that you may be able to be moved in and still enjoy warmer weather. If your new home has a great deck, buying a home in August or September may give you another couple of months to enjoy it! 
And of course, there are other benefits to owning a home in warmer weather:
You can get started on any home renovation projects you have in mind right away.

You may need to use the HVAC for both heating and cooling relatively soon after moving in and will know if it works appropriately. 

You will understand what type of landscaping the home already has, and can start

making plans for next year

.

If your new home needs any repairs, you'll have time to make them before the winter. 
Get Settled In Before Winter
If you've been thinking about buying a house, making the transaction in summer or early fall rather than later means that you can be settled before winter weather hits. Instead of struggling with snow shoveling or deicing right away, you'll be able to prepare adequately. You'll also have time to make any necessary adjustments or fixes for the winter – for example, if your home inspection identified a small roof issue, you'll be able to fix it before there's an inch of snow covering it. 
Plus, settling in before winter hits has another benefit: You'll be better prepared to celebrate winter holidays in your new home! You might even be able to host Thanksgiving, Hannukah, or another late-year celebration in your home. By moving in late summer or early fall, you'll have ample time to set your house up…and plan fabulous holiday decorations.
Late Summer Can Be the Perfect Time to Buy a Home
While yes, there are many advantages to looking for a new home in the spring, don't rule out other times of year! Buying a home in the late summer or fall comes with a lot of advantages that you shouldn't overlook. Especially if you've already been thinking about buying, why wait? Looking for the home of your dreams this year instead of waiting could help you get a great deal on a home, avoid competition, and get settled right away. Sounds like a win all around!
Are you ready to get started? Contact a Howard Hanna real estate agent today to start searching for your new home.