With Flood Insurance, YOU are in control.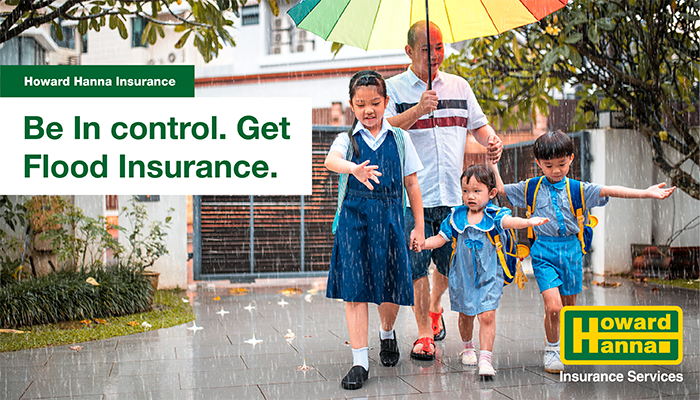 Just one inch of water in a home can cost more than $25,000 in damage.
Spring is a prime season for flooding, and now is a good time to review your options. At Howard Hanna Insurance Services, we want you to be educated about all the risks you may face—before a potential loss occurs. Many people are surprised to learn that their standard homeowners insurance doesn't cover flood damage.
According to the National Flood Insurance Program (NFIP), nearly 20% of the program's claims occur in moderate- to low-risk areas. Flood insurance provides the financial assistance you need to get back on your feet. Here are three questions you should ask yourself to be better prepared:
1. Is Flood insurance available in my area?
Ask us! Give us a call at 412-696-0310 to find out if your property is eligible for flood insurance through the National Flood Insurance Program (NFIP).
2. What does it cover?
The NFIP offers coverage for both the structure and its contents. Flood insurance coverage provides financial assistance. Keep in mind that you typically can't purchase flood insurance and have it take effect the next day. There's usually a 30-day wait period. (Exceptions to this rule apply, particularly when the insurance is required by a lender and is purchased during the process of securing a mortgage.)
3. How much does it cost?
The cost of flood insurance varies based on several factors. If your property is considered to be located in a "high-risk" area (special flood hazard area), your premium will be higher than those in low- or moderate-risk flood zones. NFIP flood insurance rates do not differ from company to company or agent to agent.
Flood Facts
Here are some additional facts about floods that you may not be aware of:
Floods are the most common and most expensive natural disaster.
Homeowners are more likely to experience flooding than having a fire.
Natural Disaster loans are much more expensive than insurance, and must be paid back with interest. (Interest alone is generally more expensive than a NFIP policy premium.)
Flood insurance is available for residential and commercial properties.
A Preferred Risk Policy provides both building and contents coverage for properties in moderate- to low-risk areas for one low price.
At Howard Hanna Insurance Services, our goal is to help give you peace of mind every day that you own your dream home. We offer a variety of insurance products to suit your individual needs, from home, auto, and flood insurance to life insurance and insurance for your business. Get in touch with us today to learn more about our flood insurance program!