1,200 ACRE CONTIGUOUS DEVELOPMENT SITE IN SOUTHWESTERN PENNSYLVANIA LISTED FOR SALE BY HANNALWE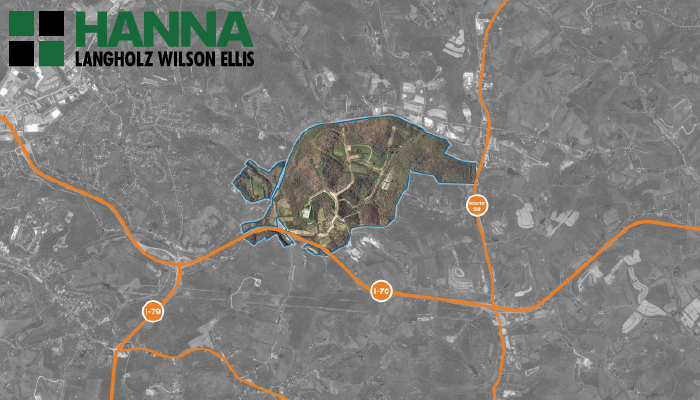 Pittsburgh, PA, September 26, 2018– Chairman of Hanna Holdings, Inc. Howard W. "Hoddy" Hanna, III has announced that Hanna Langholz Wilson Ellis is bringing to the market Zediker Station, a 1,200-acre, contiguous land site less than one mile from the junction of two interstates, I-70 and I-79 in South Strabane Township, Washington County, PA. This site has access to two Class I rail lines, CSX and Norfolk Southern.
Public and private partners are in place and committed to the success of the development of this site. "The excitement around this project is palpable.  There is great momentum behind it, which gives the community something to get excited about," said Patty Horvatich, Vice President, Business Investment, Pittsburgh Regional Alliance, the regional economic development marketing affiliate of the Allegheny Conference.
Regionally, this site is in a prime location; not only is it geographically located at the junction of two interstates, it is within 500 miles of 48% of U.S. businesses, 45% of U.S. and Canada populations, 63% of the national industrial output, 53% of U.S. buying income, and 40% of total U.S. retail sales. Southwestern Pennsylvania has 35 colleges and universities with more than 169,000 students enrolled on a yearly basis and more than 41,000 graduates each year.  Additionally, Pittsburgh was just named the most livable city in the continental United States by The Economist Intelligence Unit.
Jim Winter, Senior Director, Corporate Service & Commercial Brokerage and AJ Pantoni, Wilson Ellis Director of Industrial Brokerage, are the Hanna Langholz Wilson Ellis team representing CNX, the owner of the site.  "This site represents a great opportunity for the region, as there are no other sites west of Scranton, PA as large as this site," said Winter.
Tommy Johnson, Vice President for External Relations & Corporate Responsibility at CNX, said "We are excited that the Hanna Langholz Wilson Ellis team will be marketing this unique opportunity. The potential for the site is exciting – Washington County, South Strabane and Pennsylvania will all be winners in the end once the site is developed. We are happy to entrust Jim and AJ to bring this to the market for us."
Contact Jim Winter or A.J. Pantoni at 412-261-2200 or via email at jwinter@HannaLWE.com or ajpantoni@HannaLWE.com
About HannaLWE
Hanna Langholz Wilson Ellis ("HLWE") is Pittsburgh's leading entrepreneurial market provider of commercial real estate brokerage services.  We pride ourselves in maintaining the highest level of standards for our clients. These are principles that we uphold in every transaction. We have 26 agents who distinguish themselves in the retail, office, industrial and investment disciplines of commercial real estate.  We service Pennsylvania and West Virginia.  By remaining on the forefront of industry trends, we have not only survived but thrived by delivering personalized service.  HannaLWE.com
About Howard Hanna
Howard Hanna Real Estate Services is the 3rd largest real estate company in the United States, the #1 privately owned broker in the nation, and the largest home seller in Pennsylvania, Ohio, and New York. The family-owned and operated real estate company specializes in residential and commercial brokerage service, mortgages, closing and title insurance, land development, appraisal services, insurance services, corporate relocation, and property management. With 279 offices across PA, OH, NY, VA, MI, WV, NC, and MD, more than 9,200 sales associates and staff are guided by a spirit of integrity in all aspects of the real estate process. For more information, visit www.howardhanna.com, or www.facebook.com/howardhanna
Media contact:  Deborah Donahue, 412-784-3816, ddonahue@howardhanna.com