Akron Cleveland Association of Realtors Awards Howard W. "Hoby" Hanna, IV with the Good Neighbor Award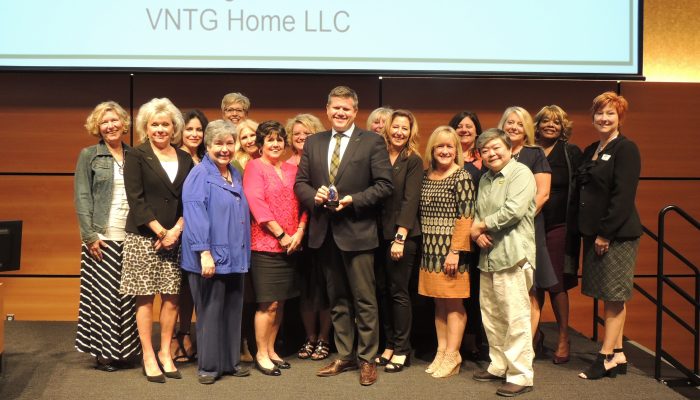 Cleveland, Ohio (October 25, 2017) – Howard W. "Hoby" Hanna, IV, President of Real Estate Brokerage and Realtor®, has been honored with the Akron Cleveland Association of Realtors (ACAR) "Good Neighbor" award. Each year ACAR carefully selects a local Realtor® who is making an extraordinary impact on the community through charitable and volunteer work.
Hanna was recognized for his philanthropic leadership at Howard Hanna Real Estate Services. The company's offices have a long tradition of hosting "Choo Choo Chow Chow" fundraising events for children's free care. Last year alone, they raised and donated nearly $400,000 to local children's hospitals. Companywide, Howard Hanna has raised and donated more than $14 million to children's free care and related activities since 1988.
"REALTORS are amazingly generous. Hoby Hanna is an excellent example of how leadership, combined with that spirit of generosity, is truly making a difference in the communities they serve," said Sandy Naragon, Chief Executive Officer of ACAR. "Community outreach is a core service of the Akron Cleveland Association of REALTORS, and it is for that reason Hoby's community service is being recognized."
"This Award is also a terrific way to spotlight the great work being done by the Howard Hanna Children's Free Care Fund and the other organizations he serves. His reaction to my congratulating him was to be sure to mention all the others who give and serve. That was really special to hear," added Naragon.
In addition to holding "Chow Chow" events, the company's offices have been collecting coats for the annual WTAM Coats for Kids campaign. This is the 20th year that Howard Hanna will be participating, and the company seeks to beat its coat collection number of 6,400 from last year. Earlier this year, Hanna and the senior leadership team also set an example of good corporate citizenship by donating $10,000 to the REALTORS® Relief Foundation after the devastation of Hurricane Harvey.
Kristine Burdick, President of Howard Hanna Midwest, nominated Hanna for the award and is thrilled that he was recognized for his decades of service to local communities. "I nominated Hoby for the Good Neighbor Award because he has had an extraordinary impact locally through his charitable and volunteer work. His involvement in the community is broad and vast," she said.
The 2017 Howard Hanna fundraising campaign is in full swing with office "Chow Chow" events being held throughout Northeast Ohio. The local community is invited to attend any events to help Howard Hanna achieve its 2017 fundraising goals.
For a complete list of all the "Choo Choo Chow Chow" events, please visit: howardhanna.com/childrens-free-care-fund.
Howard Hanna Real Estate Services is the 3rd largest real estate company in America, the #1 privately owned broker in the nation, and the largest home seller in Pennsylvania, Ohio, and New York. The family-owned and operated real estate company specializes in residential and commercial brokerage service, mortgages, closing and title insurance, land development, appraisal services, insurance services, corporate relocation and property management. With 259 offices across OH, PA, NY, VA, MI, WV, NC and MD, our more than 9,000 sales associates and staff are guided by a spirit of integrity in all aspects of the real estate process.
To learn more please visit www.howardhanna.com or www.facebook.com/howardhanna
Media contact:
Elizabeth Grepp, 216-447-4477 x115, elizabethgrepp@howardhanna.com
Debbie Donahue, 412-784-3816, ddonahue@howardhanna.com