Annie Hanna Engel Featured on Panel of Family Business Leaders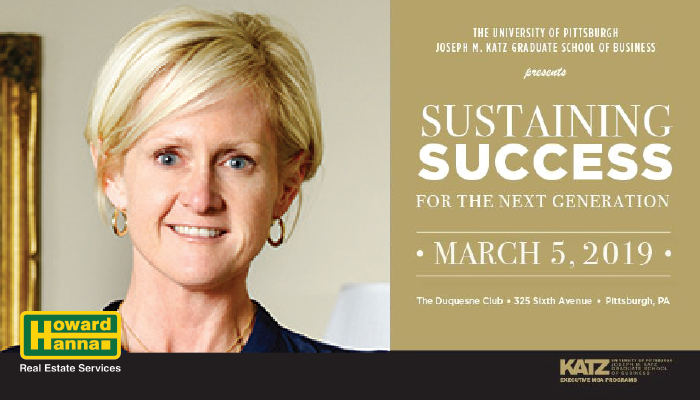 Pittsburgh, PA (March 4, 2019) –  Annie Hanna Engel, Esq., President of Howard Hanna Insurance and Chief Legal Officer, Hanna Holdings, Inc., has been named one of the  distinguished panelists for the University of Pittsburgh Katz Graduate School of Business event, Sustaining Success for the Next Generation.
 The event will be held tomorrow, March 5, 2019, at the Duquesne Club in downtown Pittsburgh.  The panelists will talk about the best practices in leadership, strategy and business development, while also sharing firsthand accounts of innovation and transformative growth within their organziations.
"I am honored join this panel to discuss best practices for sustaining businesses into the next generations.  At Howard Hanna, we have three generations of our family involved with the business," said Engel.  "I am proud to have a significant leadership role within the nation's 3rd largest real estate company, and to be part of our continued growth and innovation.  We have always dedicated, and always will dedicate ourselves to providing home buyers and sellers what they need, and our sales associates the tools necessary to achieve both their goals and those of their clients in all of our markets."
Engel is a member of the third generation of the Hanna family involved with the company's leadership. She joined Howard Hanna in 2005 as Chief Legal Counsel, and was named President and Chief Operating Officer of Howard Hanna Insurance Services in 2010.  In her dual roles, Engel focuses on the evaluation of risk, estate transaction litigation, licensee ethics compliance and various corporate matters.
Howard Hanna Insurance Services is the #1 real estate insurance company in the United States and has been since 2010.  In 2018, Howard Hanna Insurance issued 24,157 insurance policies with a volume of more than $4 billion.  Engel manages a team of over 100 insurance agents and staff throughout PA, OH, NY, VA, MI, NC and SC.
About Howard Hanna:  Howard Hanna Real Estate Services is the 3rd largest real estate company in the United States, the #1 privately owned broker in the nation, and the largest home seller in Pennsylvania, Ohio, and New York. The family-owned and operated real estate company specializes in residential and commercial brokerage service, mortgages, closing and title insurance, land development, appraisal services, property and casualty, corporate relocation, and property management. With 312 offices across PA, OH, NY, VA, MI, WV, NC, MD, and the Carolinas, more than 11,000 sales associates and staff are guided by a spirit of integrity in all aspects of the real estate process. For more information, visit www.howardhanna.com, or www.facebook.com/howardhanna
Contact: Deborah Donahue, 412-784-3816, ddonahue@howardhanna.com