Cammy Fraser Joins Howard Hanna Management Team in Smithfield, VA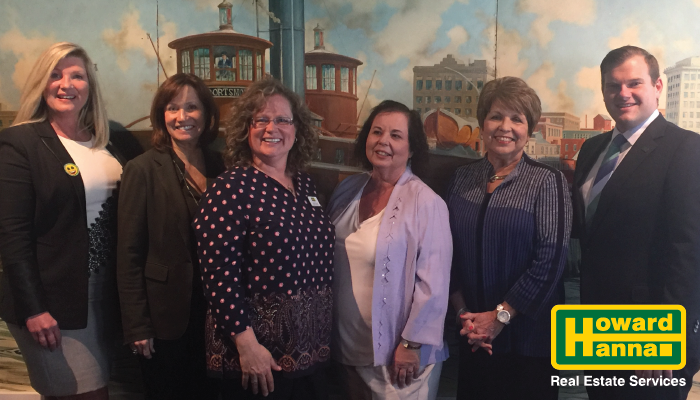 Smithfield, VA (April 20, 2018) – Gail Coleman, President of Howard Hanna Real Estate Services' Southeast Region, along with Regional Manager Sandy Yoder Wagner and Vice President Dennis Cestra, Jr., announced that Cammy Fraser has been named manager of the Smithfield, VA office. The Smithfield office has consistently grown in size and market share by listings, sales, and agent base. Fraser joins Howard Hanna's management team and the Smithfield office serving the greater Isle of Wight and Suffolk areas.
Fraser began her real estate career over six years ago, after she and her husband decided to plan for his retirement from a 27-year Army career. She graduated from the University of New Hampshire with a degree in early childhood education and continues to be known for her natural teaching, coaching and mentoring skills.
"I am honored to be part of the best real estate company in the country," said Fraser. "I have discovered for myself as an agent with Howard Hanna how fantastic the tools, support staff, multi-generational marketing, and cutting-edge technology are. I'm looking forward to continuing the dynamic atmosphere and growing office market share in 2018."
Fraser has been active in local real estate as a member of the Hampton Roads REALTOR Association and Virginia REALTORS, as well as the National Association of REALTORS. In addition to her involvement with real estate, Fraser is also a past President of the Officer and Civilian Spouse Association, past board member of Cheshire Forest, and continues to share her love of aquatics by teaching and coaching swim students.
"We are excited and pleased to have Cammy Fraser join our leadership team as the manager of our Smithfield office," said Coleman. "She is a well-respected member of our real estate community, and we look forward to Cammy's leadership and enthusiasm as we continue to grow and service the Smithfield market and beyond."
"We look forward to Cammy's leadership as we continue to grow as the market leader and remain the consumer's first choice when it comes to working with a Realtor," added Yoder Wagner.
Howard Hanna Real Estate Services is the 3rd largest real estate company in the United States, the #1 privately owned broker in the nation, and the largest home seller in Pennsylvania, Ohio, and New York. The family-owned and operated real estate company specializes in residential and commercial brokerage service, mortgages, closing and title insurance, land development, appraisal services, insurance services, corporate relocation, and property management. With 262 offices across PA, OH, NY, VA, MI, WV, NC, and MD, more than 9,200 sales associates and staff are guided by a spirit of integrity in all aspects of the real estate process. For more information, visit www.howardhanna.com, or www.facebook.com/howardhanna
Media contact:
Deborah Donahue, 412-784-3816, ddonahue@howardhanna.com