CFO of the Year Award presented to Howard Hanna Chief Financial Officer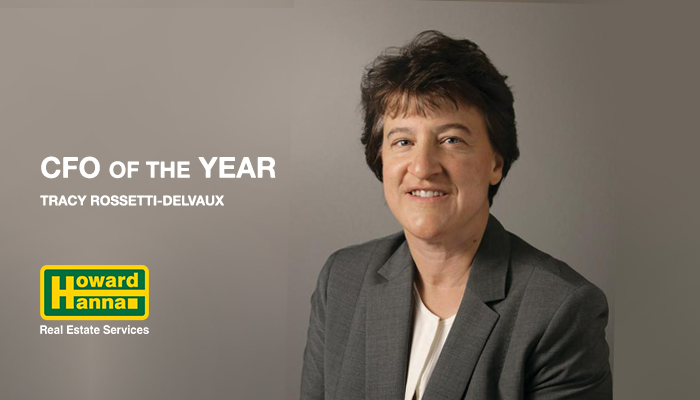 Pittsburgh, PA (November 16, 2017) – At a dinner held at the Omni William Penn Hotel in Downtown Pittsburgh, Tracy Rossetti-Delvaux received the Pittsburgh Business Times 2017 CFO of the Year award.
Ms. Rossetti-Delvaux serves as Chief Financial Officer and Vice Chairman of the 3rd largest real estate company in the United States.  She is responsible for treasury and investment management, evaluation, and negotiations of strategic acquisitions, oversees the accounting and finance departments of all entities of Hanna Holdings, including real estate, mortgage, title, and insurance across eight states, and manages a team of 42 CPAs, accountants, and staff.
She joined Howard Hanna from Ernst & Young in 1994, and was named Chief Financial Officer in 2010.  Since that time, the company has experienced a 66% increase in closed transaction sides, marked most notably by a record 95,152 closed transactions in 2016.
"If you can look at something analytically, it can lead you to concrete answers and help you make better decisions," she said.
That philosophy has guided her throughout her career. She continues to use that approach to help the firm as it grows through acquisitions and expansions, including the recent purchases of RealtyUSA, Nothnagle Home Securities Corp. and First Priority Mortgage Inc. She oversaw all aspects of these purchases, including the integration of each company into Hanna Holdings.
"I learned to become business-smart working here as opposed to an accounting firm," Rossetti-Delvaux said. "The Hanna family members taught me the business side of things and how I can contribute to their success alongside them."
Howard Hanna Real Estate Services is the 3rd largest real estate company in America, the #1 privately owned broker in the nation, and the largest home seller in Pennsylvania, Ohio, and New York. The family-owned and operated real estate company specializes in residential and commercial brokerage service, mortgages, closing and title insurance, land development, appraisal services, insurance services, corporate relocation, and property management. With 259 offices across PA, OH, NY, MI, VA, WV, NC, and MD, our more than 9,000 sales associates and staff are guided by a spirit of integrity in all aspects of the real estate process.
For more information, visit https://www.howardhanna.com/, www.facebook.com/howardhanna
Media contact: 
Deborah Donahue, 412-967-9000 x 1328, ddonahue@howardhanna.com