Coldwell Banker Bainbridge Kaufman Joins Howard Hanna Real Estate Services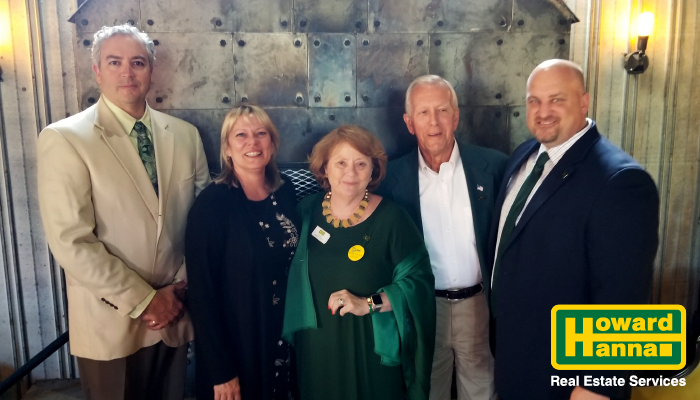 Meadville, PA (April 26, 2018) – Tom Schoeller, Senior Vice President, Howard Hanna Franchising, Mergers & Acquisitions, today announced that Coldwell Banker Bainbridge Kaufman, the #1 real estate company in Crawford County*, is changing brands as they have merged with Howard Hanna Price Real Estate through the Howard Hanna franchising program.  The new company will begin operating April 28, 2018 as Howard Hanna Bainbridge Kaufman with the backing and support of the #1 home seller in Pennsylvania, Ohio and New York, the 3rd largest real estate company in the United States**, and the largest privately owned real estate company in United States.
Larry Price, broker owner of Howard Hanna Price Real Estate brings over 45 years of real estate experience to the new company.  "Bainbridge Kaufman has been an excellent competitor for many years.  I look forward to joining their team, and together serving buyers and sellers of property in our area for years to come," said Price.
Founded in 1952, Bainbridge Kaufman began as the Arthur Gardner Agency located on Chestnut Street in Meadville.  In 1954, the firm was purchased by William Bainbridge and the name changed to the Bainbridge Agency.  Years later Ed Kaufman joined Bill Bainbridge as a partner and the firm changed its name to the Bainbridge Kaufman Agency.  Twenty-five years later in 1987, Teresa Wygle purchased the firm and franchised with Coldwell Banker.
Current co-owner David Schepner joined Bainbridge Kaufman in 2000 as a partner and has been instrumental in the company's growth.  In 2008, the company purchased Colonial Penn Real Estate with offices in Mercer County.  Pam Willis joined the partnership at that time.  Today, by joining forces with Larry Price and his team, Howard Hanna Bainbridge Kaufman and its agents have significantly increased their market-leading position with offices in Meadville, Conneaut Lake, Jamestown, Cochranton, Greenville and Andover, OH.
"To be the consumer's choice in Crawford and Mercer counties is our goal," said Howard Hanna CEO Helen Hanna Casey.  "We are excited to welcome Pam, David, and their team of professional sales associates, who have helped thousands of buyers and sellers over the years, to the Howard Hanna family.  Together we will do great things and carry on the reputation of excellence that Bainbridge Kaufman has established."
The Howard Hanna franchise program allows franchisees to retain ownership and decision-making locally, while utilizing exclusive Howard Hanna marketing tools and nationally acclaimed training and learning programs for sales associates, bringing more buyers and sellers together in successful transactions.
"We are thrilled to announce this new partnership for our company.  After looking at many options, we couldn't be more excited to be aligning our Bainbridge Kaufman team with the Howard Hanna Price team and look forward to future growth for all," said Pam Willis, Associate Broker and President, Howard Hanna Bainbridge Kaufman.
"The business climate has changed over the last several years, and we knew we were going to need to make some changes to continue to grow.  After a long and detailed search, the decision was clear that Howard Hanna was the right partner for us.  They are a family-owned and operated company and provide state of the art tools and programs that will bring tremendous value to our agents, who will in turn be able to help more buyers and sellers achieve their goals," added Broker of Record and Vice President, David Schepner, Howard Hanna Bainbridge Kaufman.
Howard Hanna Real Estate Services has been helping people feel at home since 1957, when the company was founded by Howard and Anne Hanna in Pittsburgh, Pennsylvania. Through both organic growth and mergers/acquisitions, the company is now the 3rd largest real estate company* in the United States with 262 offices throughout Pennsylvania, Ohio, New York, Michigan, Virginia, North Carolina, West Virginia, and Maryland and more than $18 billion in closed sales volume last year.  The full-service company provides residential and commercial brokerage, mortgage, insurance, closing and escrow, appraisal, relocation, and property management services.
The addition of Bainbridge Kaufman continues Howard Hanna's growth plan in the eastern United States and pairs the #1 home seller in Pennsylvania with the #1 real estate office in Crawford County.  "Pam, David, and their team have worked very hard to earn the leading position in the market, and we are thrilled that they have chosen to join our team," said Tom Schoeller. "Our franchising platform enables real estate companies to tap into our proprietary tools and systems, which provide agents with more opportunities, who in turn can provide better value for home buyers and sellers.  Everybody wins."
Howard Hanna Bainbridge Kaufman is headquartered at 1103 Park Avenue, Meadville, PA 16335. For more information, please call 814-724-1100.
Other locations:
12213 Midway Drive, Conneaut Lake, PA 16316
12395 Conneaut Lake Road, Conneaut Lake, PA 16316
46 North Main Street, Greenville, PA 16125
102 S. Franklin Street, Cochranton, PA 16314
401 Liberty Street, Jamestown, PA 16134
320 East Main Street, Andover, OH 44003
Howard Hanna continues to look for strategic partnerships with market leading companies.  For information on franchising, contact Tom Schoeller at 570-460-0272 or tomschoeller@howardhanna.com or visit www.howardhanna.com, or www.facebook.com/howardhanna
*  Ranked by GMBOR 2001-2005; GEBOR 2016-current.
**Ranked by REAL Trends 500 annual report, April 2018, based on transactions 2017 calendar year.
Media contact:
Deborah Donahue, 412-784-3816, ddonahue@howardhanna.com
(Pictured L to R:  David Schepner, Pam Willis, Helen Hanna Casey, Larry Price, Tom Schoeller)