Cranbrook Realtors Joins with Howard Hanna Real Estate Services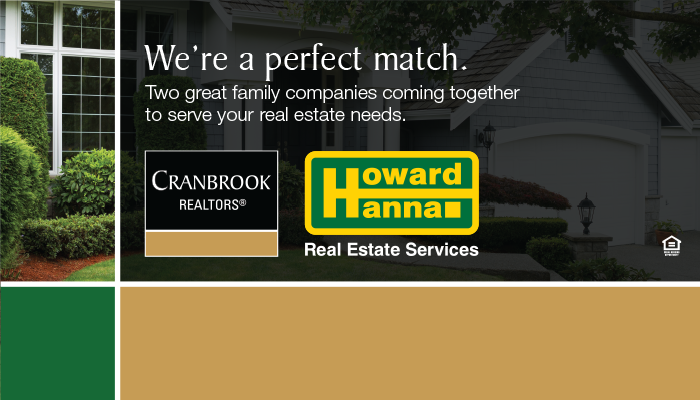 Birmingham, MI (September 13, 2017) – Howard Hanna Real Estate Services, the third largest real estate company in the United States, is pleased to welcome Cranbrook Realtors to the Hanna family of companies.
Cranbrook Realtors has been serving Oakland County and the surrounding areas for over 45 years with offices in Birmingham and Franklin. A well-respected local real estate broker, Cranbrook Realtors will now be able to provide their 70+ professionals with Howard Hanna's marketing tools and business resources.
"In 2012, we began a new chapter in service to real estate consumers in this region. Today, we are proud to welcome Mitch and his team of professionals to the Howard Hanna family as we continue to expand in Michigan," said Howard W. "Hoby" Hanna, IV. "The market here is experiencing unprecedented growth, and this partnership makes sense so that we can better serve our customers and agents in the area. We are excited about what this means for the company's future in this region."
Mitch Wolf, Owner and Broker at Cranbrook Realtors, is thrilled to be partnering with Howard Hanna. "Cranbrook Realtors culture is built on 'We are family.' This family motto has kept our agents with us. Elaine and I listened to the values of Howard Hanna and knew this was a match," he said. "As the real estate industry continues to evolve and change, it was clear to me that the integrity, family values and innovative technology of Howard Hanna was the right direction for Cranbrook Realtors."
"Coming together and the great synergy of Cranbrook Realtors and Howard Hanna will allow us continued growth in the markets we serve," said Kristine Burdick, President of Howard Hanna Midwest. "Our partnership together, and the professionalism and expertise of our great Birmingham and Franklin sales associates will continue to be the strength that consumers will see when choosing a company to work with for all their real estate needs."
Agents and clients will now be able to buy with confidence using Howard Hanna's exclusive programs, among them the 100% Money Back Guarantee. Luxury sellers will have access to the high-end Homes of Distinction program, offering expanded marketing along with a high level of service to new and returning clients.
"Our luxury home business will benefit with the Homes of Distinction program Howard Hanna offers. The tremendous listing tool of 100% Money Back Guarantee will set us apart from other real estate companies," added Wolf.
Howard Hanna Real Estate Services is the 3rd largest real estate company in America, the #1 privately owned broker in the nation, and the largest home seller in Pennsylvania, Ohio, and New York. The family-owned and operated real estate company specializes in residential and commercial brokerage service, mortgages, closing and title insurance, land development, appraisal services, insurance services, corporate relocation and property management. With 259 offices across MI, OH, PA, NY, VA, WV, NC and MD, our more than 9,000 sales associates and staff are guided by a spirit of integrity in all aspects of the real estate process.
To learn more please visit www.howardhanna.com or www.facebook.com/howardhanna
Media contact:
Elizabeth Grepp, 216-447-4477 x115, elizabethgrepp@howardhanna.com
Debbie Donahue, 412-784-3816, ddonahue@howardhanna.com