Ferrara Jerum International of Rochester, New York Joins Howard Hanna Real Estate Services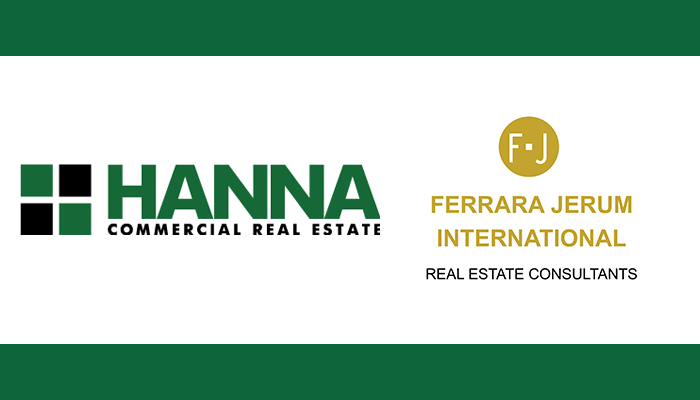 Rochester, New York (May 7th, 2018) – Hanna Commercial Real Estate, the commercial real estate division of Howard Hanna Real Estate Services, announced last week its new partnership with Ferrara Jerum International. LLC. The 11-person team will now have the backing of the Hanna Commercial name, brand, and marketing, offering expanded services throughout the state of New York.
The union of the Rochester-based broker with Hanna Commercial is a great opportunity for both companies. The current focus of Ferrara Jerum is retail leasing and tenant representation. Joining Hanna Commercial will give the company the opportunity for expansion into industrial and office leasing as well as property management.
"Ferrara Jerum International is excited to become a part of Hanna Commercial Real Estate. With Hanna being a full service commercial brokerage having offices in several states, it will allow us to offer our clients a wider array of services than we currently can," said Managing Partner Douglas Jerum. "It also gives us the opportunity to access a much deeper pool of resources to service our current and future clients as they grow. That's especially important for the ones we represent across multi-state territories or nationwide."
Founded in 1989 by Thomas Ferrara, the company is a well-respected, Rochester-based broker with a client-centric focus. The company is led by Thomas Ferrara and Douglas Jerum, who have over 59 years of combined professional expertise in the real estate industry.
Ferrara Jerum is affiliated with the International Council of Shopping Centers, Retail Brokers Network, International Franchise Association, and Capital Markets Real Estate Network. Working with tenants and property owners, the company specializes in market evaluation, lease and purchase negotiation, development services, plus much more.
Numerous clients including Starbucks, Walmart, Lululemon, LA Fitness, and Tough Mudder partner with Ferrara Jerum for representation. Their Starbucks partnership has been in existence for over 20 years and produced more than 175 new store locations for the coffee giant throughout not only New York but across the nation.
President of Real Estate Brokerage Howard W. "Hoby" Hanna, IV believes that the addition of Ferrara Jerum will bring growth and success to the New York commercial landscape. "In 2018, we have a renewed focus on expanding our business, both in New York and companywide," said Hanna. "We are always looking for like-minded companies that have a similar culture to partner with, and when the opportunity arose to have Doug, Tom and their team join Howard Hanna, it was a natural fit. I'm very excited about what they can bring to our New York commercial offerings this year and beyond."
In 2017, the Hanna Commercial teams across New York, Pennsylvania and Ohio achieved a combined number of over one thousand transactions and have a total consideration of several hundred million dollars. The addition of Ferrara Jerum will help to expand these commercial numbers, allowing Hanna Commercial to have a renewed and dynamic focus for 2018.
To learn more, please visit www.hannacre.com.
Hanna Commercial Real Estate is a full-service real estate company with offices in New York, Ohio, Pennsylvania and Michigan. For over 75 years, they have been a leader in the commercial property marketplace, successfully providing clients with creative and comprehensive real estate solutions. Hanna CRE specializes in real estate consulting; industrial; office; retail sales & leasing; corporate services; property & asset management; investment sales; land brokerage; tenant representation; build-to-suit representation; accelerated marketing (auctions); project management; and property valuation.
Media contacts:
Elizabeth Grepp, 216-447-4477 x115, elizabethgrepp@howardhanna.com