Grasha Real Estate Joins Howard Hanna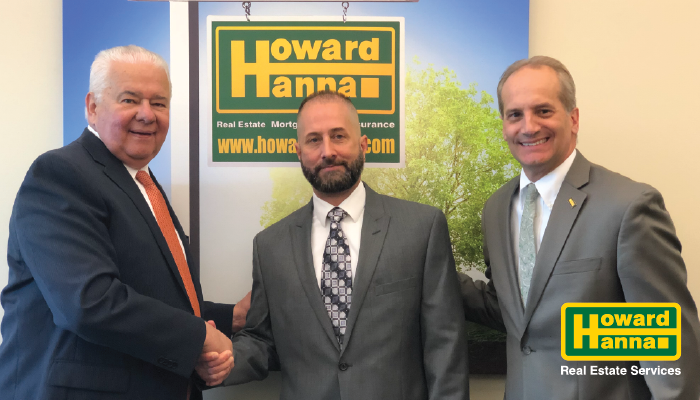 Pittsburgh, PA (May 9, 2019) – Tom Ceponis, President of Howard Hanna Pennsylvania, and Bill Russo, Vice President and South Regional Manager, have announced that Grasha Real Estate has joined the Howard Hanna family of companies.
"Grasha Real Estate is a well-respected, family-owned and operated company that has been servicing the eastern suburbs of Pittsburgh and Southwestern Pennsylvania for the past 50 years.  Broker/owner Jeff Grasha brings demonstrated skill in the marketplace and a high level of customer service to customers and clients.  We look forward to Grasha Real Estate's continued, long-term success at Howard Hanna," said Ceponis.
As an independent broker/owner, Grasha said he came to the realization that he couldn't do all that is necessary for a company to excel in today's real estate world and that he is extremely pleased to join the Howard Hanna family.  "I look forward to further developing my business with Howard Hanna's technology, programs, and digital platform, HowardHanna.com. The market awareness and dominant brand presence of Howard Hanna, along with the family- oriented support, is a positive for me.  I look forward to being part of a larger company that will allow me to provide many more state-of-the-art services to my clients and take my company's business to the next level."
Jeff's father, Carl Grasha, founded Grasha Real Estate in 1969 after working for Hammill Quinlan Realty.  The original office was located in Monroeville and branched out to North Huntingdon, Oakmont, and Connellsville with more than 100 agents and associate brokers.  Growing up in the family real estate business, Jeff got his license and started in the business in 1996.  He has excelled in working with corporate and REO properties and developed the specialty end of the business for which Grasha Real Estate is well known.  He expanded the business and opened an office in the South Hills of Pittsburgh in Dormont.  When Jeff told his father the company was joining Howard Hanna, the elder Grasha replied, "I told you to do that years ago!"
Grasha Real Estate joins the Howard Hanna Mt. Lebanon office at 701 Washington Road, 15228.  Jeff Grasha can be reached at 412-563-7200 or jeffreygrasha@howardhanna.com.
About Howard Hanna:  Howard Hanna Real Estate Services is the 3rd largest real estate company in the United States, the #1 privately owned broker in the nation, and the largest home seller in Pennsylvania, Ohio, New York, and the Carolinas. The family-owned and -operated real estate company specializes in residential and commercial brokerage service, mortgage, closing and title insurance, land development, appraisal, property and casualty insurance, corporate relocation, and property management. In early 2019, Howard Hanna completed a partnership with the Allen Tate Companies, the 14th largest real estate company in the nation.  The combined company has 312 offices across PA, OH, NY, VA, MI, WV, MD, NC and SC, with more than 11,000 sales associates and staff who are guided by a spirit of integrity in all aspects of the real estate process. For more information, visit www.howardhanna.com or www.facebook.com/howardhanna.
Contact: Deborah Donahue, 412-784-3816, ddonahue@howardhanna.com
Photo L to R:  Tom Ceponis, Jeff Grasha, Bill Russo.