Groundbreaking Held for Moreland Commons, Luxury Living in the Chagrin Valley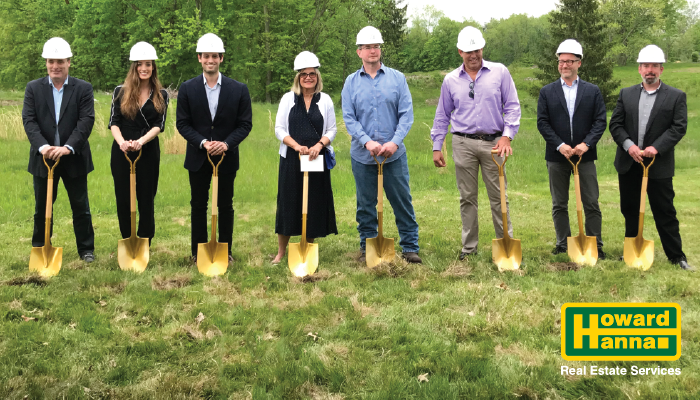 Cleveland, OH (May 28, 2019) – On Wednesday, May 22, 2019, a groundbreaking ceremony was held for Moreland Commons, a new luxury residential development in the heart of the Chagrin Valley.  Located in the affluent Cleveland suburb of Moreland Hills, Moreland Commons will feature 41 luxury single-family homes and 18 townhomes spread over 21.3 acres of scenic green space.  Pricing from $775,000.
Adam Kaufman, of the Howard Hanna Pepper Pike office, is the exclusive marketing agent for the development.  "I am proud to be a part of Moreland Commons," said Kaufman.  "Ensconced in the most glorious setting, this is the most luxurious new maintenance-free development in all of northeast Ohio!"
Moreland Commons' private lots and meandering sidewalks will be encircled by mature tree lines and rolling ravines. It will cater to current residents of the Chagrin Valley and the surrounding area who love the community and who are hoping to "downsize in place" while maintaining a high level of finish and attention to detail, as well as appealing to new buyers wanting to live in a vibrant suburban community.
Developer Axiom Development Group has partnered with Payne & Payne Builders to provide a high-end residential experience in a functional and livable neighborhood.
"Our goal as the development team for Moreland Commons has been to faithfully execute on a vision that is true to everything that makes this community a special place to live. That vision is of a new neighborhood that places an emphasis on the quality of life of its residents; a higher standard of design, planning and construction; its environmental features and walkability; and the creation of a true sense of place," said Axiom principal Bryan Stone.  "Based on community feedback, and the more than a dozen future residents that have already secured lot reservations, we believe that this vision resonates and meets a deeply unmet need.  We are excited to be a part of something truly special and a project that we believe the community will be proud to call their own."
For more information on Moreland Commons, contact Adam Kaufman at 216-831-7370 or AdamKaufman@HowardHanna.com.
About Howard Hanna:  Howard Hanna Real Estate Services is the 3rd largest real estate company in the United States, the #1 privately owned broker in the nation, and the largest home seller in Pennsylvania, Ohio, New York, and the Carolinas. The family-owned and -operated real estate company specializes in residential and commercial brokerage service, mortgage, closing and title insurance, land development, appraisal, property and casualty insurance, corporate relocation, and property management. In early 2019, Howard Hanna completed a partnership with the Allen Tate Companies, the 14th largest real estate company in the nation.  The combined company has 312 offices across PA, OH, NY, VA, MI, WV, MD, NC and SC, with more than 11,000 sales associates and staff who are guided by a spirit of integrity in all aspects of the real estate process. For more information, visit www.howardhanna.com or www.facebook.com/howardhanna.
Contact: Deborah Donahue, 412-784-3816, ddonahue@howardhanna.com
Pictured L to R:  Ricky Stone (Axiom Development), Jen Stone (Howard Hanna Real Estate) Bryan Stone (Axiom Development), Mayor Susan Renda (Village of Moreland Hills), Steve Bittence (Axiom Development), Adam Kaufman (Howard Hanna Real Estate), Mike Caito (Payne and Payne) and Eric Payne (Payne and Payne).