Groundbreaking Scheduled for Rockport River, New Luxury Condos in Rocky River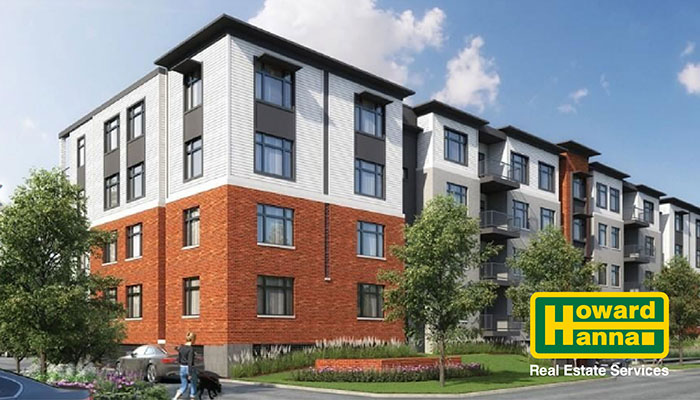 Cleveland, OH (August 1, 2019) – Located in one of the West Side's premier suburbs, Rockport River luxury condominiums in Rocky River will be built along Hilliard Boulevard, between Valley View Drive and Wooster Road overlooking the Cleveland Metro Parks.  A groundbreaking ceremony is scheduled for Monday, August 5, 2019 at 2:00 pm.
Rockport River is being developed by Brent Zimmerman Development and Pride One.  The Kim Crane Group with Howard Hanna Real Estate Services is marketing the project.
"We are excited to be marketing this project, it fills an important need in our city for one level, maintenance free, quality construction at an affordable price.  With the anticipated completion in spring of 2020, we look forward to watching the progress and showing off the final product," said Crane.
Added Howard Hanna Midwest President Kristine Burdick, "Howard Hanna is excited to be a part of this project and growth in Rocky Rive. Kim Crane is a dynamic and professional Realtor.  The development will be served well by Kim and her entire team, who will no doubt provide the highest level of service and expertise to buyers at Rockport River."
Twenty-four luxurious, low-maintenance condominiums will be constructed on four floors, each with private balconies and two or three bedrooms .  The building will feature a secure entry with guest drop off and pick up area, and secured, covered parking.
Interior features include hardwood flooring in the living area and kitchen, wall-to-wall carpeting in bedrooms, lever-style locksets in choice of finish, customized master closets, granite or quartz countertops in kitchen and full bathrooms, Echelon™ cabinets and vanities, along with other buyer selections available, with pricing from $335,000.
For more information, contact the Kim Crane Group in the Howard Hanna Rocky River office, located at 19204 Detroit Road.  (440) 652-3002 or email KimCrane@howardhanna.com.
About Pride One
For twenty years, the Pride One team has continually refined the art of real estate development and construction. With dedicated commitment to best practices in strategy, and fulfillment, Pride One studies industry trends to chart new courses, seek out innovative processes to conserve resources, and discover market opportunities.  Senior Vice President Tom Charek is a seasoned real estate professional with twenty years of experience touching $2 billion worth of successful developments.
About Brent Zimmerman Development
Brent Zimmerman is a highly accomplished senior executive, entrepreneur and investment management leader.  Mr. Zimmerman has experience in institutional investments and markets, real estate development projects, retail food and production brewery space, and franchise businesses.  Mr. Zimmerman is a partner in, or has completed, over $100 million in commercial real estate projects in the state of Ohio.
About Kim Crane Group, Howard Hanna Real Estate Services
The #1 real estate team in Rocky River for dollar volume, the Kim Crane Group are the local experts. Kim Crane leads a team of eight talented Realtors who utilize cutting-edge technology and marketing techniques and are leaders in the industry.  The team standard is hard work, effective and high-quality marketing, unparalleled service to clients, and delivering a flawless real estate experience.
About Howard Hanna:  Howard Hanna Real Estate Services is the 3rd largest real estate company in the United States, the #1 privately owned broker in the nation, and the largest home seller in Pennsylvania, Ohio, New York, and the Carolinas. The family-owned and -operated real estate company specializes in residential and commercial brokerage service, mortgage, closing and title insurance, land development, appraisal, property and casualty insurance, corporate relocation, and property management. In early 2019, Howard Hanna completed a partnership with the Allen Tate Companies, the 14th largest real estate company in the nation.  The combined company has 312 offices across OH, PA, NY, VA, MI, WV, MD, NC and SC, with more than 11,000 sales associates and staff who are guided by a spirit of integrity in all aspects of the real estate process. For more information, visit www.howardhanna.com or www.facebook.com/howardhanna.
Media Contact: Deborah Donahue, 412-784-3816, ddonahue@howardhanna.com