Hanna Commercial Brings Locally Owned Geiger's Clothing Downtown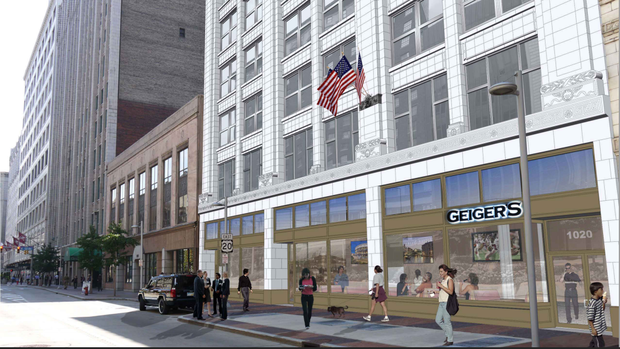 Cleveland, OH (June 8, 2015) – Since the 1930s, both Hanna Commercial and Geiger's have been committed to serving Northeast Ohio. Hanna Commercial is a leader in the area's commercial market and Geiger's in apparel and footwear for men, women and children. Since both organizations have been dedicated to the market for over 75 years, a partnership bringing a new Geiger's location downtown made sense.
Senior Vice President of Hanna Commercial Michael Occhionero was instrumental in securing the downtown Euclid Avenue location, conveniently situated just east of the new Heinen's.
"Having 15 years of experience working in the downtown market and the experience of being a longtime Geiger's customer, I really wanted to see them expand to downtown. I started the conversation with them over a year ago and once we found the right location, it just made sense." said Occhionero. "We're excited that we were able to help bring a strong local company with good brand recognition downtown. We hope that this leads to more opportunities to expand our downtown retail reach in the future. The presence of respected regional tenants will eventually break the threshold for national brands to also come downtown."
Chas and Gordon Geiger, co-owners of Geiger's Lakewood and Chagrin Falls, look forward to opening the new 4,200 square foot location in downtown Cleveland this fall. "One of the reasons we were pleased to engage Hanna Commercial was that they, like Geiger's, are a multi-generation family business," said Chas Geiger. "Family is tremendously important to us, just like it is to Hanna Commercial. We're in our fourth generation running our business, and many of our customers are children and grandchildren of our grandfather's, dad's and uncles' customers."
Gordon Geiger added, "We're thrilled to be opening a store downtown, where our grandfather operated several stores in the early part of the 20th century. And we were happy to work with a family-owned firm like Hanna Commercial. We're all about family."
Geiger's new location will be the major tenant in the six-story Ivory on Euclid, formerly the Truman Building. The 1911 building is a mixed-use renovation that also features 29 luxury apartment rental units. It will be conveniently located nearly halfway between East Fourth Street and Playhouse Square.
Hanna Commercial Real Estate is a full-service real estate company with offices in Ohio, Pennsylvania & Michigan. For over 75 years, they have been a leader in the commercial property marketplace, successfully providing clients with creative and comprehensive real estate solutions. Hanna CRE specializes in real estate consulting; industrial; office; retail sales & leasing; corporate services; property & asset management; investment sales; land brokerage; tenant representation; build-to-suit representation; accelerated marketing (auctions); project management; and property valuation.
To learn more please visit www.hannacre.com or www.facebook.com/hannacommercial
Media contacts:
Elizabeth Grepp, 216-447-4477 x115, elizabethgrepp@howardhanna.com
Deborah Donahue, 412-967-9000 x328, ddonahue@howardhanna.com