Hanna Langholz Wilson Ellis Sells Chipotle Restaurant Building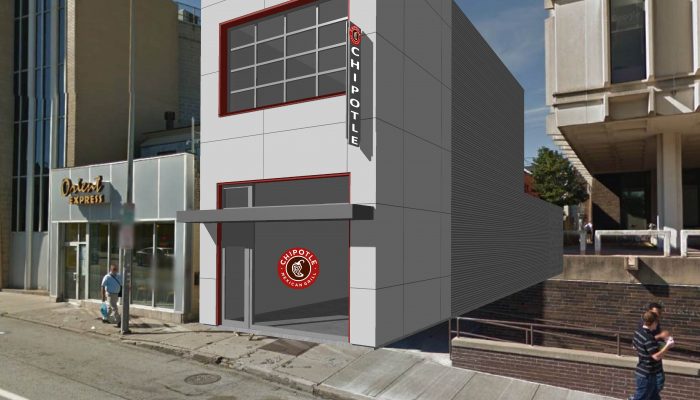 Newly Constructed Building is Adjacent to CMU Campus
Pittsburgh, PA, April 11, 2017– Hanna Langholz Wilson Ellis is proud to announce the sale of 4611 Forbes Avenue, adjacent to the Carnegie Mellon University campus in Pittsburgh's Oakland community. It is a newly constructed, unique; two story building that will be home to a Chipotle Mexican Grill set to open April 14, 2017.
The building was still under construction when a buyer surfaced in need of a purchase to effectuate the second leg of a "like kind exchange" under IRS code 1031.
"Chipotle has been focused on adding high profile urban locations here and this is certainly that," said Z. Scott Smith, Vice President with HLWE, "I believe this sales transaction has been very beneficial to both buyer and seller."  Michael Liguori and Andrew Sherry of Hanna Langholz Wilson Ellis also participated on the investment sale.
HLWE also provided development management services to the seller, a local group of investors, trading under the name Winthorpe Valentine LP. The name was derived from the two main characters in the classic "Trading Places" movie in 1983. The sale price was $2,725,000.
Hanna Langholz Wilson Ellis ("HLWE") is Pittsburgh's leading entrepreneurial market provider of commercial real estate brokerage services.  We pride ourselves in maintaining the highest level of standards for our clients. These are principles that we uphold in every transaction. We have 26 agents who distinguish themselves in the retail, office, industrial and investment disciplines of commercial real estate.  We service Pennsylvania and West Virginia.  By remaining on the forefront of our industry trends, we have not only survived but thrived by delivering personalized service.
Hanna Commercial Real Estate is a full-service real estate company with offices in Ohio, Pennsylvania and Michigan. For over 75 years, they have been a leader in the commercial property marketplace, successfully providing clients with creative and comprehensive real estate solutions. Hanna CRE specializes in real estate consulting; industrial; office; retail sales & leasing; corporate services; property & asset management; investment sales; land brokerage; tenant representation; build-to-suit representation; accelerated marketing (auctions); project management; and property valuation.