Helen Hanna Casey Honored With 2018 RISMedia Real Estate Newsmakers Award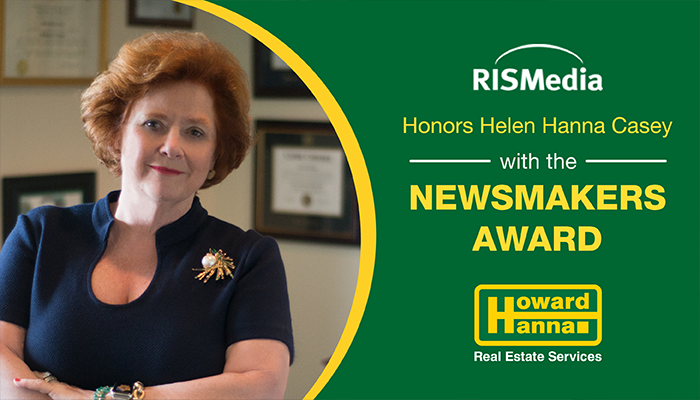 May 4, 2018 – RISMedia, publisher of Real Estate magazine, will honor Helen Hanna Casey, CEO of Howard Hanna Real Estate Services, as a 2018 Real Estate Newsmaker during an awards ceremony to be held on May 17 at the National Press Club in Washington, D.C. in conjunction with the National Association of REALTORS® Legislative Meetings & Trade Expo taking place that week.
RISMedia's first annual Real Estate Newsmaker Awards are designed to recognize those individuals making headlines for their newsworthy contributions to the real estate industry. Designed specifically for a select group of more than 100 broker/owners, brand executives and real estate service leaders, the Real Estate Newsmaker Awards Reception & Dinner is an invitation-only event.
According to RISMedia President and CEO John Featherston, "RISMedia's Power Broker Newsmaker Awards will honor the industry's real newsmakers: the people who are positively affecting our industry and the millions of consumers we serve. Our industry promotes and provides consumers with a pathway to responsible homeownership. Over the past three plus decades, RISMedia has covered, chronicled and celebrated the professionals making news in real estate, and we are honored to be formalizing these honors starting with the first-annual RISMedia Real Estate Newsmaker Awards."
Casey leads the country's third-largest real estate firm, a family-run company with more than 270 offices across PA, OH, NY, VA, MI, WV, NC and MD and more than 9,000 sales associates and staff. "As the president of Howard Hanna Real Estate Services, Helen has guided the firm through unprecedented expansion," said Featherston. "As one of this industry's most storied achievers and sought-after visionaries, we are honored to present Helen as an RISMedia 2018 Real Estate Newsmaker."

About RISMedia
RISMedia was founded in 1980 by CEO and Publisher John E. Featherston as the residential real estate industry's definitive source for news and information for real estate's most profitable and productive professionals. For over 35 years, RISMedia has provided the industry with news, trends, and strategies through Real Estate magazine and RISMedia.com, its blog, Housecall, and its renowned networking and educational events, including RISMedia's Real Estate CEO Exchange; the Real Estate Newsmakers Awards, Reception & Dinner; and the Power Broker Forum, Reception & Dinner.
About Howard Hanna
Howard Hanna Real Estate Services is the 3rd largest real estate company in the United States, the #1 privately owned broker in the nation, and the largest home seller in Pennsylvania, Ohio, and New York. The family-owned and operated real estate company specializes in residential and commercial brokerage service, mortgages, closing and title insurance, land development, appraisal services, insurance services, corporate relocation, and property management. With 262 offices across PA, OH, NY, VA, MI, WV, NC, and MD, more than 9,200 sales associates and staff are guided by a spirit of integrity in all aspects of the real estate process. For more information, visit www.howardhanna.com, or www.facebook.com/howardhanna
Media contact:
Deborah Donahue, 412-784-3816, ddonahue@howardhanna.com