Helen Hanna Casey to be Honored with Career Achievement Award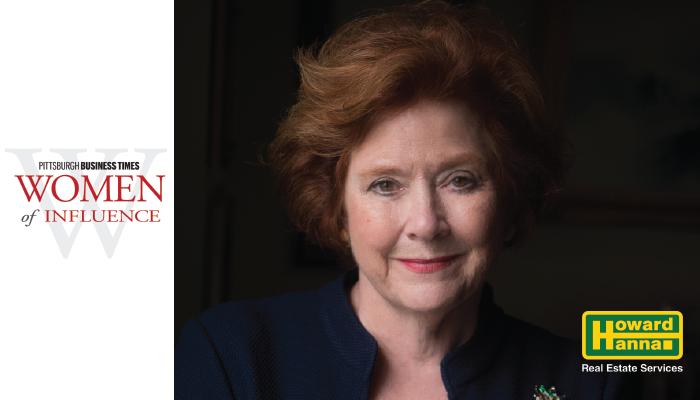 Pittsburgh, PA (March 8, 2019) –  Helen Hanna Casey, CEO of Howard Hanna Real Estate Services, will be honored with the 2019 Women of Influence Career Achievement Award at the Pittsburgh Business Times Women of Influence event on March 20, 2019 at the Westin Convention Center Hotel.
The Women of Influence awards honor the most influential women who have made a difference in their communities, blazed a trail for other women and left a mark on the western Pennsylvania business community.
"Helen Hanna Casey's selection as the Career Achievement honoree for the 2019 Women of Influence awards was an easy one to make. As the CEO of the third largest real estate company in the United States, Helen has been a leader in her field and in Pittsburgh for many years.  Her incredible commitment to the community and to her company make her the clear choice for this award," said Evan Rosenberg, market president and publisher, Pittsburgh Business Times.
An industry leader with more than four decades of experience, Casey has been named to the 100 Most Influential People in Real Estate list by INMAN News, has been recognized as the Most Powerful Woman in Real Estate by the Swanepoel Power 200 report, and has received numerous awards and other honors. In addition, she is often a requested keynote and featured speaker to women's groups and business leaders throughout the country.  She currently serves as chair of the National Association of Realtors (NAR) 2018 Corporate Ally Program Advisory Board and served as chair of NAR's 2017 Corporate Investor Council.
Equally dedicated to the community and to the region, Casey is a member of the Allegheny Conference on Community Development Executive Committee and the chair of its Strategic Communications Committee. She is a member of the International Women's Forum, is a past chair of the Greater Pittsburgh Chamber of Commerce, sits on the board of TriState Capital Bank, and chairs the board of the Pittsburgh Civic Light Opera.
About Howard Hanna:  Howard Hanna Real Estate Services is the 3rd largest real estate company in the United States, the #1 privately owned broker in the nation, and the largest home seller in Pennsylvania, Ohio, and New York. The family-owned and operated real estate company specializes in residential and commercial brokerage service, mortgages, closing and title insurance, land development, appraisal services, property and casualty, corporate relocation, and property management. With 312 offices across PA, OH, NY, VA, MI, WV, MD, and the Carolinas, more than 11,000 sales associates and staff are guided by a spirit of integrity in all aspects of the real estate process. For more information, visit www.howardhanna.com, or www.facebook.com/howardhanna.
Contact: Deborah Donahue, 412-784-3816, ddonahue@howardhanna.com