Howard Hanna Adds Find It First™ Program to New York Market Areas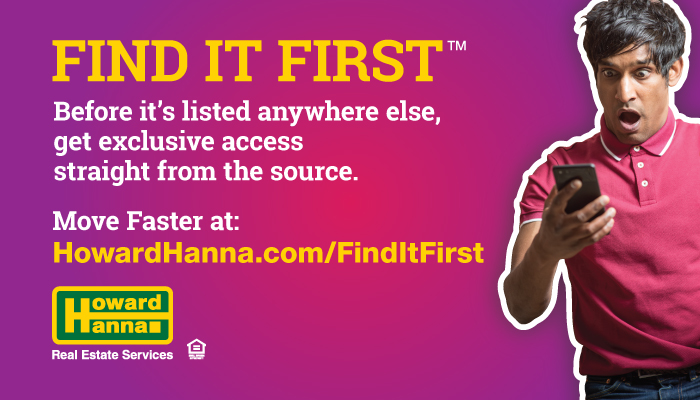 Albany, NY (November 6, 2019) – The Howard Hanna online real estate search differentiator, Find It First™ is now available in the company's New York market areas -Buffalo, Rochester, Syracuse/Central New York, Albany/Capital Region and the Southern Tier.  "We initially introduced the Find it First™ experience to consumers in Ohio about five months ago.  It was so successful that we expanded it to Pennsylvania and Michigan in September and then to Western New York in October," said President Howard W. "Hoby" Hanna, IV.
The Find It First™ program allows Howard Hanna agents to market a seller's home for sale exclusively on on the company's website, HowardHanna.com before it hits the open market.
HowardHanna.com set a record with more than 2.1 million visits in July and has continued to receive more than two million visits a month through the end of October reported Jennifer Reider, Director of Digital Marketing at Howard Hanna.
"Find it First™ is one more way we help our customers Move Faster!" said Hanna. "Before it's listed anywhere else, buyers can Find it First™ listings on HowardHanna.com/FindItFirst.  We are giving back localized control to our sellers.  Buyers coming to HowardHanna.com will see new Find it First™ listings as soon they are entered online by our agents, and before they are posted on other real estate portals such as Zillow."
"The real estate industry suffers from a constrained inventory, forcing brokers to get creative in order to address the needs and expectations of home buyers who are working with their agents," said Victor Lund, President of the WAV Group.  "Howard Hanna has created a solution with Find It First™.   Agents and consumers are informed of a new listing, available only HowardHanna.com, for a set time before it makes its way to the multiple-listing service.  However, making it to the MLS is not always the case as in the first month of the Find It First™ program, 55 homes sold right away," added Lund.
Howard Hanna customers who are registered for  HannaHomeFinder receive an automated email that alerts them when new listings that meet their personal criteria become available for sale.  Hanna HomeFinder can also provide open house and price change email alerts.
"In today's real estate market, buyers know they can't take their time when looking for a home, particularly in a popular neighborhood; many homes sell within a day or just a few hours of being listed, many have multiple offers, etc.  Find it First™ is a win-win for buyers.  They will be able to get information on new listings directly from the source, in real time, at HowardHanna.com," said Hanna. "It's a win-win for sellers, too, as it creates an urgency for their property to be offered first to highly motivated buyers (and agents), who are most likely to bring an offer."
To support the Find it First™ program, Howard Hanna's award-winning, in-house marketing agency has created a dynamic campaign that can be seen online and in print, and on billboards, highlighting the message, "Before it's listed anywhere else, Find it First™, only on HowardHanna.com."
For more information, contact your local Howard Hanna sales associate, or visit HowardHanna.com/FindItFirst
About Howard Hanna:  Howard Hanna Real Estate Services is the 3rd largest real estate company in the United States, the #1 privately owned broker in the nation, and the largest home seller in Pennsylvania, Ohio, New York, and the Carolinas. The family-owned and -operated real estate company specializes in residential and commercial brokerage service, mortgage, closing and title insurance, land development, appraisal, property and casualty insurance, corporate relocation, and property management. In early 2019, Howard Hanna completed a partnership with the Allen Tate Companies, the 14th largest real estate company in the nation.  The combined company has more than 300 offices across the ten states of PA, OH, NY, VA, MI, WV, MD, NC, SC and IN, with more than 11,000 sales associates and staff who are guided by a spirit of integrity in all aspects of the real estate process. For more information, visit www.howardhanna.com or www.facebook.com/howardhanna.
Contact: Deborah Donahue, 412-784-3816, ddonahue@howardhanna.com