Howard Hanna and Brickhaus Partners Join Forces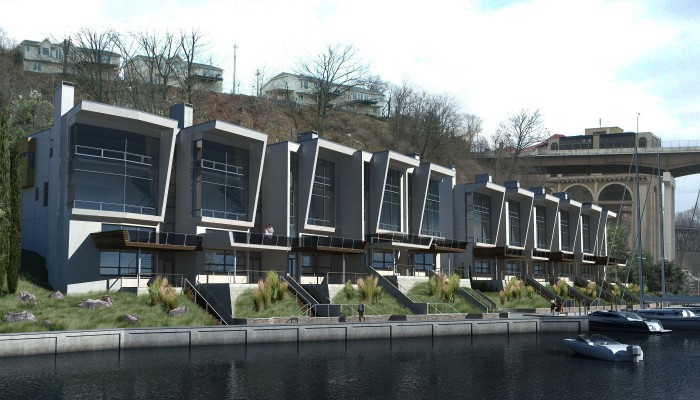 Cleveland, OH (September 28, 2015) – In August, Howard Hanna announced its exclusive partnership with Cleveland-based real estate development company Brickhaus Partners. Known for their award-winning communities such as Eleven River and 27 Coltman, Brickhaus Partners aims to create neighborhoods that center around walkability. Additionally, Brickhaus has been working to change the perception of Cleveland by creating sustainable, high-end market housing throughout the city and inner-ring suburbs.
Known as a commercial and real estate powerhouse in Northeastern Ohio, Howard Hanna is proud to be associated with such a highly regarded new construction company. Howard W. "Hoby" Hanna, IV, President, Great Lakes Region, is glad that the partnership is moving forward. "Brickhaus has an excellent reputation in the region as one of the top innovative developers," he said. "We always work with the best, and this project with Brickhaus is in line with our company goals for the rest of 2015. We want to contribute to the growth and revitalization of Northeast Ohio."
"We look forward to working with Brickhaus and providing marketing services to one of Cleveland's finest builders and developers," said Sherri Johnson, Vice President and Regional Manager. "Brickhaus Partners has phenomenal architectural design and offers exquisite floor plans at all of their residences."
Brickhaus neighborhoods are known for timeless, modern design and cutting-edge technology. Each custom eco-home is individually handcrafted to residents' specifications by virtue of Brickhaus ClearSpan Construction with low maintenance exteriors that cater to today's busy lifestyles.
Andrew Brickman, developer at Brickhaus Partners, looks forward to this new undertaking with Howard Hanna. "Brickhaus Partners is excited at the prospect of our joint venture with Howard Hanna. Through the efforts of Hoby Hanna, Sherri Johnson and Kristine Burdick, we were able to craft our way to a collaboration whereby the strengths of all parties make the whole greater than the sum of the parts," he said. "The benefits to both Brickhaus and Howard Hanna are already apparent, and we are looking forward to a long-term and mutually beneficial working relationship."
Vice President and Regional Manager Kristine Burdick is also thrilled about the partnership. "We are excited and pleased to be partnering with Brickhaus as they continue to build great living spaces in many of our great and growing communities in and around Cleveland."
Growth opportunities provided through partnerships like the one with Brickhaus contribute to Howard Hanna's status as a market leader in Ohio. To learn more about the company, please visit: http://http://www.howardhanna.com
Howard Hanna Real Estate Services is the top real estate company in Pennsylvania and Ohio, and ranks nationally as one of the four largest real estate companies. The family-owned and operated real estate company specializes in residential and commercial brokerage service, mortgages, closing and title insurance, land development, appraisal services, insurance services, corporate relocation and property management. With 205 offices across PA, OH, VA, MI, NY, WV, NC and MD our more than 7,000 sales associates and staff are guided by a spirit of integrity in all aspects of the real estate process.
To learn more please visit www.howardhanna.com or www.facebook.com/howardhanna
Media contacts:
Elizabeth Grepp, 216-447-4477 x115, elizabethgrepp@howardhanna.com