Howard Hanna Announces Anne F. Hanna Award for Philanthropy Winners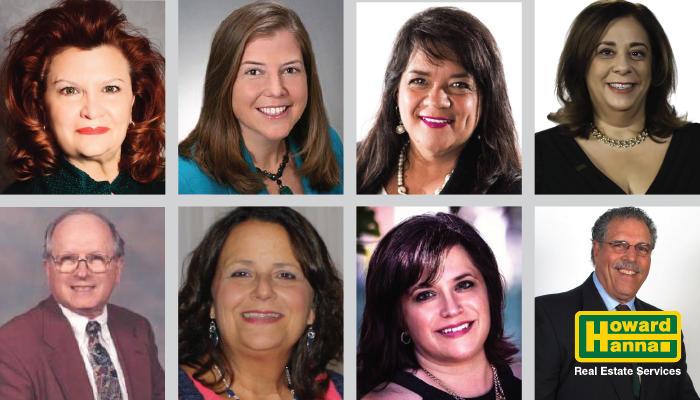 Pittsburgh, PA (December 12, 2019) – Howard Hanna Real Estate Services announced its 2019 Anne F. Hanna Award winners at the company's biennial convention, HannaCon19, recently held in Pittsburgh at the David Lawrence Convention Center, in front of more than 4,000 real estate agents and employees. The Anne F. Hanna Award is presented to individuals who not only excel in the real estate business but in social and civic involvement as well.
The award is named in honor of Anne F. Hanna, co-founder of Howard Hanna Real Estate Services with Howard Hanna, Jr. in 1957, and matriarch of the Hanna family. Passionate in her resolve to give back to the community, Mrs. Hanna's burning light lives on today, ingrained in the company's culture.
The Anne F. Hanna award is presented to the individuals who best epitomize the spirit and virtue of the Howard Hanna family of companies. "Beyond sales and listing leaders, this award embodies the real essence of our company," said Pennsylvania Vice President of Residential Sales, Kelly Hanna Riley.
Sandi Bates, Canfield Office, Canfield, OH: For more than 20 years, Sandi has worked on her office's annual Howard Hanna Children's Free Care Fund fundraising event, which benefits Akron Children's Hospital Mahoning Valley. She has worked on the Youngstown Columbiana Association of REALTORS® board and supported Habitat for Humanity's new home builds.
Robert (Bob) Baum, Howard Hanna Wilson Baum Real Estate McKeesport, McKeesport, PA: Bob is not only committed to the real estate profession, but also to his community. He served in the U.S. Army and U.S. Army Reserves from 1958-1964. He always believes in giving back by supporting many charitable causes and by being a proponent of the communities where he works. He is currently a member of the board of the Kiwanis Club and has helped to distribute hundreds of thousands of dollars to community charities in need.
Julie Burley, Penfield Office, Rochester, NY: Julie is one of the top five agents in her office yet makes time to be a part of the Howard Hanna Mentor Program, helping new agents get up to speed and on the road to success. She is also very involved in her community, volunteering for the Special Olympics and the American Cancer Society.
Lori Hummel, East Suburban Office, Pittsburgh, PA: One of the company's top producers and the top producer in her office, Lori puts her heart into the community. She is one of the first to step up to write a check or host a collection drive when a tragedy occurs. She uses her home as a drop-off point and spends countless hours sorting donations and delivering them to those in need. She volunteers through PERSAD Center and the Oakmont Chamber of Commerce and is essential in organizing Oakmont's Christmas Home Tour. Lori also created the Crayola Collection by collecting crayons for school districts. One of the most creative things she does is her "25 Days of Caring" in December, when she highlights a different charity on her social media each day.
Judy McGinnis, North Hills Office, Pittsburgh, PA : For more than six years, Judy has volunteered and raised funds for the Muscular Dystrophy Association and adaptive horseback riding. She also volunteered with the Women's Center and Shelter of Greater Pittsburgh, assisting women and children affected by domestic abuse with housing and food, and additionally wrote a cookbook for women in shelters to use once out on their own. Judy served in the U.S. Army for five years, taught the visually impaired how to scull, and as a survivor of breast cancer, she raised funds for Casting for Recovery, a breast cancer fly fishing group.
Erin O'Brien, Laskin Office, Virginia Beach, VA: For Erin, every mile counts. The inspiration behind her Miles for Smiles fundraising campaign began with a simple idea to combine a personal fitness goal with her desire to help children at the Children's Hospital of the King's Daughters in Norfolk. Through her determination, creativity and perseverance, she raised $32,812 for the children's hospital and completed her first marathon. In addition, Erin has been president of the Mermaid Circle of VBCU, an executive director and board member of the Priority Toyota Charity Bowl Football Game, and a supporter of the Begin Again Foundation through charity work. She also holds the title of top raffle ticket seller for the Howard Hanna Children's Free Care Fund annual companywide raffle.
Beth Rodgers, Akron Office, Akron, OH: Beth is not only a top-producing real estate agent in the Akron, OH area, she is also a tireless volunteer. She spends countless hours representing the real estate industry at the local, state, and national levels. She also volunteers at a wide variety of organizations throughout the community, including Summa Health System, Christ Child Society, Children Services Board, Leukemia & Lymphoma Society, Akron Civic Theatre, Fostering Independence, and more.
Russ Romano, Batavia Office, Batavia, NY: When he's not working with his clients, Russ is an active mentor to other real estate agents in his office, providing trusted advice and guidance. His community service and volunteer efforts span the community: Russ has served as president of several organizations, including the Genesee Community College Foundation, the Genesee County Chamber of Commerce, and the Genesee chapter of the National Wild Turkey Federation. He also co-founded the Genesee Cancer Assistance program, where he also coordinated the Annual Festival of Hope and Annual Golf Tournament. In 2013, Russ was named Italian-American of the Year.
"We are proud and pleased to honor these leaders who work hard in their business while also working hard for positive change and inspiring their friends and colleagues to do the same," said Annie Hanna Engel, President of Insurance Services and Chief Legal Officer of Real Estate Services.
About Howard Hanna: Howard Hanna Real Estate Services is the 3rd largest real estate company in the United States, the #1 privately owned broker in the nation, and the largest home seller in Pennsylvania, Ohio, New York, and the Carolinas. The family-owned and -operated real estate company specializes in residential and commercial brokerage service, mortgage, closing and title insurance, land development, appraisal, property and casualty insurance, corporate relocation, and property management. In early 2019, Howard Hanna completed a partnership with the Allen Tate Companies, the 14th largest real estate company in the nation. The combined company has more than 300 offices across PA, OH, NY, VA, MI, WV, MD, NC, SC and IN, with more than 11,000 sales associates and staff who are guided by a spirit of integrity in all aspects of the real estate process. For more information, visit www.howardhanna.com or www.facebook.com/howardhanna.
Contact: Jasmine Davis, JasmineDavis@HowardHanna.com, 412-784-3821