Howard Hanna Announces HSA Week Winners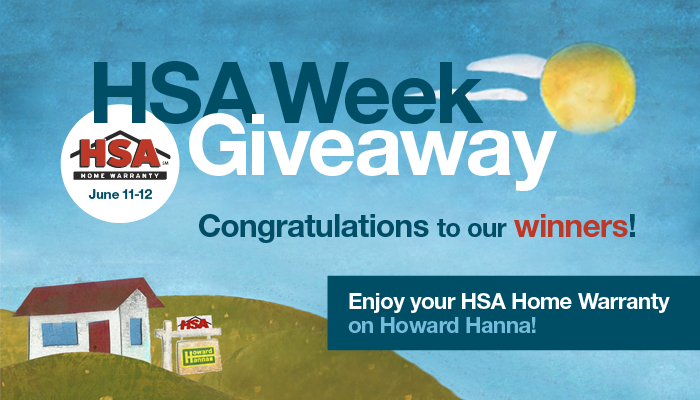 Cleveland, OH (July 19th, 2016) – Howard Hanna understands that one of the most important investments many will make is in the American Dream of home ownership, and that protection of that investment is important. That's why for one weekend in June, Saturday, June 11 and Sunday, June 12,visitors to any Howard Hanna open house could register for a chance to win a buyer home warranty from HSA Home Warranty.
We would like to extend a huge congratulations to all of the winners of the HSA Week drawing and announce them here:
Monica Henderson from Sagamore Hills, Ohio
Ann Marie Velez from Cleveland, Ohio
Jill Wands from Erie, PA
John Kulasa from Pittsburgh, Pennsylvania
Jessica Maker from Enola, Pennsylvania
Brian Ritenar from Coal Center, Pennsylvania
Doug Wilson from Harrisburg, Pennsylvania
Ken & Wanda Edney from Chesapeake, Virginia
Tyler Lake from Virginia Beach, Virginia
Home buyers and sellers can continue to participate in Howard Hanna open houses. Throughout the summer, monthly Twilight Open Houses are held during the week and help to bring together buyers and sellers in a unique way. These evening, weeknight events began in May and continue through mid-September.
To view Twilight Open Houses visit here: http://www.howardhanna.com/twilight
Howard Hanna Real Estate Services is the 3rd largest real estate company in America, the #1 privately-owned broker in the nation, and the largest home seller in Pennsylvania, Ohio, and New York. The family-owned and operated real estate company specializes in residential and commercial brokerage service, mortgages, closing and title insurance, land development, appraisal services, insurance services, corporate relocation and property management. With 270 offices across PA, OH, VA, MI, NY, WV, NC and MD, our more than 9,000 sales associates and staff are guided by a spirit of integrity in all aspects of the real estate process.
To learn more please visit www.howardhanna.com or www.facebook.com/howardhanna
Media contacts:
Elizabeth Grepp, 216-447-4477 x115, elizabethgrepp@howardhanna.com
Deborah Donahue, 412-967-9000 x328, ddonahue@howardhanna.com