Howard Hanna Announces New Hometown Heroes Program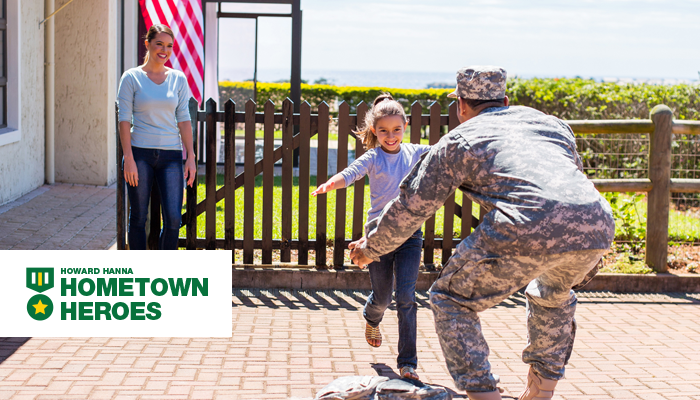 Pittsburgh, PA (November 6, 2017) – Howard Hanna Mortgage, 1st Priority Mortgage, a Howard Hanna company, and Barristers Title & Closing company today announced a new program to honor United States military and first responders.
"It is our sincere desire to help make homeownership a reality for our hometown heroes and their families. Military personnel, police officers, firefighters, and emergency medical providers make our communities a better place to live, and we want to give back to those who give so much for all of us," said Duffy Hanna, Esq., President of Hanna Financial.
As a U.S. Army veteran, Howard W. Hanna, Jr., founder of the Howard Hanna company, is also keenly aware of the sacrifice military and first responders make on a daily basis.  As a way of demonstrating the gratitude of the entire Hanna organization, the Howard Hanna Hometown Heroes Program will be available to qualified homebuyers who are U.S. military personnel (active duty or honorably discharged), police officers, firefighters, emergency medical technicians or paramedics.*  They will receive a gift card in addition to a free American flag kit for their new home when they use Howard Hanna Mortgage and Barristers in Pennsylvania, Ohio and Michigan or 1st Priority Mortgage in New York.
The Howard Hanna Hometown Heroes program begins on Veterans Day, Saturday, November 11, 2017 and will run through February 11, 2018.
To learn more about this program, visit Howard Hanna.com/Hometown Heroes today.
 *DD-214, identification card or letter from participant's organization required.  Borrowers must use 1st Priority Mortgage. Offer cannot be used in conjunction with any other promotion, discount or incentives offered by Howard Hanna Holdings, Inc. and any of its affiliated companies. Gift card and flag kits will be presented to borrower at loan closing.
NMLS# 101561. Restrictions apply. Advanced Equity Loan must be in 1st or 2nd lien position. Offer of credit is subject to credit approval. Contact Howard Hanna Mortgage Services for mortgage products and eligibility. Howard Hanna Mortgage Services is licensed by: The Pennsylvania Department of Banking and Securities as a Mortgage Lender – License number 21415. The Ohio Department of Commerce – Division of Financial Institutions – License number RM.804531.000. The Michigan Department of Licensing and Regulatory Affairs, Office of Financial and Insurance Regulation, First Mortgage Broker/Lender License number FL0022570, Second Mortgage Lender Registration number SR0022571. The West Virginia Division of Banking – License number ML-20884. Howard Hanna Mortgage Services is registered to do business in Pennsylvania, Ohio, Michigan and West Virginia. Contact a Howard Hanna Mortgage Loan Originator for full details.  PA (800) 474-4437, 1000 Gamma Drive – Pittsburgh, PA 15238. OH and MI – (800) 589-1118, 6000 Parkland Blvd. – Mayfield Hts., OH 44124. mortgage@howardhanna.com.
NMLS# 29600. Contact 1st Priority Mortgage, Inc. for mortgage products and eligibility. 1st Priority Mortgage, Inc. is a Licensed Mortgage Banker, New York State Department of Financial Services. All lending products are subject to credit and property approval. Terms, conditions, and certain restrictions may apply on all programs. Interest rate and program terms are subject to change without notice. This is not a commitment to lend. Contact a 1st Priority Mortgage Consultant for full details. (888) 500-9733.
Howard Hanna Real Estate Services is the 3rd largest real estate company in America, the #1 privately owned broker in the nation, and the largest home seller in New York, Pennsylvania and Ohio. The family-owned and operated real estate company specializes in residential and commercial brokerage service, mortgages, closing and title insurance, land development, appraisal services, insurance services, corporate relocation, and property management. With 259 offices across NY, PA, OH, MI, VA, WV, NC, and MD, our more than 9,000 sales associates and staff are guided by a spirit of integrity in all aspects of the real estate process. For more information, visit https://www.howardhanna.com/ or www.facebook.com/howardhanna
Media contacts: 
Deborah Donahue, 412-967-9000 x 1328, ddonahue@howardhanna.com
Elizabeth Grepp, 216-447-4477, elizabethgrepp@howardhanna.com