Howard Hanna Celebrates Success with "Rise to the Occasion" Summit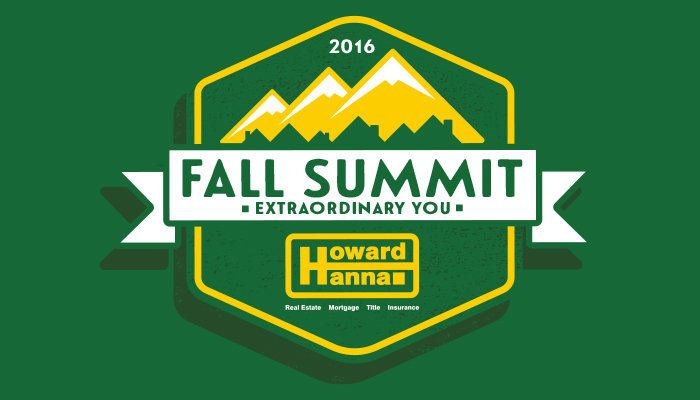 Pittsburgh, PA (October 10, 2016) – The Howard Hanna Real Estate Services Sales Summit for its Pennsylvania offices was held at the Green Tree Doubletree Hotel on October 6th with more than 750 sales associates and managers attending.  The fall summit was a celebration of the company's extraordinary people from Pittsburgh to Erie to Harrisburg to Philadelphia, designed to keep the momentum going through the end of 2016 from the previous record-breaking year and continue into 2017 when the "rally" season begins during the first quarter.
A number of topics were covered during the Summit, the theme of which was "Rise to the Occasion." Chairman, Howard W. "Hoddy" Hanna, III discussed the state of the company, future of real estate and the organization's philanthropic focus. Helen Hanna Casey, President & Chief Executive Officer covered the one-year anniversary of the new HowardHanna.com. She discussed its overall successful performance and how it ties in with the power of the Howard Hanna brand. Online partnerships with Realtor.com, Zillow and Trulia were reviewed by Howard W. "Hoby" Hanna IV, President of Real Estate Brokerage, and he presented the benefits of these partnerships for both agents and customers.
Featured speaker Terri Murphy is an author, speaker, consultant and coach who has been a favorite at Howard Hanna conventions and gatherings for many years. Her keynote taught agents how to position themselves as invaluable, blending personal expertise with Howard Hanna tools. Included were tips on prospecting for potential listings, building a distinctive listing presentation and also creative marketing strategies.
Howard Hanna Real Estate Services is the 3rd largest real estate company in America, the #1 privately owned broker in the nation, and the largest home seller in Pennsylvania, Ohio, and New York. The family-owned and operated real estate company specializes in residential and commercial brokerage service, mortgages, closing and title insurance, land development, appraisal services, insurance services, corporate relocation and property management. With 270 offices across PA, OH, NY, VA, MI, WV, NC and MD, our more than 9,000 sales associates and staff are guided by a spirit of integrity in all aspects of the real estate process.  For more information, please visit: www.howardhanna.com or facebook.com/howardhanna.
Media contact:
Debbie Donahue, 412-967-9000, ddonahue@howardhanna.com