Howard Hanna Children's Free Care Fund Awarded $2,000 Donation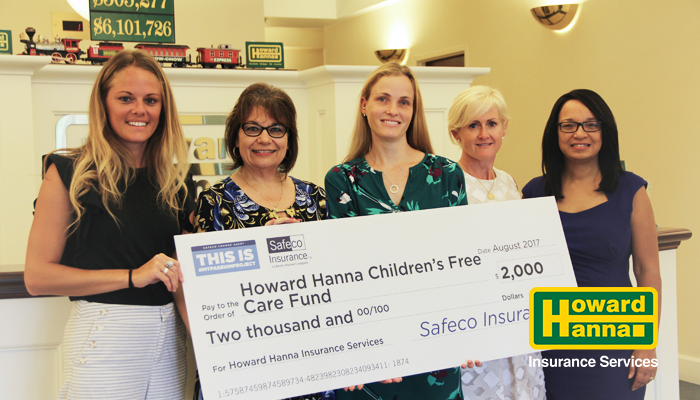 Safeco Insurance® Change Agents Program Recognizes Small Steps that Make a Big Difference
PITTSBURGH, PA (August 14, 2017) —  Howard Hanna Insurance Services announces that it has been awarded $2,000 to donate to the Howard Hanna Children's Free Care Fund, as a participant in the Safeco Insurance® Change Agents campaign. The program rewards independent insurance agents whose volunteer efforts make a difference in their communities and recognizes that small, everyday steps can have a big local impact.
The goal of the Safeco Change Agents program is to recognize that significant change doesn't always require huge projects or massive time commitments. Danielle Shearer of Howard Hanna Insurance Services was one of two agents nationwide who garnered the most attention on social media for their charitable efforts related to health awareness in order to receive the $2,000 donation from Safeco Insurance.
"Independent agents give back in all kinds of ways: As insurance professionals, they serve as trusted advisors to help people protect what matters most. As agency owners, many provide jobs and other benefits to the community," said Jennifer Vickers Bodnar, Safeco Insurance Mid-Atlantic Region Territory Manager. "Safeco Change Agents recognizes the individual's passion project to support causes and organizations that are meaningful to them."
Throughout the year, the Safeco Change Agents program is focusing on different charity themes, encompassing community issues of food security, animal welfare, health awareness, fire safety and veterans' services.  During each theme period, agents are asked to submit photos of their volunteer passion project with their selected community nonprofit organization focusing on the theme.
Representing Howard Hanna Insurance Services:  Julie Teuteberg-Account Representative; Tina Hall-Account Advisor; Danielle Shearer-Division Operations Manager; Annie Hanna Engel-Chief Executive Officer  & President;  from Safeco Insurance, Jennifer Vickers-Bodnar-Territory Sales Manager
About Safeco Insurance
In business since 1923, Safeco Insurance sells personal automobile, homeowners and specialty products through a network of more than 10,000 independent insurance agencies throughout the United States. Safeco is a Liberty Mutual Insurance company.
Boston-based Liberty Mutual Insurance is a diversified insurer and the fifth largest property and casualty insurer in the U.S. based on 2015 direct written premium data as reported by the National Association of Insurance Commissioners. Liberty Mutual is ranked 73rd on the Fortune 100 list of largest corporations in the U.S. based on 2015 revenue.  www.Safeco.com.
About Howard Hanna – Howard Hanna Real Estate Services is the third largest real estate company in America, the #1 privately owned broker in the nation, and the largest home seller in Pennsylvania, Ohio, and New York. The family-owned and operated real estate company specializes in residential and commercial brokerage service, mortgages, closing and title insurance, land development, appraisal services, insurance services, corporate relocation and property management. With 259 offices across PA, OH, NY, VA, MI, WV, NC and MD, our more than 9,000 sales associates and employees are guided by a spirit of integrity in all aspects of the real estate process. For more information, please visit howardhanna.com or facebook.com/howardhanna
About Howard Hanna Insurance Services – The full-service insurance agency is uniquely equipped with the best information and selection to assure you have the right insurance coverage at the most competitive insurance rate. We work with over 20 A-rated insurance companies to create a customized insurance plan for home, auto, umbrella, and many other insurance products.  For more information, please visit howardhanna.com/insurance
Media contacts: 
Debbie Donahue
412-784-3816
Mariah Kulkin
561-998-1995