Howard Hanna Children's Free Care Fund Receives Grant from Westfield Insurance Foundation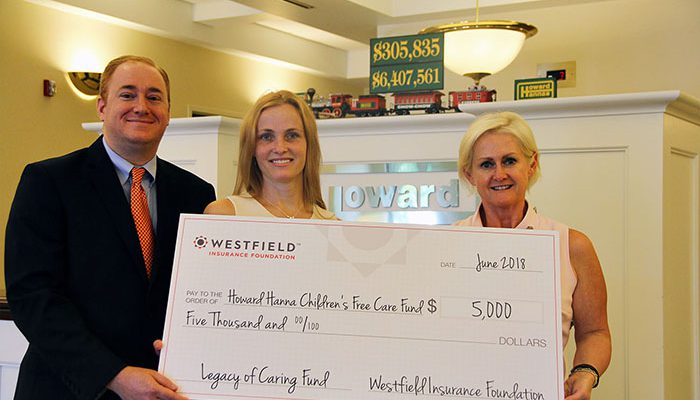 Pittsburgh, PA (August 2, 2018) – The Howard Hanna Children's Free Care Fund has received a $5,000 grant from the Westfield Insurance Foundation as part of the Westfield Legacy of Caring program.
Each year, Westfield independent insurance agents are invited to nominate a local nonprofit for the Legacy of Caring program. The program invests in communities and supports disaster recovery, family stability and care.
"At Howard Hanna Insurance Services, it is our responsibility to be a good neighbor and do our part to help strengthen the communities we call home," said Danielle Shearer, Operations Manager.  "Thank you to Westfield for supporting the Howard Hanna Children's Free Care Fund.  We are proud of our collaboration with Westfield and the collective impact to critically important initiatives that are essential to so many people in the areas where we live and work."
The Howard Hanna Children's Free Care Fund supports children's hospitals and related programs/activities to assure that children never be denied the best medical care available, whether to help those without healthcare pay for treatment, to assist when insurance has reached its maximum, or to fund cutting-edge care that insurance may not cover.
Established in 1988, the Howard Hanna Children's Free Care Fund partners with 15 children's hospital partners in PA, OH, MI, VA and NY.   Howard Hanna offices have raised and donated more than $15 million to the care of children from annual "Choo Choo Chow Chow" events. A list of this year's events can be found at HowardHanna.com/childrens-free-care-fund.
About Westfield Insurance Foundation
Westfield Insurance Foundation was established in 2005 as an independent private foundation endowed by Westfield Insurance. In keeping with the values of Westfield Insurance, the Foundation exists as a dedicated community and industry partner; concentrating resources to have an impact on safety, disaster relief and family stability. The Foundation donates over $3 million annually to a variety of charities.
About Westfield
Westfield was founded in 1848 by a small group of hard-working farmers who believed in the promise of the future and the power of the individual. Today, as one of the nation's leading property and casualty (P&C) companies, we remain true to their vision and are dedicated to your protection and prosperity and to the progress of our community. Visit westfieldinsurance.com for more information.
About Howard Hanna
Howard Hanna Real Estate Services is the 3rd largest real estate company in the United States, the #1 privately owned broker in the nation, and the largest home seller in Pennsylvania, Ohio, and New York. The family-owned and operated real estate company specializes in residential and commercial brokerage service, mortgages, closing and title insurance, land development, appraisal services, insurance services, corporate relocation, and property management. With 262 offices across PA, OH, NY, VA, MI, WV, NC, and MD, more than 9,200 sales associates and staff are guided by a spirit of integrity in all aspects of the real estate process. For more information, visit www.howardhanna.com, or www.facebook.com/howardhanna
Media contact:
Deborah Donahue, 412-784-3816, ddonahue@howardhanna.com
Pictured:  Steve Butler, Westfield Insurance; Danielle Shearer, Howard Hanna Insurance Services; Annie Hanna Engel, Esq., President, Howard Hanna Insurance Services.