Howard Hanna Expands Home Happens Here.® Campaign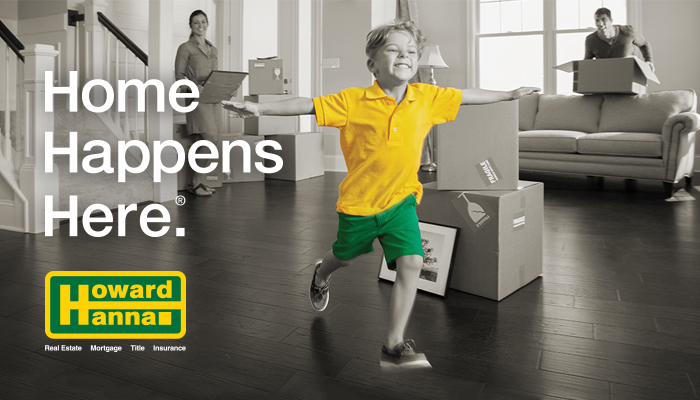 September 9, 2016 – Being home is the essence of Howard Hanna's current marketing campaign, Home Happens Here.® that launched in April on television, print, and digital platforms featuring a 10-year old girl on move-in day heading up the steps to her new room.
"Creating a marketing campaign with staying power is what we wanted to do," says Kelly Silver, Vice President of Marketing at Howard Hanna. "It reinforces the strength of the Howard Hanna brand with strong visuals and a great jingle people will enjoy and remember while helping to make the dream of home ownership become a reality."
The Home Happens Here.® Fall campaign, focusing on people, families and homes, and how we all "love being home" features a 4-year old boy happily running through his new home while his parents unpack.  This will begin airing on TV September 10, 2016 in all Howard Hanna markets.  TV schedules vary by market, but the impressive array of programming includes the upcoming presidential debates, major league baseball and prime-time network shows.  The Fall campaign also features a young couple relaxing after work in their home's kitchen.
It all starts with the right house. That's where we come in. As America's #1 family-owned real estate company,* we know our markets inside and out, offering exclusive programs, personal service, and decades of experience.  From discovering the perfect house, until the day you move into your new home, we'll be with you every step of the way.  For a sneak preview of the television spot, click here.
Howard Hanna Real Estate Services is the #1 real estate company in Pennsylvania and Ohio and the 3rd largest real estate company in the United States.* The family-owned and operated company specializes in residential and commercial brokerage service, mortgages, closing and title insurance, land development, appraisal services, insurance services, corporate relocation and property management. With 270 offices across PA, OH, NY, VA, MI, WV, NC & MD, Howard Hanna's more than 9,000 sales associates, managers and employees are guided by a spirit of integrity in all aspects of the real estate process.
*Based on 2015 combined closed transactions, REAL Trends 500, May 2016.
For more information, please visit HowardHanna.com or Facebook.com/HowardHanna
Media contact:
Debbie Donahue, 412-967-9000, ddonahue@howardhanna.com
Elizabeth Grepp, 216-447-4477, elizabethgrepp@howardhanna.com