Howard Hanna Fall 2015 Luxury Home Magazine Debuts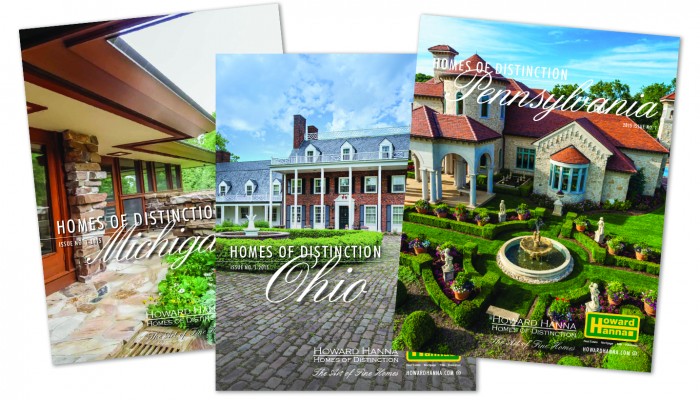 Magazine gives glimpse into the world of high-end homes
Cleveland, OH (November 19, 2015) – There's a reason why Howard Hanna has more luxury home listings than other real estate companies in their markets. Fifty years of experience, staggering market share and affiliations with both Luxury Portfolio and Christie's International Real Estate make the company the obvious choice of high-end home buyers and sellers. The Howard Hanna Homes of Distinction program was created to serve exclusively this buyer and seller demographic.
Recently redesigned to provide the most appealing insight into the world of luxury real estate, the new Howard Hanna Homes of Distinction magazine debuted with the fall issue this month. It gives a complete view of the homes and their exceptional qualities in a visually stunning layout.
Helen Hanna Casey, President of Howard Hanna Real Estate Services, is excited to introduce the new format. "It's important that we showcase our ability to provide these kinds of exclusive services to those in the high-end real estate market," said Casey. "We are a leader for a reason and have always been on the cutting edge of multi-generational marketing. This program and this magazine, specifically, speak to our ability to be agile in the industry, and we know our customers will love it as much as we do."
The distinguished Homes of Distinction program provides services designed to reach affluent audiences not only in our market areas, but also worldwide. In addition to the magazine, included in the program are benefits such as the coordination of customized marketing plans, a URL tailored to the property, direct mail, email outreach and more, allowing Howard Hanna Homes of Distinction listings to reach an even wider audience.
To view the Howard Hanna Homes of Distinction magazine, click on the link below: http://ebrochure.howardhanna.com
Howard Hanna Real Estate Services is the top real estate company in Pennsylvania and Ohio, and ranks nationally as one of the four largest real estate companies. The family-owned and operated real estate company specializes in residential and commercial brokerage service, mortgages, closing and title insurance, land development, appraisal services, insurance services, corporate relocation and property management. With 205 offices across PA, OH, VA, MI, NY, WV, NC and MD our more than 7,000 sales associates and staff are guided by a spirit of integrity in all aspects of the real estate process.
To learn more please visit www.howardhanna.com or www.facebook.com/howardhanna
Media contacts:
Elizabeth Grepp, 216-447-4477 x115, elizabethgrepp@howardhanna.com
Deborah Donahue, 412-967-9000 x1328, ddonahue@howardhanna.com