Howard Hanna Franchisees Visit Bedford, PA for Annual Spring Conference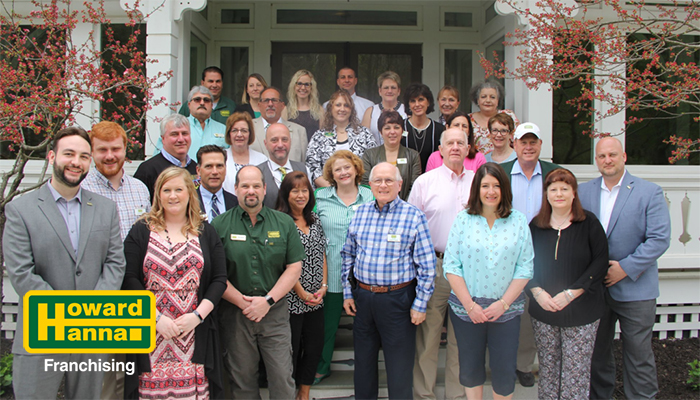 Pittsburgh, PA (May 15, 2018) – From May 2 through May 4, Howard Hanna Real Estate Services hosted franchisees across the company's market areas at the Omni Bedford Springs Resort. In attendance were more than 50 brokers, owners, managers, and staff, including Chairman Howard W. "Hoddy" Hanna, III and CEO Helen Hanna Casey.
For two days, the attendees of the yearly Howard Hanna mini-convention had the chance to network with their peers and build a foundation of success for the remainder of 2018. They went to training sessions, participated in panel discussions, and learned about new Howard Hanna tools and marketing in an effort to better serve buyers and sellers.
Awards were also given to honor those present for their efforts in 2017. Among the offices recognized for excellence in market share, growth, and overall sales results were:
Howard Hanna Bardell Realty in Bedford, PA
Howard Hanna Johnston Realty Services in Altoona, PA
Howard Hanna RealCom Realty in Columbus, OH
Howard Hanna Realty Pioneers in Wellsboro/Towanda, PA
Howard Hanna Holt/Professionals in Southwest NY/McKean County, PA
Howard Hanna The Frederick Group in Lehigh Valley, PA
"We view our franchise division as a key component of our future growth. Sharing our company tools and programs with local entrepreneurs that, in turn, can offer them to their agents, buyers, and sellers provides a distinct advantage in any marketplace," said Casey. "We now have more franchisees with top market share than we have ever had in our history."
"Our industry is changing, and so are consumer expectations. We believe the key to our future success is offering new and improved services that keep our agents connected with buyers and sellers before, during, and after their individual purchase or sale. Our company-sponsored conferences allow owners and managers to assess and compare implementation of these services, as well as share ideas that differentiate themselves in the communities they serve," said Tom Schoeller, Senior Vice President of Franchising, Mergers and Acquisitions.
Each year, the event is held at a different location, giving different "host offices" the opportunity to highlight the unique offerings of their markets. This year, Sean Bardell, owner of Howard Hanna Bardell Realty, was thrilled to be hosting the event in Bedford.
"We felt honored that Howard Hanna chose Bedford, PA for their annual franchise meeting location this year. We're proud of our wonderful Bedford community, and we were happy to be able to share it with our Howard Hanna family," said Bardell. "Howard Hanna is a forward-thinking brokerage company that is always teaching progress, and the annual meeting held at the Omni Bedford Springs was remarkable in all aspects."
Since 1957, Howard Hanna Real Estate Services has been helping people feel at home. Through organic growth as well as mergers and acquisitions, the company is now the third largest real estate company in the nation. Actively seeking strategic partnerships with market-leading companies, Howard Hanna is looking forward to growth in 2018 and beyond through continued franchise opportunities.
"The Howard Hanna franchise network is designed for like-minded owners and managers who share our passion for supporting agents and delivering the best possible service to buyers and sellers," added Schoeller.
For information on franchising, contact Tom Schoeller at 570-460-0272 or tomschoeller@howardhanna.com or visit www.howardhanna.com, or www.facebook.com/howardhanna
Howard Hanna Real Estate Services is the 3rd largest real estate company in America, the #1 privately owned broker in the nation, and the largest home seller in Pennsylvania, Ohio and New York. The family-owned and operated real estate company specializes in residential and commercial brokerage service, mortgages, closing and title insurance, land development, appraisal services, insurance services, corporate relocation and property management. With 262 offices across PA, OH, NY, VA, MI, WV, NC and MD, our more than 9,200 sales associates and staff are guided by a spirit of integrity in all aspects of the real estate process.
For more information, please visit www.howardhanna.com or www.facebook.com/howardhanna
Media contacts:
Elizabeth Grepp, 216-447-4477 x115, elizabethgrepp@howardhanna.com
Debbie Donahue, 412-784-3816, ddonahue@howardhanna.com