Howard Hanna Hampton Office Voted a "Fan Favorite"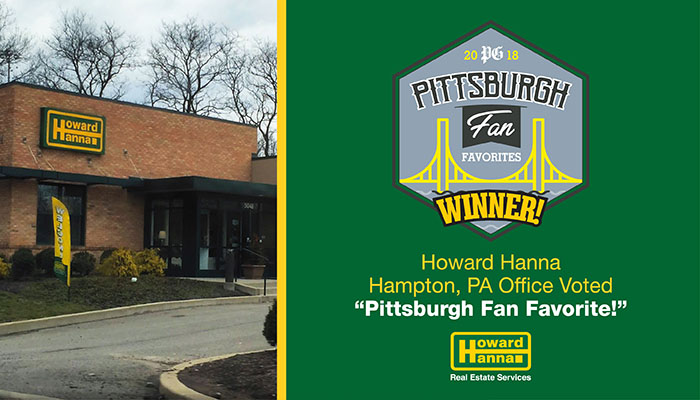 Pittsburgh, PA (June 27, 2018) – The Howard Hanna Hampton office, located at 5048 William Flynn Highway (Route 8), has been voted a Pittsburgh "Fan Favorite" in a contest held by the Pittsburgh Post-Gazette.
Readers were asked to submit their favorite local people, places or businesses in different categories in four areas of Pittsburgh/Western PA – East, West, North and South.  The top five nominees in each category proceeded to the voting phase that took place May 6-31, 2018.
The Howard Hanna Hampton office was voted in the North Top 3 for Best Real Estate Agency.
"The Hampton team is so excited to have been nominated and thank you for the loyal support!" said Sonya Clemente, Sales Director of the Howard Hanna Hampton office.  "Our agents truly strive to provide their clients with the ultimate customer experience as they make one of the biggest decisions of their lives.  This is a team of experienced negotiators who get their clients the best results. Utilizing the latest technology and marketing, they find their client's the homes they want and  get homes sold in a timely manner while providing personal attention at every step."
The Howard Hanna Hampton office is located on William Flynn Highway next to the intersection of the PA Turnpike (I-76) and Route 8. The award winning office and its full-time real estate agents serve the Pittsburgh North Region including Hampton, Shaler Township, Richland, West Deer, Pine Township, Indiana Township, Fox Chapel, O'Hara Township, Ross Township, McCandless Township, Seven Fields, Middlesex, Gibsonia, and more.
For more information, please contact Sonya Clemente at 724-449-9900 or sonyaclemente@howardhanna.com.
Howard Hanna Real Estate Services is the 3rd largest real estate company in the United States, the #1 privately owned broker in the nation, and the #1 home seller in Pennsylvania, Ohio, and New York. The family-owned and operated real estate company specializes in residential and commercial brokerage service, mortgages, closing and title insurance, land development, appraisal services, insurance services, corporate relocation, and property management. With 259 offices across PA, OH, NY, VA, MI, WV, NC, and MD, more than 9,200 sales associates and staff are guided by a spirit of integrity in all aspects of the real estate process. For more information, visit www.howardhanna.com, or www.facebook.com/howardhanna
Media contact:
Deborah Donahue, 412-784-3816, ddonahue@howardhanna.com