Howard Hanna Holds Grand Opening for New Adrian Office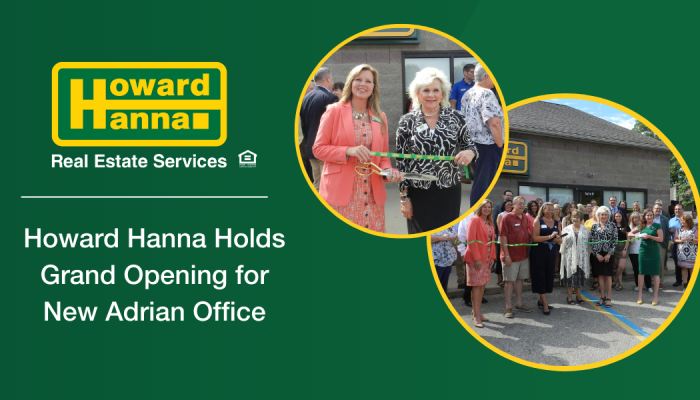 Adrian, MI (August 4, 2022) – Howard Hanna Real Estate Services recently celebrated the grand opening of its Adrian office with a ribbon-cutting ceremony and reception. The new office is now located at 905 N. Main Street, Suite D, Adrian, MI 49221.
More than 100 people joined Howard Hanna leaders, agents, and community members to celebrate Thursday evening. Among the attendees were Howard Hanna leaders – Kris Burdick, President Midwest; Jack Brown, Michigan Regional Manager; and Jeryl Vallie-Cepida, Manager of Howard Hanna's Tecumseh and Adrian offices – as well as community leaders including Commissioner Gordon D. Guass, who attended the event as the official ribbon cutter.
"Our new Adrian office is a state-of-the-art real estate facility bringing the best tools available to our sales associates. The office is a commitment to the communities we work in and that we will continue to provide excellent customer service to many buyers and sellers.," said Burdick. "We are excited to share our new office as we continue selling real estate in the Greater Adrian area and surrounding markets and are confident Howard Hanna will continue to be the consumer's number one choice when it comes to real estate needs and one-stop shopping for mortgage, title, and insurance services."
With $47 million in closed sales volume and 252 closed units in 2021, and with 105 closings so far this year, the Adrian office is on track to exceed those numbers in 2022. There were 156 listings with this office in 2021. In a further commitment to their clients, the 21 agents in the Adrian office have worked diligently to help achieve the #1 market share position for Howard Hanna in this region.
The Adrian office services all of downtown Adrian, Adrian Township, Madison Township, Blissfield, nearby Tecumseh, Raisin Township, Addison, Morenci, Hudson, Onsted, and Manitou Beach. As a growing group of sales associates, the agents operating out of this office have a strong presence with the Local Realtor Association.
"We are very excited about our move to Main Street!" said Vallie-Cepida. "Howard Hanna is the #1 real estate company in Lenawee County because of our customers. We look forward to being able to serve all of our customers in Adrian and the surrounding areas from this conveniently located office."
About Howard Hanna: Howard Hanna Real Estate Services is the largest privately held real estate broker in the United States. The full-service real estate company has nearly 500 real estate, mortgage, insurance, title, and escrow service offices across 13 states, including Allen Tate Realtors® in the Carolinas and F.C. Tucker Company in Indiana, with more than 14,000 sales associates and staff, including many of the industry's top-producing real estate agents. For more information, visit www.HowardHanna.com.