Howard Hanna Hosts Fall BIG Open House Events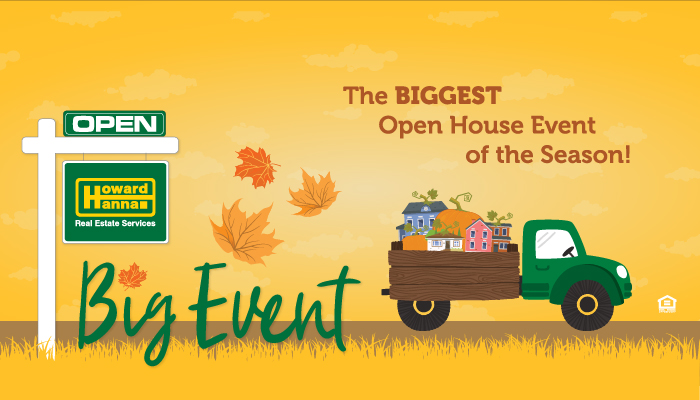 Come PICK Your Perfect Home!
Pittsburgh, PA (September 11, 2019) –  Due to the tremendous success of the annual Big Event Open House Event in the Spring, Howard Hanna Real Estate Services is hosting another open house extravaganza this Fall.  Agents across the company will hold open thousands of homes September 21-22 and October 19-20, providing buyers convenient opportunities to explore many properties on these weekends.
"Visiting open houses lets a buyer see more than they ever could see online.  They can get a feel for the neighborhood, the flow of the home, and many more details than are available in photos. The internet can only do so much.  Making homes available for buyers to tour in person provides an unmatched opportunity to 'feel how the home lives'", said Howard W. "Hoby" Hanna, IV, President of Howard Hanna Real Estate.  "We hope a lot of people come out and 'pick' their new home."
In addition to open houses providing sellers exposure for their home,  Howard Hanna's award-winning website HowardHanna.com, receives more than two-million views per month providing 24/7 exposure to a vast audience.
For the Fall BIG Event Open House weekends, the company provides marketing materials for agents and offices to promote their scheduled open houses.  A box is sent to each office with a supply of special balloons, posters, and candy wrappers created by Howard Hanna's in-house marketing department.  Additionally, special eCards for social media promotion are provided along with directional signs and online/print advertising graphics to complete a full package of marketing assets to compliment the home selling process.
Howard Hanna Mortgage loan originators will be on site at Howard Hanna offices both weekends of the Fall Big Events, September 21-22 and October 19-20, to answer financing questions or pre-qualify interested buyers for a mortgage.
Howard Hanna provides many ways to keep buyers informed of new listings and open houses.  To find open houses in your area, visit HowardHanna.com/BigEvent .
If you are thinking about buying or selling your home, or would like more information, contact your local Howard Hanna agent, stop by an open house or visit HowardHanna.com.
About Howard Hanna:  Howard Hanna Real Estate Services is the 3rd largest real estate company in the United States, the #1 privately owned broker in the nation, and the largest home seller in Pennsylvania, Ohio, New York and the Carolinas. The family-owned and operated real estate company specializes in residential and commercial brokerage service, mortgages, closing and title insurance, land development, appraisal services, property and casualty, corporate relocation, and property management. With 312 offices across PA, OH, NY, VA, MI, WV, NC, SC, and MD, more than 11,000 sales associates and staff are guided by a spirit of integrity in all aspects of the real estate process. For more information, visit www.howardhanna.com, or www.facebook.com/howardhanna
Contact: Deborah Donahue, Director of Public Relations, Howard Hanna Corporate Office, 412-967-9000, ddonahue@howardhanna.com.