Howard Hanna Hudson, Ohio Office Grand Re-Opening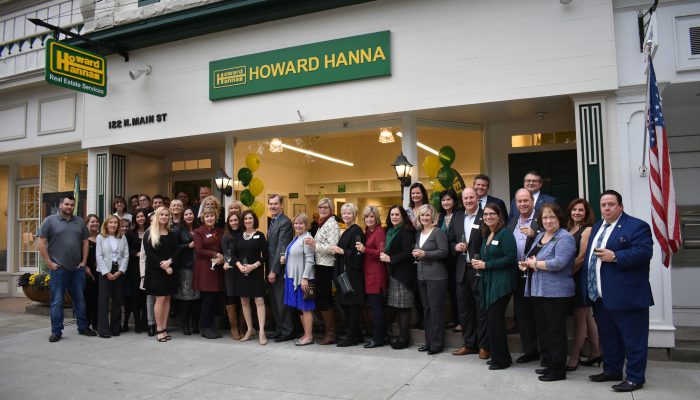 Hudson, OH (November 1st, 2018) – Howard Hanna Real Estate Services celebrated the grand re-opening of its Hudson, Ohio office on Tuesday, October 30 with a ribbon cutting ceremony and reception. In attendance were Hudson Mayor David Basil; Ward 2 Councilman Casey Weinstein; Howard Hanna President of Real Estate Brokerage Howard W. "Hoby" Hanna, IV; as well as many other members of the community and agents from the office.
Completely remodeled, the newly renovated office in the historic village will provide additional space for new agents as the office grows. It was gutted and reconfigured to utilize wasted and obsolete space, adding a state-of-the-art training room and other multi-use areas. With a bright, new lobby, large conference rooms, and new offices, any buyer or seller in the Hudson area will feel welcomed and comfortable.
Janis McCormick, manager of the Hudson office, oversees 55 agents. She is excited about what the renovation of the 6,300-square-foot office means for her agents and also for the community.
"The Howard Hanna Hudson office is so proud of our new space, which reflects our commitment to the Hudson community, our clients, and our dedicated team," said McCormick. "We look forward to continuing our service to Hudson and the surrounding communities as we continue to grow our team and market share."
The Hudson office is one of the top producing in the company, with a 2017 volume of nearly $216 million, a 56% market share, and almost 650 units sold. To buy or sell a home in the Hudson, Ohio area, contact Hudson Office Manager Janis McCormick at JanisMcCormick@HowardHanna.com or 330-656-3340.
Howard Hanna Real Estate Services is the 3rd largest real estate company in America, the #1 privately owned broker in the nation, and the largest home seller in Ohio, Pennsylvania and New York. The family-owned and operated real estate company specializes in residential and commercial brokerage service, mortgages, closing and title insurance, land development, appraisal services, insurance services, corporate relocation and property management. With 279 offices across OH, PA, NY, VA, MI, WV, NC and MD, our more than 9,200 sales associates and staff are guided by a spirit of integrity in all aspects of the real estate process.
For more information, please visit www.howardhanna.com or www.facebook.com/howardhanna
Media contacts:
Elizabeth Grepp, 216-643-9796, elizabethgrepp@howardhanna.com
Debbie Donahue, 412-784-3816, ddonahue@howardhanna.com