Howard Hanna Insurance Services is catalyst for grant to Grow Pittsburgh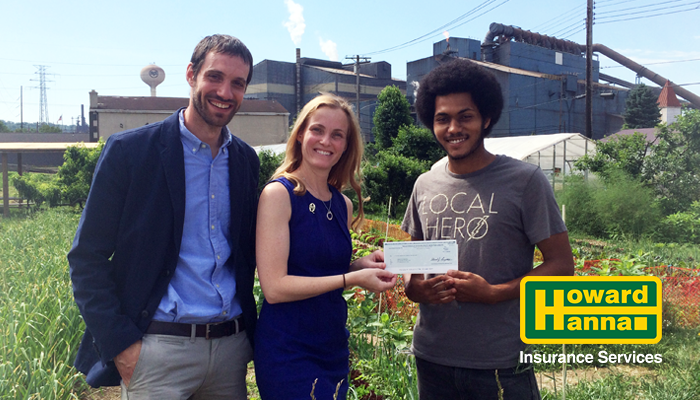 Pittsburgh, PA (July 25, 2017) — Grow Pittsburgh received a grant from Westfield Insurance Foundation thanks to the help of Howard Hanna Insurance Services.  The grant is part of the Westfield Legacy of Caring program, which invites Westfield independent insurance agencies to nominate a local nonprofit in the areas of disaster recovery, insurance pathways, family stability or safety.
"Howard Hanna Insurance Services and its employees are proud members of the Pittsburgh area community.  Our collaboration with Westfield Insurance allows us to further our citizenship efforts and have impact in critically important initiatives," said Annie Hanna Engel, Esquire, and president, Howard Hanna Insurance Services.
Thanks to the generous donation from Westfield Insurance Foundation, Grow Pittsburgh can increase their efforts toward establishing workforce development programs in Braddock to combat the cycle of generational poverty and lack of opportunity in that community.
"Each year Braddock Farms serves an estimated 350 Braddock residents through the weekly farm stands and the Urban Farm Apprenticeship and Urban Farmers in Training programs. In addition to weekly farm stand and training programs, Braddock Farms also hosts tours, volunteer groups, and events that focus on education and community engagement," said Christina Bard, Grow Pittsburgh Development Manager.
"The Urban Farm Apprenticeship is seen as a stepping stone from the Urban Farmers in Training and is geared towards individuals with barriers to employment. Since its inception, over 35 young adults have graduated from the program," added Bard.
"We have strong relationships with our agents, and we value the important role they play in their communities," said Ed Largent, Westfield President, CEO, board chair and Westfield Insurance Foundation chairman.   "Our agents help provide peace of mind and security, and the Legacy of Caring fund is an extension of the fundamental role insurance plays every day stabilizing families, businesses and communities."
Grow Pittsburgh is one of 78 nonprofits nationwide receiving a Westfield Legacy of Caring grant – collectively totaling nearly $550,000.  Westfield is proud to work with their independent agents in distributing nearly $1.3 million since the onset of the Legacy of Caring program in 2015.
About Grow Pittsburgh
Grow Pittsburgh works with the Braddock Youth Project to employ teens for the Urban Farmers in Training Program. Each summer six teens are hired at Braddock Farms for eight weeks of hands-on training, gaining experience on all aspects of farm work. For many this is their first job and it helps support their family. Students participate in the weekly farm stand engaging with their neighbors. The main goals of the program are to teach the teens to grow food, develop cooking skills, learn about their place in the food system, and build leadership and public speaking skills. Grow Pittsburgh also hires up to 8 seasonal apprentices who work on Braddock Farms, Shiloh Farm, and the Frick Greenhouse, learning about seasonal growing. The Urban Farm Apprenticeship trains young adults from the areas of Braddock and Homewood, aged 18 to 25, in all aspects of urban agriculture and food production. They also engage in weekly field trips to local farms, restaurants, and community organizations to better understand the food industry, environment, and social justice with the goal of gaining food-related entrepreneurship skills. The program runs from March through November, approximately 10 hours per week to allow participants to be employed or enrolled in school elsewhere.
About Howard Hanna Insurance Services
Howard Hanna Insurance Services is a full-service insurance agency that works with over 20 A-rated insurance companies to create a customized insurance plan for home, auto, umbrella, life, business and commercial insurance products. Howard Hanna Insurance is the largest real estate owned insurance agency in the United States.  Rankings from the 2017 REAL Trends 500 report based on the number of closed insurance policy transactions in 2016.  Learn more at HowardHanna.com/hannafinancial
About Howard Hanna Real Estate Services
Howard Hanna Real Estate Services is the third largest real estate company in the United States, the #1 privately owned broker in the nation, and the largest home seller in Pennsylvania, Ohio, and New York. The family-owned and operated real estate company specializes in residential and commercial brokerage service, mortgages, closing and title insurance, land development, appraisal services, insurance services, corporate relocation and property management. With more than 259 offices across PA, OH, NY, VA, MI, WV, NC and MD, our more than 9,000 sales associates and employees are guided by a spirit of integrity in all aspects of the real estate process. For more information, please visit HowardHanna.com or Facebook.com/HowardHanna
About Westfield Insurance Foundation
Westfield Insurance Foundation was established in 2005 as an independent private foundation endowed by Westfield Insurance. In keeping with the values of Westfield Insurance, the Foundation exists as a dedicated community and industry partner; concentrating resources to have an impact on safety, disaster relief and family stability. The Foundation donates over $3 million annually to a variety of charities.
About Westfield Insurance
Westfield Insurance is a part of Westfield Group, a customer-focused insurance and banking group of businesses headquartered in Westfield Center, Ohio, and in business for nearly 170 years. Westfield Insurance provides commercial insurance in 21 states, personal insurance in 10 states and surety services to customers in 50 states. Westfield is one of the nation's 50 largest property and casualty insurance groups, represented by a network of more than 1,000 independent insurance agencies. Learn more about Westfield Group at www.WestfieldInsurance.com and www.Westfield-Bank.com.
Howard Hanna Insurance Contact:
Danielle Shearer
Howard Hanna Insurance Services
412-696-0310
dshearer@howardhanna.com
Westfield Contact:
Sheila Trauernicht
Corporate and Agency Communications Leader
330-887-6136
SheilaTrauernicht@westfieldgrp.com