Howard Hanna Joins Forces with Coats for Kids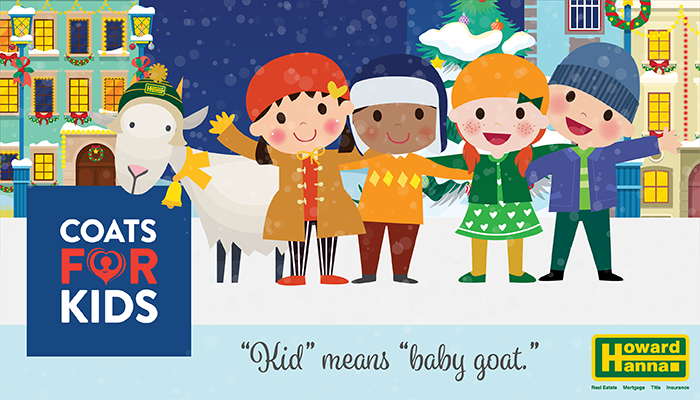 Cleveland, OH (November 14th, 2016) – Howard Hanna was founded nearly 60 years ago with a focus on both real estate and philanthropy. The company has worked to serve the communities throughout our market areas since then. In addition to the "Choo Choo Chow Chow" fundraisers that are held each year, Howard Hanna also partners with Coats for Kids.
Beginning on November 7 and continuing until December 19, Howard Hanna offices throughout northeast Ohio will accept donations to Coats for Kids.  All coats and funds raised benefit school-age children throughout the area, helping to ensure that they have coats during the cold, winter months.
Last year, more than 6,500 new and like-new winter coats were collected at Howard Hanna offices, then processed and distributed to children in need in our community. This year, the company's goal is to gather even more coats during the six weeks of the campaign.
"Coats for Kids began 35 years ago, with requests to people to donate gently worn winter coats to be distributed to children in need in northeast Ohio," says Debbie Martinko, executive director, Coats for Kids. "Over the years, we started raising money to buy new coats, but the donation of like-new coats from those in our community via the annual collection campaign conducted by Howard Hanna and other local businesses continues to be a key component of our campaign. Not everyone can afford to make a financial contribution, but it's likely most people have a winter coat in a closet somewhere that can be donated."
Coats for Kids started when local radio station employees realized that many children were missing school because of a lack of proper winter clothing. Since the launch of the original campaign in 1981, Coats for Kids has distributed hundreds of thousands of coats, with an average of 20,000 coats going to children who need them each year.
To learn more about Coats for Kids, please visit www.coatsforkidscleveland.org
Howard Hanna Real Estate Services is the 3rd largest real estate company in America, the #1 privately owned broker in the nation, and the largest home seller in Pennsylvania, Ohio, and New York. The family-owned and operated real estate company specializes in residential and commercial brokerage service, mortgages, closing and title insurance, land development, appraisal services, insurance services, corporate relocation and property management. With 270 offices across PA, OH, NY, VA, MI, WV, NC and MD, our more than 9,000 sales associates and staff are guided by a spirit of integrity in all aspects of the real estate process.
To learn more please visit www.howardhanna.com or www.facebook.com/howardhanna
Media contacts:
Elizabeth Grepp, 216-447-4477 x115, elizabethgrepp@howardhanna.com
Deborah Donahue, 412-967-9000 x1328, ddonahue@howardhanna.com