Howard Hanna Kicks Off 20th Annual Coats for Kids Campaign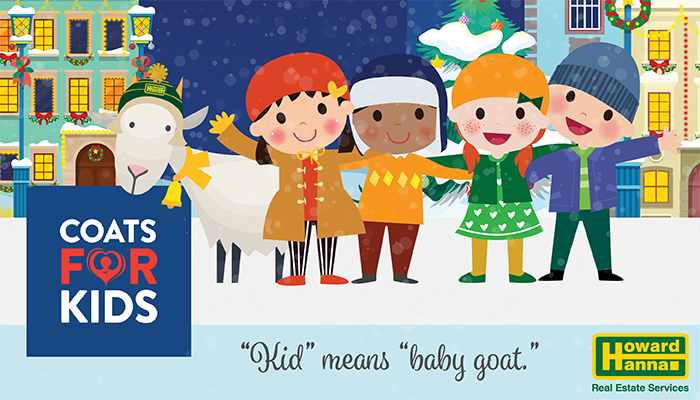 Cleveland, Ohio (November 3, 2017) – Howard Hanna Real Estate Services, a family-owned and operated real estate leader for 60 years, is excited to be once again partnering with WTAM's Coats for Kids. From Monday, November 6 until Monday, December 18, 32 Howard Hanna offices will serve as collection sites for the Coats for Kids campaign.
Since its creation in 1981, Coats for Kids has distributed hundreds of thousands of coats in all sizes to children in need throughout Northeast Ohio. Last year, Howard Hanna collected over 6,400 coats for children in need and hopes to collect more than 7,000 this year.
"For the past 20 years, we've had the pleasure of working with the wonderful people at WTAM to collect coats for local children. Each year I am amazed at the support we receive from the community and our agents," said Kristine Burdick, President of Howard Hanna Midwest. "By working together during the campaign, thousands of children throughout Northeast Ohio will have a new or like-new coat this winter."
"While many things have changed over the past 36 years, one constant is that winter in northeast Ohio is always cold. And thanks to another constant – the support of Howard Hanna Real Estate Services and the annual coat collection efforts of area offices – Coats for Kids has been helping make our cold winters a bit more tolerable for children by providing warm winter coats to those who need one," said Debbie Martinko, Executive Director, Coats for Kids.
All coats collected and funds raised will benefit school-age children throughout Howard Hanna's markets in Northeast Ohio. To learn more about the Coats for Kids campaign, please go to: www.coatsforkidscleveland.org
Howard Hanna Real Estate Services is the 3rd largest real estate company in America, the #1 privately owned broker in the nation, and the largest home seller in Pennsylvania, Ohio, and New York. The family-owned and operated real estate company specializes in residential and commercial brokerage service, mortgages, closing and title insurance, land development, appraisal services, insurance services, corporate relocation and property management. With 259 offices across OH, NY, PA, VA, MI, WV, NC and MD, our more than 9,000 sales associates and staff are guided by a spirit of integrity in all aspects of the real estate process.
To learn more please visit www.howardhanna.com or www.facebook.com/howardhanna
Media contact:
Elizabeth Grepp, 216-447-4477 x115, elizabethgrepp@howardhanna.com
Debbie Donahue, 412-784-3816, ddonahue@howardhanna.com