Howard Hanna Krall Re-Branding Celebration Held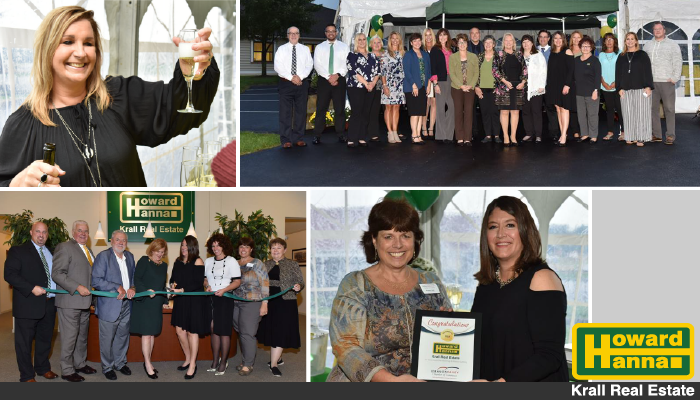 Lebanon, PA (October 25, 2018) – Howard Hanna Krall Real Estate recently held a "re-branding" party to celebrate with the community their new affiliation with Howard Hanna Real Estate Services, the 3rd largest real estate company in the United States.
"A special thank you to all who came out to support us and cheer us on," said broker/owner Holly Krall-Heft.  "We are so proud to be a part of the Hanna team!"
In town from the Hanna Corporate Office in Pittsburgh were Executive Vice President and Chief Operating Officer Annie Hanna Cestra, President of Howard Hanna Pennsylvania Tom Ceponis, and Senior Vice President of Franchising, Mergers & Acquisitions Tom Schoeller who were joined by Howard Hanna Krall Real Estate agents and staff along with hundreds of well-wishers and friends from the community.
Karen Groh, President of the Lebanon Valley Chamber of Commerce, and Bill Ames, Lebanon County Commissioner, both presented owner Holly Krall-Heft with certificates of recognition.
"We are very pleased to have Krall Real Estate as part of the Howard Hanna family," said Annie Hanna Cestra.  "Special thanks to Holly and to her team of sales professionals for their enthusiasm and reputation of excellence in helping home buyers and sellers achieve their goals."
Founded in 1973 by Ronald W. Krall, Krall Real Estate is one of the leading real estate companies in Lebanon County, providing residential and commercial brokerage services.  The firm offers extensive, in-house training, and touts a customer service rating over 98%.  Formerly a Century-21 franchise, Krall made the change to Howard Hanna in March of 2018.
"It is truly our pleasure to franchise with Howard Hanna.  They are people who do what we do every day and understand our common challenges.  Being a family owned and operated company, the Hannas and their management team make decisions based on the needs of their offices and sales associates.  Howard Hanna also has a top notch IT department and an award winning, in-house advertising agency to help us sell more properties.  This change has been embraced whole-heartedly by our buyers and sellers, and especially by our sales associates," said Krall-Heft.
Howard Hanna has been helping people feel at home since 1957, when the real estate company was founded by Howard and Anne Hanna in Pittsburgh, Pennsylvania. Through both organic growth and mergers/acquisitions, the company is the 3rd largest real estate company in the United States with 279 offices throughout Pennsylvania, Ohio, New York, Michigan, Virginia, North Carolina, West Virginia, and Maryland and more than $18 billion in closed sales volume last year.  The full-service company provides residential and commercial brokerage, mortgage, insurance, closing and escrow, appraisal, relocation, and property management services.
The addition of Krall Real Estate continues Howard Hanna's growth plan in the eastern United States and pairs the #1 home seller in Pennsylvania with one of the top real estate offices in Lebanon County.   "Holly and her team have worked very hard to earn a leading position in the market, and we are thrilled that she has chosen to join our team," said Tom Schoeller. "This transition has been received especially well by the agents and staff, as well as the entire community."
Howard Hanna Krall Real Estate is located at 1640 Cornwall Road, Lebanon, PA 17042.  For more information, please call 717-273-1631.
Howard Hanna continues to look for strategic partnerships with market leading companies.  For information on franchising with Howard Hanna Real Estate Services, please contact Tom Schoeller at 570-460-0272 or tomschoeller@howardhanna.com.
To learn more please visit www.howardhanna.com or www.facebook.com/howardhanna
Media contact:
Debbie Donahue, 412-967-9000, ddonahue@howardhanna.com